17 December 2020
| | 4 min read
Christmas bin collections and recycling centre opening
Bin crews have thanked families for their continued support after many kind Christmas messages at the end of a challenging 2020.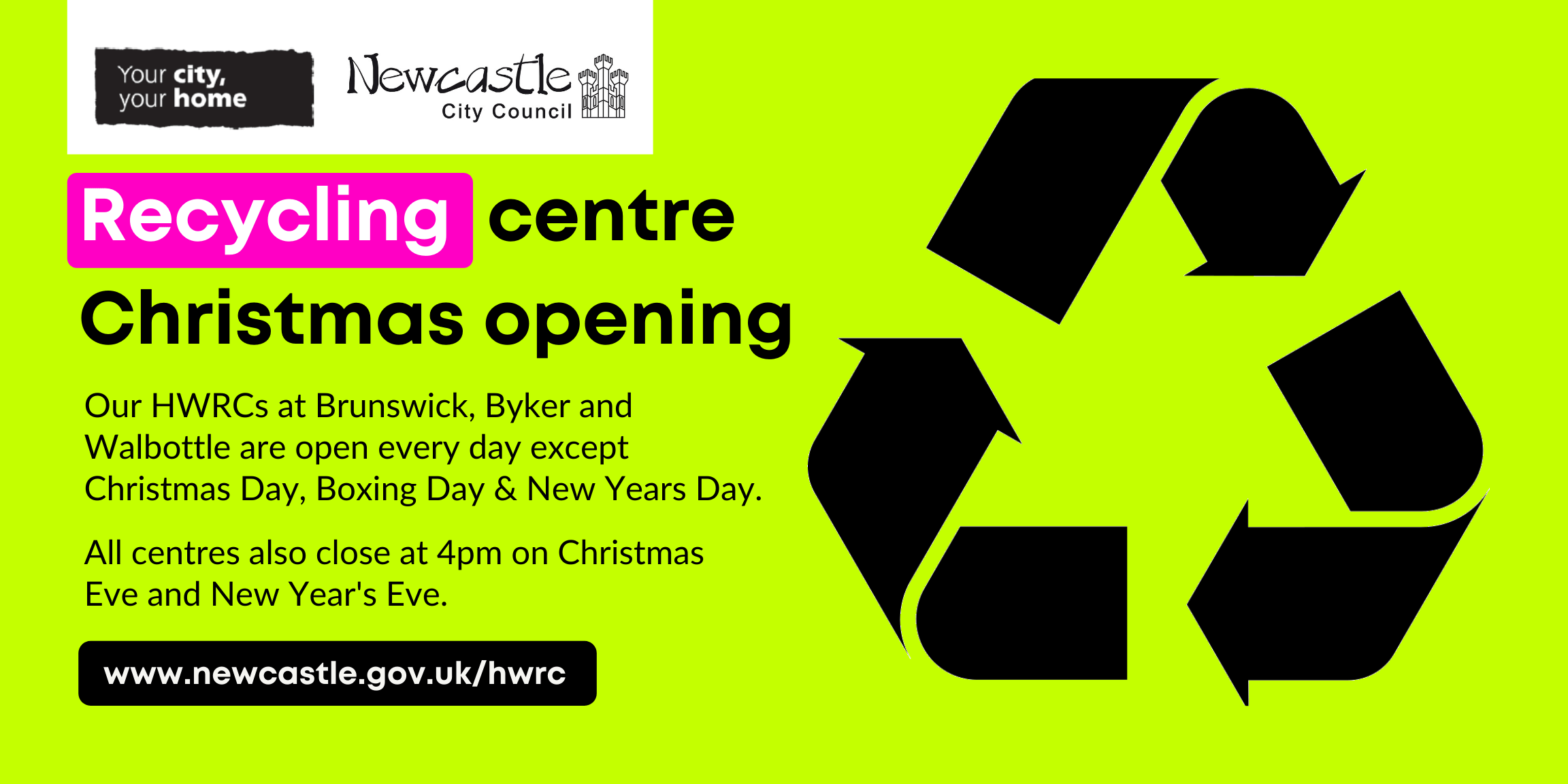 The Coronavirus pandemic has seen an outpouring of appreciation for frontline workers, with many staff touched by the colourful images in windows, notes of thanks attached to bins and even rounds of applause they have received.
Residents are also reminded that with three bank holidays over the festive period there are changes to some bin collection days and recycling centre opening times.
Cllr John-Paul Stephenson, Newcastle City Council's Cabinet member for environment and regulatory services, said: "I am immensely proud of all our staff and how they have risen to the challenges of the Coronavirus pandemic.
"Particularly I'm proud of our waste team, who have continued to provide a full collection service throughout and adapted our recycling centres to offer a safe and socially distanced way to dispose of any extra rubbish created while we've all been spending more time at home.
"I know the crews have been touched by the kind messages and support they've received from residents and want to let people know how much they appreciate their backing.
"Thank you to everyone and please continue to stay safe."
Bin Collections
Bin collections will take place as normal on Tuesdays, Wednesdays and Thursdays over the festive season.
Friday collections that would be due on Christmas Day will instead take place on Monday December 28.
And collections due on New Year's Day will take place on Sunday 3 January.
Normal service will resume on Tuesday January 5.
To check your bin day visit community.newcastle.gov.uk/my-neighbourhood
Recycling Centres
Newcastle's recycling centres are open every day except Christmas Day, Boxing Day and New Year's Day.
The sites at Brunswick and Byker open daily, 8am to 6pm, and Walbottle 10am to 6pm, apart from Christmas Eve and New Year's Eve, when they will close at 4pm.
As it has since the summer, access is based on an "Odds and Evens" system with the day you can visit based on the last number of your car licence plate.
To make it as easy as possible to understand cars with an odd last number – that is 1, 3, 5, 7 or 9 – will be able to visit on odd numbered days, for example the 23rd, 27th, or 29th December, or January 3rd.
Residents with cars with even numbered plates – that's those ending in 0, 2, 4, 6 or 8 – can visit on even numbered days, eg Christmas Eve (24th), December 28th and 30th, or January 2nd.
Other rules, which were introduced when the recycling centres reopened in May to manage demand, ensure social distancing and keep both staff and the public safe, also remain in place.
These include that ID and proof of address is required, with all non-Newcastle residents turned away; no large or commercial vehicles will be admitted and the WasteBot permit system is suspended; only one person from each car will be allowed to unload waste and recycling on site; and staff will not be able to assist residents with heavy items or any unloading.
From Monday December 21 until January 4 sites will also not be accepting rubble or plasterboard, to allow for more containers for household waste over the festive period.
Full details of the rules in place are available on the council's website at www.newcastle.gov.uk/hwrc.