11 October 2019
| | 4 min read
Newcastle to take stance against hate during National Hate Crime Awareness Week
The LGBT+ flag will be hoisted at the Civic Centre on Monday morning as Newcastle marks the beginning of National Hate Crime Awareness Week 2019.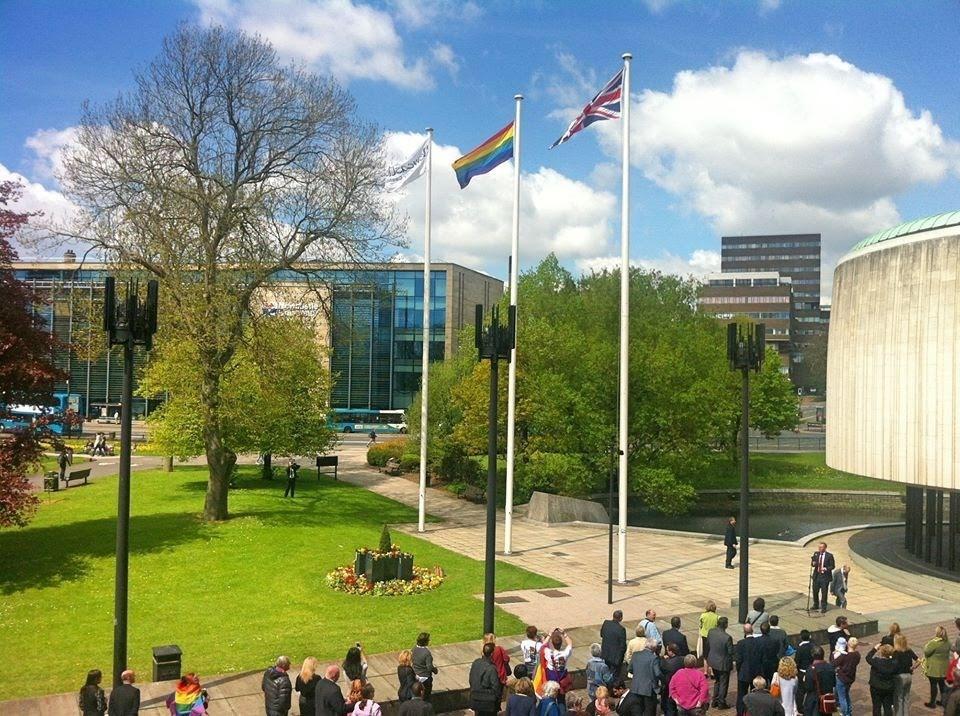 The flag has been chosen to symbolise acceptance of everybody as the city reiterates its stance that hate will never be tolerated. 
Cllr Clare Penny-Evans, Newcastle City Council cabinet member for Communities and Climate Change, said: "We are a welcoming city, we're inclusive of everybody no matter what and we will never stand by and let hate be a part of our city. 
"Nobody should be discriminated against for anything that makes them who they are and we will proudly be flying the LGBT+ flag next week to demonstrate that. 
"Throughout National Hate Crime Awareness Week we will be sharing messages on social media to raise the profile of the effects hate crime can have and how you can report it and would encourage everyone to share those messages far and wide." 
Superintendent Karl Wilson, Northumbria Police's force lead for hate crime, said: "It is totally unacceptable to abuse somebody because of who they are whether it be their race, age, sexual orientation, religion, disability, transgender identity or any other protected characteristic. 
"Hate crime is something we believe has sadly been under-reported for some time, but across Northumbria we have worked extremely hard to give victims the confidence to come forward with improvements in how we understand and record hate crime and by continuing to work closely with community groups."   
Cllr Clare Penny-Evans, Newcastle City Council cabinet member for Communities and Climate Change, on the importance of raising awareness.
Cllr Penny-Evans on impact of hate crime
The flag will be raised at the Newcastle Civic Centre at 10am on Monday 14th October, and later on the same day, there will be a Walk of Solidarity at the Eagles Arena on Scotswood Road. The Walk of Solidarity will get under way from 1pm.  
Throughout National Hate Crime Awareness Week, Newcastle City Council will be active on social media raising awareness of the different forms in which hate crime can take place, the impacts that is has, and how it can be reported. 
Join in with the discussion by the using the hashtags #SpreadLoveNotHate and #NHCAW  
In Newcastle, hate incidents and hate crimes can be reported through the third-party reporting service Stop Hate UK. 
Stop Hate UK provides independent and confidential Hate Crime reporting services whether you are a victim of hate crime, you have witnessed an incident you believe to be a hate crime, or you are a third party to an incident that could be a hate crime. 
To find details of how to report hate crimes through the Stop Hate UK website, telephone and text messaging services and other methods, visit www.stophateuk.org  
It is totally unacceptable to abuse somebody because of who they are
Superintendent Karl Wilson
Northumbria Police