29 May 2019
| | 4 min read
Youth Democracy Group update March to May 2019
May 2019
UNICEF Child Friendly Cities
Member of Youth Parliament, Morgan Dobson, attended Unicef's Childrens Rights Conference in London.  Unicef said about the conference that they were excited to welcome experts from across the children's sector to today's conference: Children's rights at 30. The day will explore a child's rights approach and how this can improve local decisions, services and spaces that shape children's lives. #ChildFriendlyCities. Morgan had the opportunity to be part of a panel of young people.  Follow Newcastle Youth Democracy Group on twitter @youthnewcastle to find out more
 
Regional Youth Transport Meeting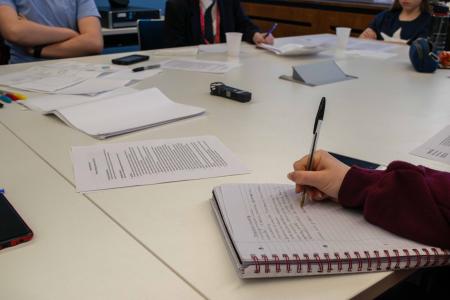 Newcastle hosted this month's regional youth transport meeting at Newcastle Civic Centre. Young people from across the region met with Nexus representatives to discuss issues young people have when using public transport as well as provide some useful solutions to challenging issues.  The meeting was attended by eleven young people from Newcastle, North Tyneside, South Tyne and Sunderland who have agreed to meet again in June.
Youth Democracy Group Meeting
This month Newcastle Youth Democracy Group discussed best ways of keeping themselves safe in their role as youth leaders.  Debates took place about Youth Justice, Policy, Environmental issues and Culture.  Elysia informed the group about the Northumbria Police Youth Independent Advisory Board. Jack presented findings regarding Air Quality, and Liyannah shared with the group her involvement at the Tyne & Wear Citizens event with reference to the North of Tyne Mayoral elections. 
Members of Youth Parliament are making your votes count

Actions for May include:
Contacting local MP's for Newcastle
Members of Youth Parliament (MYP's) have written a letter to all the three local MP's to request a meeting to discuss the priorities of young people in Newcastle.
Preparing evidence for the Youth Select Committee
MYP's discussed a response to the Select Committee's call for evidence on the subject of knife crime.
What is a Youth Select Committee?
The Youth Select Committee is a British Youth Council (BYC) initiative, supported by the House of Commons. The eleven committee members are aged 11-18 and include two Members of the UK Youth Parliament (MYPs), two youth councillors, a Young Mayor, one elected representative from each of the devolved nations and three reserved seats.
This year's Youth Select Committee will focus on knife crime, which was voted the top issue in the Make Your Mark ballot of over 1.1 million young people.  Find out more https://www.byc.org.uk/uk/youth-select-committee
Planned a workshop to deliver at the next Youth Council meeting to gather evidence about knife crime, which will be submitted to the Youth Select Committee.  If you would like to contribute to the debate please contact us at youthdemocracygroup@newcastle.gov.uk
Discussed national youth priorities
Agreed to host the next Youth Assembly meeting, with a theme around Make Your Mark and the other Youth Parliament priorities
Youth Parliament Annual Sitting 2019
Confirmed arrangements for the annual Youth Parliament conference which is being held at Leeds University in August. 
MYP Tessy has asked "The UK YP Annual Conference will be taking place in August and I have been asked to submit some topics/issues that impact young people for other YPs to debate/vote on.  I would be pleased if any of you could send an email to Louise or me enclosing your topics/issues and a brief statement about why you believe they are important (send as many as you like).  There are 10 themes that your topics can be based around:  Our Community, Democracy, Our Environment, Employment, Services, Transport, Our Education, Our Health, Justice, Our world.  I am doing this because I feel it's important to express others opinions (not just my own).  Take a look at the link below that shows the topics that have already been represented." 
http://www.ukyouthparliament.org.uk/wp-content/uploads/UK-Youth-Parliament-Manifesto-2018-2019.pdf
April 2019
British Youth Council Annual Residential -Swindon 2019

Eleven youth leaders from Newcastle attended the residential along with other elected youth representatives from across the UK.  The focus of the residential was for newly elected Youth Leaders to learn new skills, network and team build.  Youth Leaders from across the region were able to share ideas and prepare for future campaigns.  The theme of this is year's residential was climate change.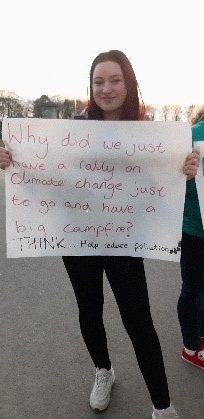 Youth Assembly
This month Newcastle Youth Democracy Group held their first Youth Assembly.    The Assembly discussed environmental issues, child friendly cities, cultural opportunities and the annual residential.
Air Quality
Youth Assembly debated the Air Quality consultations and agreed to discuss the issue with their peers.  Information collected has now been fed into the Air Quality consultation.
Wilder Future
Youth Assembly met with Nick Mason, Project Design and Evaluation Consultant who is working in partnership with the Northumberland Wildlife Trust to discuss environment issues that impacts on wildlife.  Nick discussed the #WilderFuture campaign and how Youth Assembly could support the role of young people to campaign, influence and look after nature.  Parks portfolio holder Livvy is keen to support wildlife in our parks and hopes to work with both the Parks Trust and Northumberland Wildlife Trust soon.
UNICEF – Child Friendly Cities Programme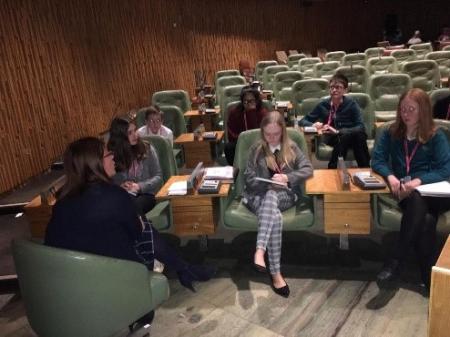 Youth Leaders Imogen, Fiona, Emma, Daniel, Alisha and Jacob reviewed the draft action plan for the programme.
What is UNICEF child Friendly cities?
Child Friendly Cities & Communities is a Unicef UK programme that works with councils to put children's rights into practice. The programme aims to create cities and communities in the UK where all children – whether they are living in care, using a children's centre, or simply visiting their local library – have a meaningful say in, and truly benefit from, the local decisions, services and spaces that shape their lives. The term 'child-friendly' is not just about baby-changing facilities or asking for children's views on play equipment – although both are important – but about a profound shift in how children are viewed and treated in a city or community.
Newcastle City Council and our partners are committed to work towards Child Friendly City status through six badges, three that are decided by Unicef; Communication, Culture and Co-operation & Leadership, and three that have been chosen by children and young people; Healthy, Safe & Secure and Equal & Included
Culture – City of Dreams
Ben Dickenson came to talk to Youth Leaders about the Young Champions Boards.  Youth Leader Jeimy Rosales chaired the discussion agreeing to become part of the Board to represent Newcastle Youth Democracy Group.
 
March 2019 – Elections update
Newcastle Youth Democracy Group elections took place in January 2019.  Voting day was 8th February 2019. 
26 young people stood in the elections
19 Voting Centres
In contrast to previous elections, 2019 has been our most successful.
All members of Youth Parliament live and learn in Newcastle and represent an equal ratio between east and west of the city.  From the four young people two live in the west and go to school in the west, 1 young person attends school and lives in the East and the fourth young person lives in the East and attends school in the West.  Two attend faith schools and two attend academies.
17 of the 19 voting centres were situated within schools which is the highest level of participation from Schools in the Youth Council Elections. 
There has been a steady increase in the number of young people voting and in 2019 there was a return of 43% of ballot papers.
The election count is facilitated by Electoral Services
There continues to be a decrease in the number of candidates standing for election this may be due to schools only identifying two or three candidates to stand hence securing as many votes as possible for their selected school representative.
Candidates who did not successfully secure a seat on youth council or youth parliament are members of youth assembly.
 
Announcing the Election Results
The announcement of the results took place on Friday 8th February 2019.  The event was well attended by young people, their families, elected members and senior managers.  Lord Mayor David Downs announced the results and the whole event was facilitated by the existing youth councillors.  Thanks to Councillor Rahman, Lord Mayors office, Communication and Engagement Team and Electoral Services for their support during the elections.