3 February 2022
| | 3 min read
North East Community Forest launched with ceremonial tree planting at Newcastle Civic Centre
The North East Community Forest was officially launched with the planting of a ceremonial tree at Newcastle City Council's Civic Centre.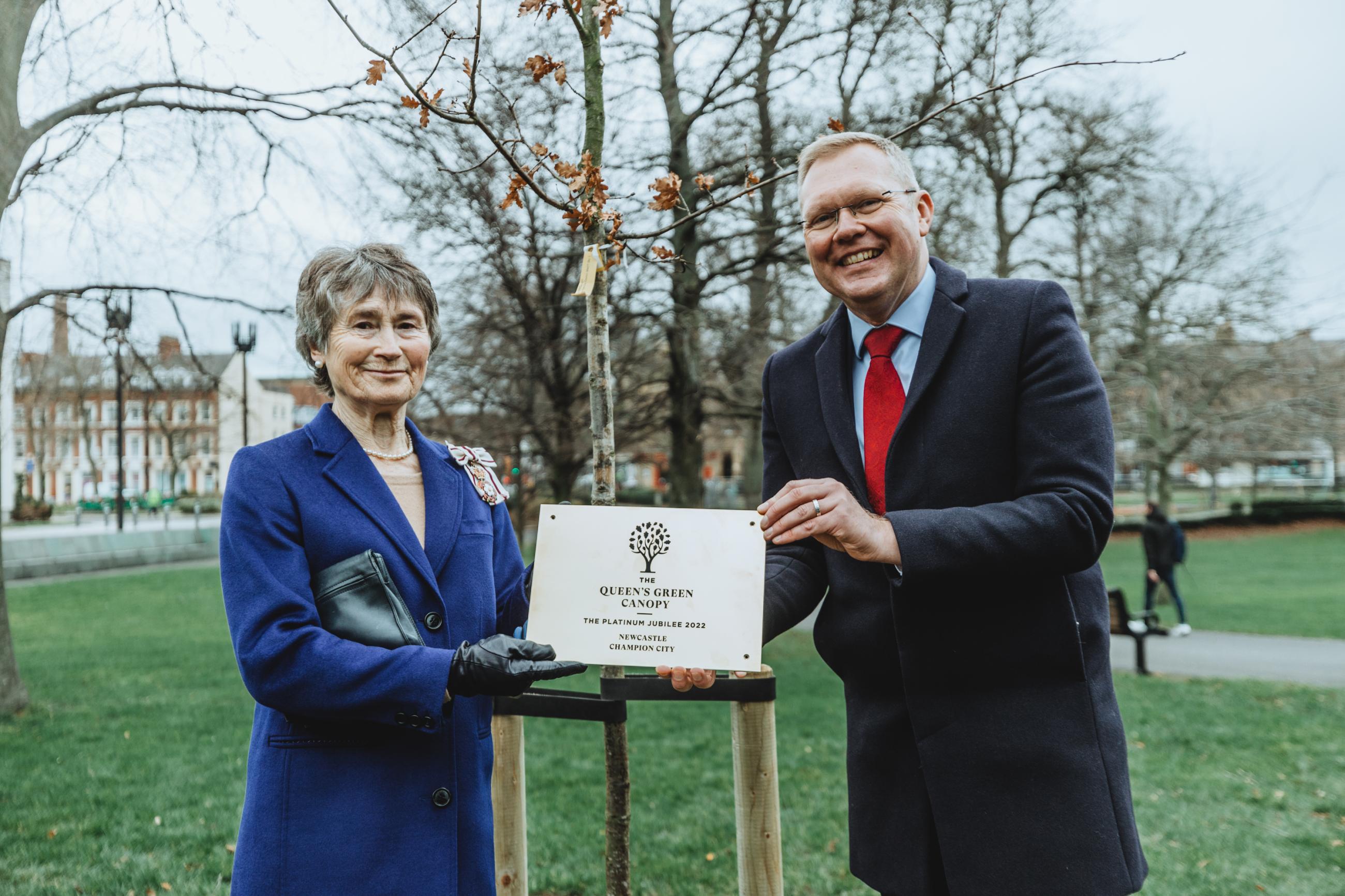 The multi-million pound, 30-year project, across Newcastle, Gateshead, North and South Tyneside, Sunderland and County Durham, will see the equivalent of almost 6,000 rugby pitches of new woodlands, hedgerows, orchards and trees planted by 2050.
Cllr Nick Forbes, leader of Newcastle City Council, planted the oak tree in the grounds of the Civic Centre on Wednesday February 2, with the help of pupils from Westgate Hill Primary Academy.
The Lord-Lieutenant of Tyne and Wear, Susan Winfield, then presented a plaque to Cllr Forbes to celebrate Newcastle being crowned a Queen's Green Canopy (QGC) Champion City.
The QGC is a UK-wide tree planting initiative which encourages people to plant a tree to commemorate the Queen's Platinum Jubilee this year.
Cllr Forbes said: "Tackling the climate emergency remains a great challenge, so we are incredibly excited to be part of the North East Community Forest which will play a monumental part in creating more sustainable communities for us to live in for generations to come.
"The pandemic has shown us just how important our parks, gardens and green spaces are and, when planted in the right place, the new woodlands and hedgerows will bring huge benefits, from boosting biodiversity, creating homes for wildlife, improving air quality, reducing the risk of flooding, and making a positive impact on people's health and wellbeing.
"As a city, Newcastle has made great strides in tackling climate change by rapidly reducing emissions and developing ambitious plans to become carbon neutral by 2030 – a full 20 years ahead of the UK Government's target. Now part of the North East Community Forest, we can continue in our efforts to provide a greener and cleaner future for everyone."
Cllr Clare Penny-Evans, Newcastle City Council cabinet member for climate change and public safety, said: "We're delighted to support this initiative as we know planting trees goes a long way towards tackling the effects of climate change and biodiversity loss, while creating more green spaces for everyone to enjoy.
"The fact is there are simply not enough trees to tackle the climate emergency, so we need plant more in the right places as quickly as possible and protect those we already have.
"The North East Community Forest is a great example of how we can help turn around the effects of climate change and make a big difference, while also making the region a happier, healthier and more beautiful place to live for future generations."
Delegates from local councils and combined authorities were joined by the wider North East Community Forest Partnership organisations, including the Woodland Trust, Wildlife Trusts, Forestry Commission England, Natural England, the Environment Agency, the National Trust, Trees for Cities, Tilhill, The North East England Climate Coalition, North East England Nature Partnership, Defra (Department for Environment Food & Rural Affairs), and Groundwork.
As proud delivery partners of the North East Community Forest initiative in Newcastle, a delegate from the Freeman of Newcastle upon Tyne, Urban Green Newcastle and Newcastle Airport were also be present on the day.
The North East Community Forest plans to plant up to 500 hectares of trees by 2025, with a long-term goal to increase canopy cover across the North East to 30% by 2050 – almost double the current national average.
The initiative aims to capture 155,100 more tonnes of carbon dioxide from the atmosphere every year, equivalent to the emissions from 30,000 homes.
Since its inception in July 2021, which was supported by £480,000 from Defra's Nature for Climate Fund (England Community Forests Trees for Climate Fund), it has secured additional funding with £300,734 from the Forestry Commission (Local Authority Treescape Fund) and LA6 match funding, £70,633 from Trees for Cities, and backing from the Queen's Green Canopy - plant a tree for the Jubilee.