7 August 2020
| | 2 min read
'Odds and evens' system cuts recycling centre queues
Recycling centre visitors have seen queues dramatically reduced after Newcastle City Council introduced a new "odds and evens" access system.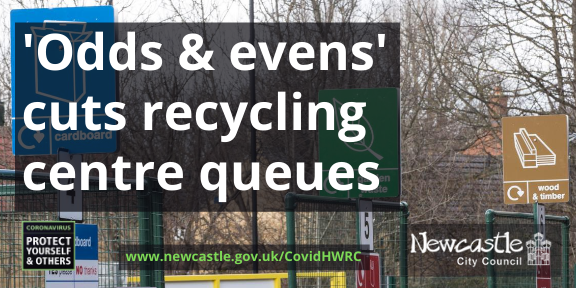 Since the city's three sites at Brunswick, Byker and Walbottle reopened in May they have regularly seen queues of up to an hour to dispose of rubbish.
But since Monday August 3 new rules allocating days you can visit based on the date and the last number of your car licence plate have vastly speeded up the experience.
Cllr John-Paul Stephenson, cabinet member for environment and regulatory services, said: "It is great to hear from residents that they are now able to visit without some of the lengthy queues we've previously been seeing, saving them time, reducing the traffic on some of our communities' roads and improving the experience of using our recycling centres.
"We did our best to publicise the changes on our website, social media and in Citylife, which was distributed to all households recently. They were also covered in the local media. I can only apologise to those who missed this information, and weren't allowed in.
"From the outset of this pandemic we've tried to make access to our HWRCs as fair and safe as we can, and we can only thank everyone for their continued patience and understanding."
Warning over fake number plates
Unfortunately, while most visitors have adhered to the rules, some drivers have – having visited on the wrong day – gone away and falsified their car number plates in an effort to gain access to our sites.
These attempts – which risk a significant fine, criminal record and potential sentence of unpaid community work - have been captured on CCTV and the matter referred to Northumbria Police.
How the 'odds and evens' system works
To make the new system as easy as possible to understand cars with an odd last number – that is 1, 3, 5, 7 or 9 – will be able to visit on odd numbered days, for example the 1st, 3rd, 11th or 27th of the month.
Residents with cars with even numbered plates – that's those ending in 0, 2, 4, 6 or 8 – can visit on even numbered days, eg the 2nd, 4th, 16th or 30th.
Recycling centre rules
All the other rules that were introduced to manage demand and enforce social distancing also remain in place.
These include:
All non-Newcastle residents will be turned away – Visitors will have to show both a passport or other photo ID and a recent council tax or utility bill to be allowed in. A photocard driving licence with address on is acceptable on its own.

Traffic management will be in place both outside and inside sites.

No large or commercial vehicles will be admitted and the WasteBot permit system is currently suspended.

Visitors should stay in their cars while waiting to enter.

The queue will be capped at one hour - If the queue to enter is already that long visitors may be asked to leave and return at another time.

Five unloading bays are available at Walbottle and Brunswick, with four at Byker. There will be additional waiting spaces within the sites at Walbottle and Byker to take vehicles off the highway.

All visitors must park in the bays provided and only unload when parked in the designated bays.

Only one person from the car will be allowed to unload waste and recycling on site.

A 10 minute time limit will be in place to dispose of waste.

Visitors must follow the walking routes indicated and, if a skip is in use, wait in one of the marked areas.

Staff will not be able to assist residents with heavy items or any unloading.

Sites will be closed for cleaning for 10 minutes each hour.

Last entry to HWRCs will be at 7.40pm.
Find out more
For more information, including HWRC site information and opening times, please visit www.newcastle.gov.uk/hwrc.
Or alternatively, to arrange a paid for bulky waste collection please visit www.newcastle.gov.uk/bulkywaste