21 April 2020
| | 2 min read
West Road Cemetery to reopen
Newcastle City Council has decided to re-open the West Road cemetery from Tuesday April 21 after carrying out a risk assessment.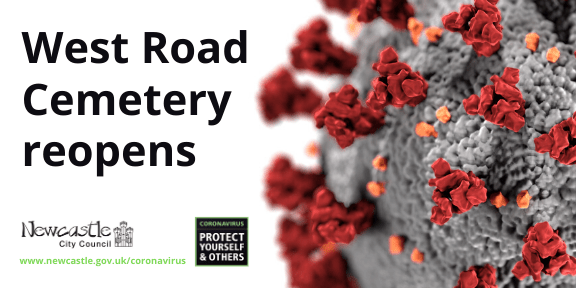 Under Emergency Legislation, the Ministry of Justice required councils to close any cemetery if there was a crematorium within the grounds (as it is at West Road) except for funerals.
'We promised we would reopen as quickly as possible'
Cllr John Paul Stephenson, Cabinet Member for Neighbourhoods and Public Health said: "We understand how difficult and upsetting it has been for families of loved ones being unable to visit the cemetery.
"At the time the Government legislation was enacted, we promised we would do all we could to reopen as quickly as possible and that's what we have done.
"We know those residents who will attend the cemetery will respect the fact funerals are taking place in unprecedented circumstances with only 20 mourners allowed and ensure social distancing is maintained at all times – whether attending the ceremony or visiting a loved one's place of remembrance.
"All other cemeteries have remained open throughout and will remain so, subject to visitors following strict government guidance on social distancing – that is being only with members of the same household and at least two metres apart from other visitors."
Parks remain open
The council has also confirmed that all parks and open spaces operated by the council and Urban Green Newcastle will continue to remain open as they have been throughout the lockdown which began on March 23, but play areas will remain closed.
Cllr Stephenson added: "It is important we do all we can to enable residents to safely enjoy daily exercise. Our beautiful parks and open spaces are ideal places to do so – we just again stress the need to maintain social distance to prevent the spread of the virus.
"For Public Health reasons we have closed all play areas but a minority of users continue to remove signs and ignore the fact they are roped off. Please don't. You are putting yourselves and others at risk by flouting the rules."
Bereavement support
Cruse Bereavement Care
Specialists in bereavement support.  For general contact web address is www.cruse.org.uk or telephone 0808 808 1677.
For local services the link is https://www.cruse.org.uk/get-help/local-services/north-east/tyneside or the contact details are Tel: 0191 276 5533, Email: tyneside@cruse.org.uk
The Samaritans
Offer free emotional support and a 24-hour helpline.
For general contact the web address is https://www.samaritans.org/ and the telephone number is 116123.