Summer Reading Challenge 2022: Gadgeteers!
Summer Reading Challenge 2022: Gadgeteers!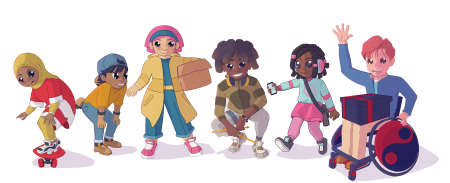 Launching Friday 22nd July!
Science is all around you!
What do you love doing? Are you a brilliant baker? Or a mega music fan? Are you the tech wizard amongst your friends?
Join the Gadgeteers for the Summer Reading Challenge to discover the amazing science and innovation behind the world around you, including some of your favourite things!

How it works:
To complete the Challenge and become a Gadgeteer, you have to read six books over the summer holidays, visiting your library on at least two occasions. There'll be super stickers to collect for every book you read, and other treats along the way. If you manage to read the full six books, you will get a medal and be entered into a prize draw to win one of our amazing prizes - including Lego vouchers and a Kindle Fire! 
You will also be competing on behalf of your school, as the Summer Reading Challenge 2022 Trophy will be awarded to the school who has the most children completing the Challenge. The school in second place will receive a £50 voucher to spend on books for your school library.

Sign up!
You must be a member of Newcastle Libraries to take part in the Summer Reading Challenge.
Already have a Newcastle Libraries membership card? 
Great! Bring it with you when you visit.
Lost your library card?
It happens all the time! Tell a member of staff, and they will get you a new one.
Not yet a member?
It only takes two minutes to sign up. Let our staff know you would like to be a Gadgeteer, and we'll do the rest.
All primary school children in Newcastle should have received a Summer Reading Challenge joining pack from their school. Please bring your poster along to the library with you on your first visit, to help us get you set up. If you haven't received your pack, or don't go to a Newcastle local authority school, don't worry! We have plenty of spares at your local library.

Fun Stuff!
Gadgeteers events will be happening in libraries all over Newcastle over the summer holidays. Find out more by visiting our Gadgeteers Events & Activities page!
You can also join in the Gadgeteers fun by joining up to the online challenge  - find a new book to read, play games and unlock badges on the official Summer Reading Challenge website.
We'll also be posting content on our social media and YouTube pages - follow us @toonlibraries!
Did you know?
Any book you read counts towards your Summer Reading Challenge - but if you're looking for something new and exciting, check out our library catalogue and browse our special Summer Reading Challenge collection. You can see what's new, what's available, and even reserve copies to pick up next time you visit the library.
Ebooks and eaudiobooks count too! 
Explore BorrowBox to access hundreds of books from newly released titles to the classics.
Simply login with your library card number and PIN, and let library staff know if you would like these included in your total.
.