City centre improvements
The city centre is our main employment, cultural and shopping area.
It's also home to the Royal Victoria Infirmary, two universities, Central Station and of course St James' Park.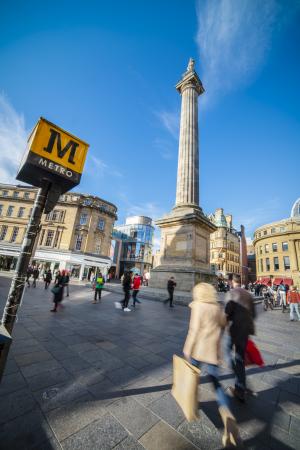 This results in lots of journeys into the city centre, and often people need to make their journeys at the same time of day, which can lead to congestion and poor air quality.
We're investing in our city centre roads network to make it easier for people to get in and out of the city, and to promote the use of alternative forms of transport to the car.
Our focus is on making journeys cleaner and more efficient and on improving the health and wellbeing of those who live, work and visit here.
Some schemes in the city centre have already taken place – for example the improvements on John Dobson Street and the widening of Newgate Street, which will eventually form part of a planned bus loop around the city centre.
Other schemes are still being developed, such as proposals for Blackett Street, Barras Bridge and Percy Street.
We've also invested in new traffic signal technology at key junctions in the city centre, to help smooth traffic flows, and in bus lanes, to help make public transport routes in the heart of the city more reliable.
Pages in this area