Blackett Street
Blackett Street
In January 2020, before the pandemic, we spoke to local businesses and people about changing vehicle access on Blackett Street and some surrounding streets.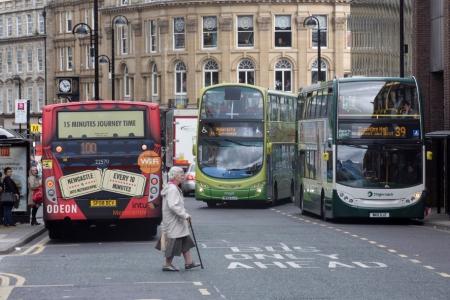 This has been a long held ambition for the next phase of our city's development and will see changes made that are similar in scope to those of the 1980s where Northumberland Street was changed from a road carrying vehicles, to a space that prioritised people.
We believe that this approach is fundamental to delivering our vision for the city, opening up space for people and improving our environment. You can find out more about our vision for the city centre at www.newcastle.gov.uk/citycentre. 
We have taken on board the feedback we've received and used it to shape our current thinking on proposed changes to the transport network that will enable us to achieve our vision. 
You said…. we did
Despite the focus on ensuring our city and its people can restart and recover from the COVID-19 pandemic, we have also been working hard behind the scenes on collating this feedback and updating our proposals. Now we want to share with you how we have listened and what we have changed. If you require any further information please do not hesitate to get in contact with us at citycentre@newcastle.gov.uk.
Some said: 
Delivery times and access arrangements proposed for certain streets are not suitable for local businesses and traders.
We have:
Changed the locations that will be subject to changes in delivery times. The area around the Grainger Market, predominantly Nelson Street and parts of Grainger Street, have been removed from the proposed core pedestrian zones to allow for the access and delivery restrictions to remain as they are. 
Changed the times proposed for deliveries within the core pedestrian zone, allowing access for deliveries until 8.30am as opposed to 7am. Deliveries will now be allowed to take place between the hours of 10pm and 830am.
Some said: 
Access to and around the Monument could be affected, especially for older people or those with mobility issues
We have:
Increased designated disabled parking. This will be consolidated into specific areas, so people can have more confidence that there will be spaces available.
Worked with the Elders Council and other stakeholders to consider ways of minimising the impact and delivering a city centre that ensures it is accessible to all. This includes investigating the provision of an accessible vehicle made available to those using the bus loop who have mobility issues, dropping individuals nearer to the Monument if they need extra help to counteract mobility concerns.
Some said: 
Bus stops, and particularly shelters, are not in the areas where people want them to be, and the coverage provided by bus shelters was not good enough. Buses were not always on time and this exacerbates the queuing and dis-satisfaction experienced at the shelters.
We have:
Added more stopping space for buses, including on Percy Street, in closer proximity to Blackett Street.
Finalised and entered into a new bus shelter contract that will enable us to install better shelters.
Undertaken a study to examine the pinchpoints and locations where buses are encountering delays across the city to ensure their routes become more reliable and buses arrive on time.
Secured more than £10million to deliver improvements to traffic signals across the region in an attempt to provide more reliable bus journey times by ensuring signals are better co-ordinated and can prioritise bus routes.
Secured more than £5million to continue to ensure that we support the excellent work done by bus companies on real time information. Currently, real time information on bus services is available on smartphones and we will be looking at ways of ensuring that is also made available in some other areas.
These were the three main themes arising from the consultation but there are other aspects and we will respond in full when we start the formal legal process to introduce the changes by publishing a Traffic Regulation Order (TRO) for the city centre. This will include details on proposed new pedestrian priority zones, changes to bus stop locations, revised servicing and delivery times and some changes to on-street parking.  
Throughout the legal process we will continue to engage with businesses and provide an opportunity for everyone to share their opinions, feedback, support, or objections on the proposals. 
Next steps
The TRO order will be formally advertised in September, allowing us time to continue our conversations and gather further input from the local community. When the order is placed, there will be a further three-week period of statutory consultation, offering another opportunity to provide comment.
Information on how and where you can view the proposals will be available on our website but if you would like to have details of the TRO sent to you, please register your interest by providing your email address or postal address to citycentre@newcastle.gov.uk.  Alternatively you can leave an answerphone message on 0191 278 2767 with a contact number.