Transforming our city
Our vision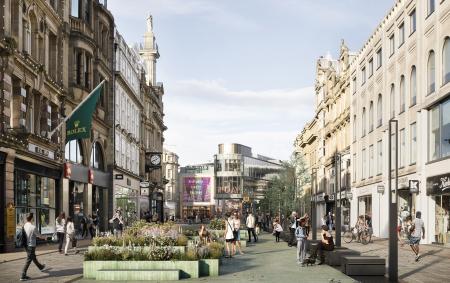 Our Newcastle is a great city, one that never stands still. 
A city that makes history and shapes the future. A place of bright sparks and big ideas. Of people who are passionate about the place they call home. And who always strive for something better.
And at its centre, Newcastle is as restless as ever in the pursuit of progress. 
We've got a plan to make our city centre better than ever. New business districts, new jobs, new homes and new connections. 
We're growing, changing and investing in tomorrow. After all, great cities don't stand still.
This city and its people deserve a network of great travel choices and connections - reliable, smart and green, with more opportunities within the reach of everyone. 
A place that has cleaner air and puts people first, and where public transport and healthy, active travel, such as cycling, and walking is a choice for everyone. 
How would we achieve this?
We are proposing a number of changes that are aimed at creating a safer, cleaner and more attractive city centre.
We consulted on these plans during January 2020 and we are currently looking at the responses we received.
The changes would affect the main shopping areas around Northumberland Street and Blackett Street, along with other parts of the city centre.
Here is a summary of the proposals.
Blackett Street Area
Our plans for the Blackett Street area are to create a welcoming and safe environment for people in this busy part of the city centre. The main priority here would be the creation of a safer area for people on foot.
This would include creating a seamless pedestrian area, from the bottom of Northumberland Street through to the Monument, by restricting motor vehicle access at all times.
This would require the re-routing of buses away from Blackett Street, with bus stops located in convenient places close to the main shopping areas.
New access arrangements and timings for deliveries and servicing to business premises would minimise large vehicles being present in the area at the same time as people, making the area feel cleaner, safer and more accessible.
These changes would unlock the potential for events and activities to take place throughout the year and help to add to the atmosphere and visitor experience that leads to increased footfall and spend.
Northumberland Street Area
We want to reinvigorate Northumberland Street and its side streets and have longer term plans to declutter and reorganise the area while creating more places for people to dwell and enjoy over an extended day, outside of normal shopping times.
Servicing and delivery arrangements would be brought in line with those proposed for the Blackett Street area to ensure consistent arrangements across the city.
Longer term proposals for Ridley Place include space for pavement cafes, arts, festivals and green areas alongside the businesses that operate there.
On Northumberland Road we want to create additional pedestrian space at the junction with Northumberland Street to allow the development of new public spaces for everyone to enjoy.
Other areas of the city centre
To support the proposals for the main shopping areas a number of other changes have been put forward.
These include changes to servicing and delivery times on Clayton Street, Nelson Street, Grey Street and Grainger Street to ensure consistency across the city.
There are also proposals to reorganise taxi ranks, loading bays, on-street parking and disabled parking spaces to ensure they are in convenient locations.
What happens next?
We will review the feedback and consider any changes that may be needed to our proposals.