Our site is in Beta Live, we welcome your feedback to help us improve the site.
Shared bins
The Council has introduced shared bins, where appropriate, in some areas of Newcastle that have back lane waste and recycling collections. They are already in place in South Jesmond, Ouseburn, Benwell, Elswick and Arthur's Hill wards. Feedback has been positive from local communities.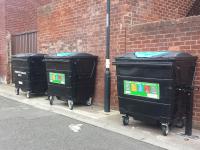 Further roll out is planned but there is no fixed timetable for this. When the project resumes we will be writing to every resident in the affected streets to inform them about the changes to their service.
There is a lot of information on this page about shared bins, so either scroll down or just click on the section you are interested in:
---
Reasons for introduction
We have found that in some back lanes, the normal household wheeled bins are sometimes not put out in time for collection rounds, or not brought in afterwards. From time to time they get too full and rubbish gets littered up and down the back lane. When the bins get too full there can also be a temptation to leave bags of rubbish and large items by the side of the bin. This too can get scattered around and cause problems with vermin. There will be enough of the bigger shared bins in each back lane to take all the waste and recycling from the street - without the need for individual households to remember to put the bin out or bring it back in.
Back lanes present a number of challenges for the refuse collection service:
Crews take longer to service these areas

Additional resources are allocated to back lanes to deal with excess waste, spillages and litter

There is a demand for replacing wheeled bins

Residents tend to leave wheeled bins out in the lane
The new shared bins would be used by everyone in the street, replacing the domestic bins currently used by each household, and would:
improve the appearance of those lanes where a large number of household bins are frequently left out

reduce the amount of 'side waste' left out beside bins

help keep lanes clear of abandoned bins so mechanical sweepers can access them and keep them clean

reduce the costs of replacing lost bins

provide more opportunities to recycle

reduce collection times for refuse and recycling crews
---
What are shared bins?
Shared bins are large, metal wheeled bins which are shared by all the residents in a particular back lane. They replace the separate domestic bins currently used by each household. There are separate shared bins for recycling and household waste. Those residents that pay for the garden waste (brown bin) service will retain their individual bin and collection arrangements. We make sure that there are enough shared bins in a back lane to accommodate all the waste that people put out, and to make sure that residents don't have to carry their waste too far from their own door. Because the shared bins sit permanently in the back lane you don't have to worry about putting your own bin out or bringing it back in again - just put your rubbish in the big bin when it is convenient to you. If a bin near you is full, you can just walk down to the next one.
Have a look at our leaflet about shared bins (pdf 2.4mb)
---
Popular Questions about Shared Bins
Question

Response

Can't you use enforcement to make people bring their separate domestic bins in after collection?

Even though separate domestic bins not brought in after collection cause problems, we can't force people to bring their bins in. There is no law that addresses this problem and it isn't illegal. We have more information about this on our Problems with bins page.

How often will the shared bins be emptied?

The bins will be collected on alternate weeks. One week it will be general waste, and the following week it will be the recycling collection.

Will there be the same amount of space in the shared bins as there was with the individual green bin, blue bin and black caddy?

Yes, the volume of the bins available on each lane is based on the number of properties, so will be the same as currently available. We will be keeping an eye on this and changing the number of bins if there is a need.

I don't want to have to walk far down the lane with my rubbish - where will the bins be located?

Bins will be located along the length of the lane in groups of waste and mixed recycling. You will not need to walk the full length of the lane because all bins will be close by. We will not block any back gate or garage access with bins. Residents can use any suitable bin in their back lane.

I don't want a bin outside my back gate - can the bins be relocated elsewhere in my lane?

We will consider the locations for each lane individually and there may be opportunities to change these.

My back lane is on a slope - will the shared bins still be put in?

All back lanes have been surveyed for access issues and to consider the geography of the lane. If necessary we will make sure the bins are secured in place. All shared bins have locking wheels.

I have an assisted lift service for my bins - will I still receive this?

Yes, assisted lifts will continue for all residents who currently receive this service. We will be contacting everyone who has this service individually to discuss options when the project resumes.

It may be you no longer feel you need this service because you will not have to move or lift the bins yourself, or maybe you are not currently a customer but feel you need this service. In both cases you will need to contact Envirocall to speak to one of our advisors on  0191 2787878.

The lids on shared bins are quite large - will they be difficult to lift up?

There will be special inserts within the lids that will make them easier to use and should help prevent bulky items filling up in the bins. They look a bit like toilet seat lids. Some of the recycling bins also have 'restrictor plates' in them. This is to stop people putting black bags of waste in the recycling bins.

Are the lids on shared bins locked to stop them being misused?

Yes. The large lids on the shared bins have self closing locks after they have been emptied. We are also trialling new styles of lids with different openings and hinges.

Will it be obvious what items should go into which bin?

The bins are  clearly labelled as household waste only; mixed recycling; and some lanes will have separate bins for glass only. We will also use recycling symbols that are commonly used so it will be even clearer what should go into each bin. We will also link up with schools, local groups and organisations to help us ensure people know what to do with their waste, and encourage greater recycling. Recycling shared bins also have labels saying 'no black bags.'

Will l be able to recycle the same items that I can now?

Yes. There are shared bins for mixed recycling - cardboard, paper, cartons, plastic bottles, tins and cans, aerosols and glass. In some lanes there will be separate bin provided for glass bottles and jars only. We do not want plastic bags in the recycling bins so if you bring your recycling in plastic bags please dispose of these in the general waste bin once you have emptied your recycling into the containers. Please take textiles to charities or clothing banks. Remember you can check items on our A-Z of Recycling page.

Will the Council clean out the bins?

No. There are already shared bins in flats and other areas across the city and this is not a service that is offered. Waste placed in the general bins should be bagged and tied so should not cause any odour or hygiene issues. Items for recycling should be rinsed and squashed before being put in the recycling bins so should not cause problems.  When recycling bins are used correctly there should be no smells or other issues.

What do I do with my existing wheeled bins when shared bins are introduced to my street?

You will be advised about this in the letter you will receive before your bins arrive. We will ask you to leave your bins and caddy out in the lane and these will be collected, cleaned and reused elsewhere where possible.

I pay for you to collect my garden waste from my brown bin. Will I still need this service?

Yes, this service is a separate one. Collections won't be affected by shared bins and we will continue to request that people return their brown bins to their property following collection of garden waste. For more information visit our garden waste webpage.

There are shops and commercial premises nearby that use our blue and green bins - what will be done about this?

All businesses should make separate arrangements for their waste collections. If you are aware that this is not the case please contact Envirocall to report this. As part of our monitoring of the new service we will make sure commercial premises do not abuse the systems we have. We attach labels to remind commercial premises that the bins are for domestic waste only.

What if these bins get full because people use them to get rid of bulky items?

The larger domestic waste and mixed recycling bins have special inserts in the lids which should prevent bulky items being placed in them.

If you have bulky items you want to get rid of you can arrange a collection online or phone 0191 278 7878. There is a charge for collections.

You can also take bulky items free of charge to a Household Waste and Recycling Centre. If items could be reused, upcycled or recycled, there are charities that will collect them free of charge. You can have a look at some of them here. You could also sell them or give them to friends, family or neighbours.

How will you ensure there are enough bins for the Houses in Multiple Occupancy (HMOs)?

The number of bins is calculated based on an average of four people per property. We are aware there are properties with greater numbers of occupants. This will be taken into account, along with information we have about households with six or more people. We will be keeping an eye on this and can make changes if needed.

Will you remove additional waste that is left beside the bins?

We hope the capacity of the shared bins will avoid this. Waste and recycling will only be collected by crews if it is placed in the appropriate container. Any rubbish left outside a bin (shared or individual) could leave the person who left the waste out liable to prosecution. We always request that residents behave responsibly and considerately with their waste.
---
Anti-social behaviour
Has identity theft been considered?
We recommend all residents dispose of information containing personal details (name and address on envelopes, bank statements etc.) carefully to avoid any identity theft issues. This applies to those with individual wheeled bins as well as shared bins. We suggest you use a shredder; do not burn household waste as this is illegal.
Will shared bins increase the opportunity for burglars to access back yards?
Bins are already being left out in lanes so there is no increased risk. In areas where these bins have been introduced, the police have confirmed there has been no increase in theft or burglary due to shared bins.
How will you deal with fly-tippers?
Enforcement operations will continue to monitor back lanes and take action when possible and necessary. There are also CCTV cameras in some areas to monitor for crimes, including relevant environmental offences.
Is there an increased risk of fire or arson with communal bins?
Depending on the bin contents and the air available, it will still be possible to start a fire in a communal bin. However, the fire will be better contained in a metal bin with a solid lid than in a plastic bin.
---
Any problems or other questions?
If you are going to get shared bins, you will receive letters with specific contact details on.  We are not rolling out the scheme to any other areas at the moment.
If you already have them and have an issue or a problem, you need to report it to Envirocall:
Online forms: Envirocall for shared bins

Telephone: 0191 278 7878 and ask for "Envirocall."
Did you know?
If you have any issues with shared bins you need to report them to Envirocall on 0191 2787878.
They can log reports for issues such as:
broken lids or wheels

bins contaminated with rubble or bulky items

bins moved to the wrong place
Remember to give as much detail as possible to make it clear where the problem bin is in the lane.