February Half Term Crafts
February Half Term Crafts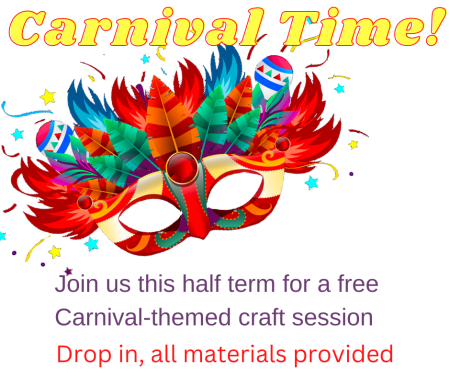 It's Carnival season at Newcastle Libraries!  We'll be making colourful Carnival masks and parade floats at your local library.
Each session lasts an hour and all materials will be provided. No need to book a place, just drop in. 
Monday 20 February
Fenham library, 11am
West End Library, 2pm
Tuesday 21 February
Cruddas Park Library, 10.30am
Newburn Library, 2pm
Wednesday 22 February
Blakelaw Library, 11am
Thursday 23 February
City Library, 11am
High Heaton Library, 11am
Kenton Library, 2pm
Friday 24 February
East End Library, 10.30am
Outer West Library, 11am
Walker Library, 11am
Gosforth Library, 2pm
Saturday 25 February
Denton Burn Library, 11am
Did you know?
In Brazil, Carnival celebrates the start of Lent, which is the 40 days leading up to Easter. 
In Britain we mark the start of Lent by making pancakes. Shrove Tuesday (or Pancake Day) is on Tuesday 21 February this year. Here's a simple pancake recipe you could try making at home.
Ingredients:
4 oz plain flour
1 egg
1/2 pint of milk
Oil for frying
Method:
Mix the flour, egg and milk together until the batter looks like thick cream.
Heat the oil in a frying pan. When the pan is hot, add a ladleful of batter, and move the pan so the bottom is covered.
When you see bubbles forming on top of the pancake, it's time to flip!
Cook for another minute or two, then serve with lemon and sugar, golden syrup or whatever you fancy!