Knit and Natter at Newcastle Libraries
Knit and Natter at Newcastle Libraries
Calling all Newcastle Knitters (and Crocheters!)
Newcastle Libraries welcomes you to be a part of our Knit and Natter network.
Volunteer to lead a library knitting group. Share your skills and get people chatting as we knit items for charity. Email: information@newcastle.gov.uk if you'd like to help.

Donate yarn and needles to a good cause. Drop-off at any Newcastle Libraries branch.

Join a knit and natter group.  Everyone is welcome and we have supplies you can use.
We are also hoping to start a Knit and Natter group at East End Library on Thursdays at 11am. If you are interested in joining please email eastend.library@newcastle.gov.uk
Help us to promote our groups by displaying this poster Knit and Natter Poster - all.pdf
Did you know?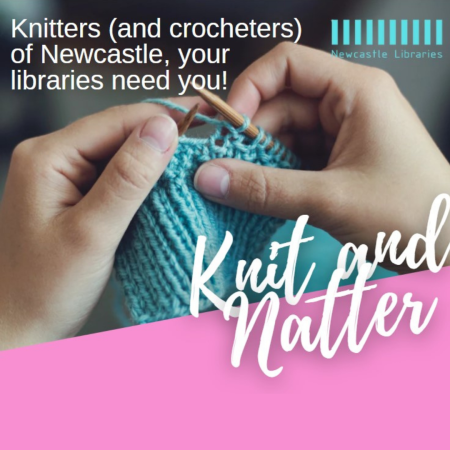 Newcastle Libraries service is a Library of Sanctuary.
We welcome, provide support and create opportunities for those seeking sanctuary in our city.

Our knitters are currently working on a range of winter essentials for adults and children. These items will be donated to award-winning charity Action Foundation to help them to deliver a warm welcome this coming winter.