Payments are currently suspended. 
As a precautionary measure, we have taken the decision to temporarily suspend our online payment system while we investigate an issue with our supplier. We apologise for any inconvenience caused.
The North East Community Forest partnership
The North East Community Forest partnership
The North East Community Forest Partnership is a collaboration between local authorities, combined authorities, and national, regional and local charities and agencies.
Operating across six local authority boundaries, its intent is to instil a sense of regional unity, sharing solutions and learning from each other's experiences while aligning objectives, funding, and resources to achieve ambitions tree planting targets.
The organisations below support the North East Community Forest as part of this partnership.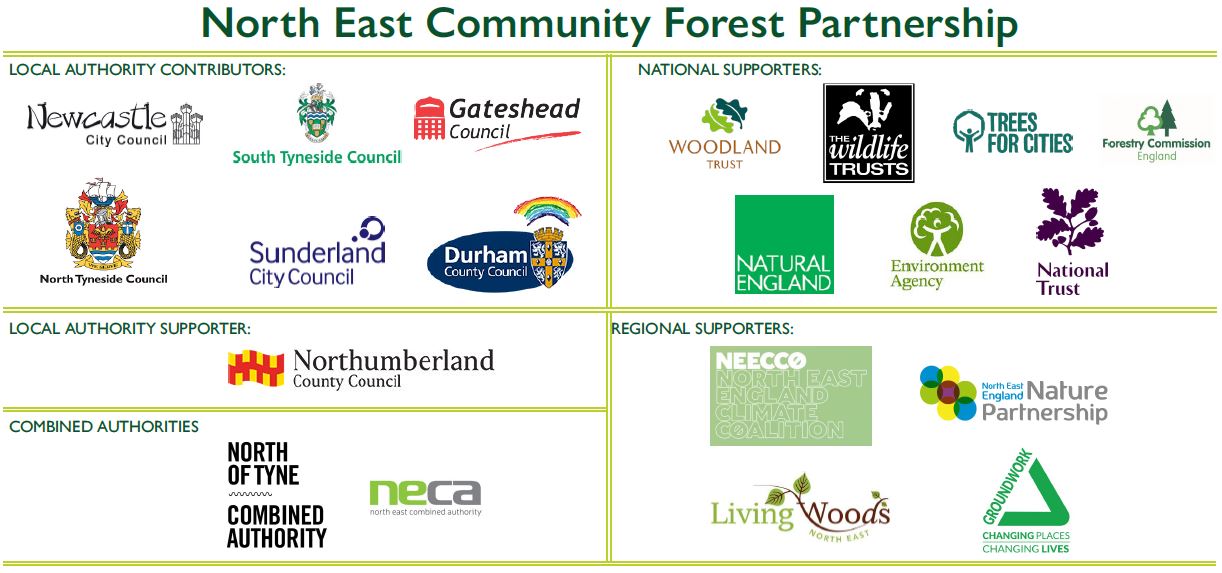 Councils
This includes the six councils whose area is covered by the forest and who provide the core funding:
Newcastle City Council
Durham County Council
Gateshead Council
North Tyneside Council
South Tyneside Council
Sunderland City Council
These authorities are supported by a seventh council, Northumberland County Council, which runs the Great Northumberland Forest.
Cllr Gen Sanderson, leader of Northumberland County Council, said: "We are committed to creating new woodlands and forests to promote more diverse eco-systems, help reduce climate change, and improve the wellbeing of our residents.
"Increasing the coverage of trees across the region at such a scale at which the North East Community Forest is proposing is both viable and sensible."
Combined authorities
Our forest partnership also includes:
the North of Tyne combined authority, which covers Newcastle, North Tyneside and Northumberland

the North East Combined Authority, which covers Durham, Gateshead, South Tyneside and Sunderland.
Jamie Driscoll, mayor and chair of the North of the Tyne Combined Authority, said: "Families will be able to have picnics. Walkers and runners will be able to exercise in clean air. Schools will have a new environment to visit. Scouts and community groups will be able to build dens. Otters and badgers and deer will have a habitat to raise their young. And we'll all enjoy seeing these trees grow and take carbon out of the atmosphere to help tackle the climate emergency. What's not to like?
"Let's make the North East England's greenest region."
National Supporters
The North East Community Forest Partnership also includes seven national supporters:
the Woodland Trust

Wildlife Trusts

Forestry Commission England

Natural England

the Environment Agency

the National Trust

Trees for Cities
Alistair Crosby, the Woodland Trust's northern regional director, said: "The Woodland Trust is delighted to support a new community forest in north east England.
"We see this as an opportunity to catalyse collective effort by local authorities and other organisations to meaningfully tackle
climate change and stimulate nature recovery, through landscape transformation that has the people of the north east at its heart.
"As the UK's largest woodland conservation charity, the Trust has a longstanding presence in the North East, and we will offer our expertise and experience to help shape the new community forest to deliver the maximum benefits for wildlife and people."
Regional supporters
The forest partnership also includes regional partners:
the North East England Climate Coalition

North East England Nature Partnership

Groundwork

Living Woods North East