25 October 2021
| | 3 min read
Arthur's Hill and Wingrove bins pilot begins
A pilot project to tackle some of Newcastle's most rubbish-affected back lanes has begun.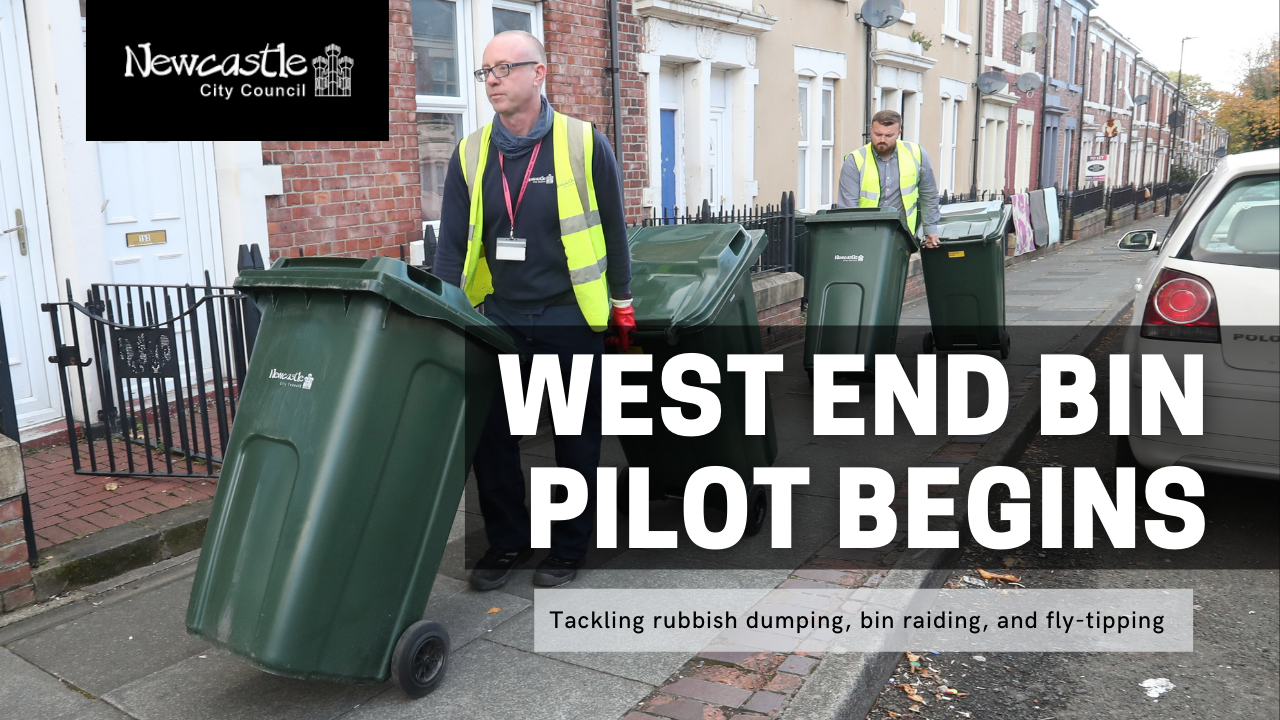 The 12-month trial scheme is part of an action plan developed by councillors, officers and residents to tackle the issues of rubbish dumping, bin raiding, and fly-tipping around the Arthur's Hill and Wingrove terraces.
It sees some back lanes blocked off to through traffic, the reintroduction of individual bins for some homes, more CCTV to help with enforcement action, education for landlords, work with Northumbrian Water around pest control, and landlords held accountable for the anti-social behaviour of their tenants.
Cllr Nick Forbes, leader of Newcastle City Council and an Arthur's Hill ward councillor, said: "The majority of residents look after the area but a small minority cause misery for the rest of us and that means a daily battle with rubbish - It is clear we can't go on like this.
"While some back lanes are really quite nice and local people are doing amazing work to keep them that way, there are other 'hotspots' that are just magnets for rubbish.
"While as a council we send in our 'clean up squad' every day, have installed extra CCTV in the Arthur's Hill and Wingrove terraces, prosecuted flytippers and have taken action after action, it's clear when I'm out there on a weekly basis talking to residents that we've reached the stage where we've got to try something different."
Lanes blocked to through traffic
An experimental traffic regulation order to facilitate the scheme has seen bollards installed to close four back lanes to through traffic, other than cyclists and bin wagons.
The bollards are at:
The back of Brighton Grove, at its junction with Studley Terrace

The back Croydon Road, at its junction with Studley Terrace

The back of Wingrove Road, at its junction with Severus Road

The back of Wingrove Gardens, at its junction with Hadrian Road
Cllr Forbes said: "Blocking off some of the back lanes to through traffic will hopefully prevent flytippers coming into the area from outside and dumping rubbish, and we're trialling a return of individual household bins rather than shared bins for some back lanes."
'We need residents to work with us'
Cllr Forbes added: "However, for any of this to work we need residents to work with us as, after 11 years of austerity and central government cuts, we simply don't have the resources to tackle this issue alone.
"Nor it should be said, should we have to – We need residents to take responsibility for and show pride in where they live.
"We hear the complaints that some people just throw their rubbish out over their back gate and expect someone else to deal with it – I've seen that myself and that's the kind of behaviour that pulls the area down and, quite rightly, makes people really angry.
"Please, if you have shared bins, put your rubbish in, and if you find your nearest bin is full, take your rubbish the few metres to the next bin up or the one after that where there is space in them. Don't just put it next to or on top of the one that's already full.
"And where new bins are piloted, we'll need residents to look after them, take them in after bin days, and make sure they don't become a problem too.
"Only by working together will we solve this issue and hopefully this pilot can help us take steps towards that, for the benefit of all."
Letters were sent to residents who will be affected by the pilot project weeks in advance, setting out the timescales and what is happening.
Households that will be changing to individual bins will also be invited to opt in to receive an individual blue bin for recycling.
Learning from the pilot project
The council will be monitoring and recording the outcomes of the different combinations of measures tested, to evaluate their impact and whether there are lessons that could be applied to a wider area.
That will include consideration of feedback from residents during the first six months of the pilot about whether preventing through traffic is an effective solution to the flytipping problems, and if that is something local people would like to see retained permanently.
Contact us
If residents have any questions about the pilot they should contact the council by emailing keepitclean@newcastle.gov.uk
"We're continuing to work with residents to build resilience so that we have people who are active in the community, making sure that local people collectively take responsibility for their area and that it's looked after."