8 August 2023
| | 2 min read
A bright new future for Ridley Place
The transformation of a city centre street is now complete, giving it a new lease of life and providing businesses with a place they can continue to be proud of.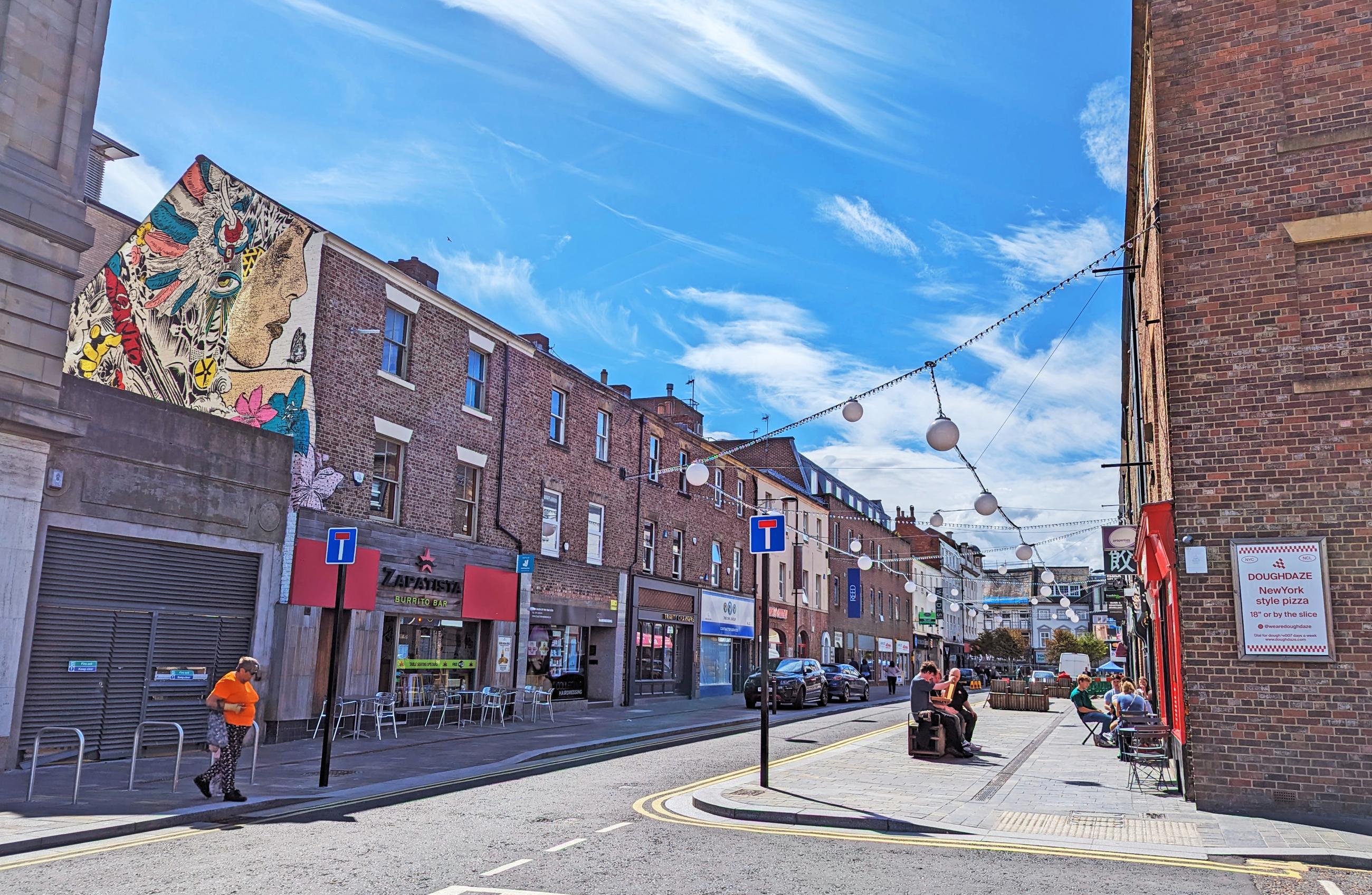 Ridley Place is home to a variety of independent shops, cafes and businesses providing professional services.
The aim of the transformation is to create an improved space and a distinctive destination that people can enjoy in the city centre.
The street has been fully repaved and new bespoke furniture and planters installed.
The furniture has been manufactured by a locally based company Raskl, who specialise in working with designers, artists and architects to produce unique street furniture.
In this instance the design has been influenced by Newcastle's industrial heritage.
There is also a pocket park and new trees, plants and greenery, creating a more relaxed environment to support the council's ambition to become carbon neutral. New bike stands have also been installed.
A mural now brightens up an exposed wall, welcoming visitors to the street, with another one planned for later in the year, offering a similar welcome from the other end of the street.
To further improve the ambience of the street and ensure it can also be enjoyed into the evening, new lighting has been installed, suspended on wires across the street.
This also provides opportunities for artwork and other installations to be displayed to further enhance the street.
Cllr Alex Hay, Cabinet Member for a Thriving City at Newcastle City Council said: "As a council, we remain committed to transform the city centre into a clean, green, more welcoming place that attracts visitors and investment and where local people feel a sense of belonging.
"Our plans for Ridley Place were for an exciting new destination where businesses can flourish, and the improvements to the street have certainly achieved this.
"The new planting and trees not only make the street a more attractive place, they also contribute to the city's sustainability. And the locally manufactured planters and seating are fantastic additions, as is the new lighting and mural. It is great to have striking new piece of public art that can be enjoyed by so many.
"I would like to thank businesses on the street who have worked with us during these improvement works. I'm sure they'll agree, these have culminated in a great new location that will attract more customers and provide a place where people will want to spend time."
To celebrate a new era for Ridley Place, the council, NE1 and businesses on the street are working together to hold a celebration event on Saturday 26 August.
Everyone will be welcome, and more details will be available soon.
Stephen Patterson, Chief Executive of NE1 Ltd, the Business Improvement District company for Newcastle city centre, said:
"We are delighted with how Ridley Place looks after its transformation and are confident that the welcoming and vibrant environment that has been created will encourage more visitors and customers.
"The makeover has created a 'go-to' destination with its own distinct character that will play to the strengths of the independent retailers and businesses on the street.
"NE1 are strong advocates of the council's plans to transform the city centre, and Ridley Place provides a great example of what is to come.
"We are looking forward to the event on the 26th which will give businesses the chance to celebrate the transformation and showcase all that the street now has to offer."
All improvements on Ridley Place have been funded through the Government's Getting Building Fund.