17 August 2022
| | 3 min read
Calls for city to lead the way to deliver net zero
Newcastle is the ideal city to trial more innovative energy-saving and low carbon projects and help shape government policies to deliver net zero.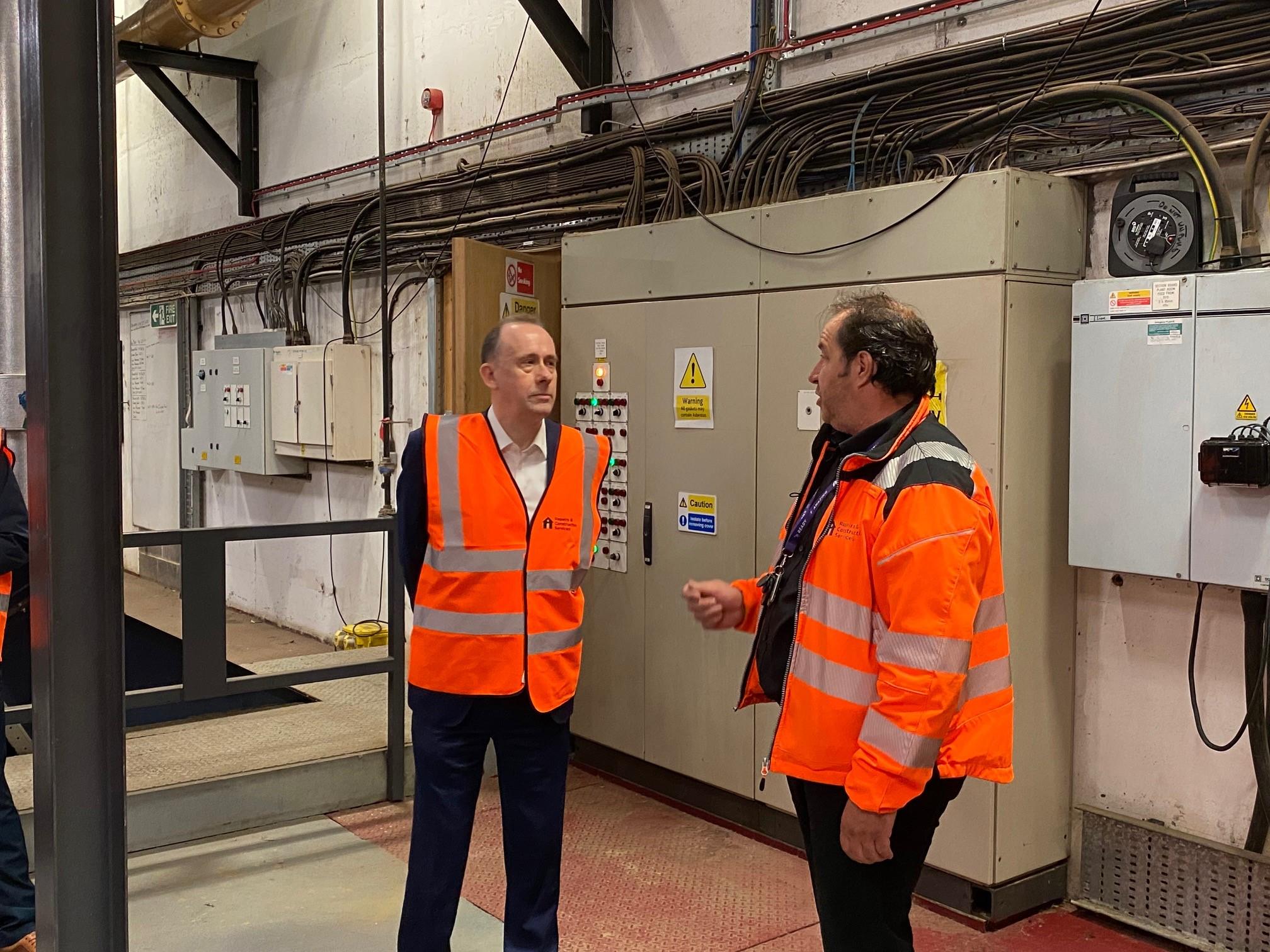 That was the message delivered to Business and Energy Minister Lord Callanan, who visited the city on Tuesday to see first-hand some of the exciting schemes taking place to tackle climate change.
Newcastle City Council urged the government to support the roll out of more projects to reduce carbon emissions in the city, including installing heat pumps in residents' homes and delivering large-scale low carbon heat networks.
These schemes will not only help the city reach net zero by 2030 but also slash household bills for residents amid rising energy costs.
Cllr Jane Byrne, Newcastle City Council Connected City Cabinet member, said: "We were delighted to welcome Lord Callanan to Newcastle so he could see some of the fantastic work taking place in our city to tackle the climate emergency.
"From making public buildings such as schools, libraries and swimming pools more energy efficient to being one of three locations in the country to test heat pumps in 350 homes, we are taking important steps to reduce carbon emissions and make our homes and buildings more environmentally friendly.
"Newcastle is a thriving city for business, culture, learning and development which is why we think it's the perfect location to lead the way in the roll out of more ground-breaking projects that will help deliver net zero and create the clean, green and inclusive communities we all want to live in."
Newcastle City Council is drawing up plans for heat network zones in the city which are designed to deliver affordable low carbon heat to residents, businesses and organisations.
Lord Callanan was told how Newcastle is the ideal place to lead on heat network zone deployment due to the extensive work and planning that has taken place already and the unique partnerships that exist in the city.
The networks supply heat to buildings from a central source, avoiding the need for households and workplaces to have individual, energy-intensive and expensive heating solutions - such as gas boilers.
Lord Callanan said: "Heat networks provide a unique opportunity to transform how households and businesses can keep their properties warm.
"We are committed to working with local authorities like Newcastle City Council to further develop heat networks as we move away from fossil fuels, helping drive down energy costs for consumers."
During his visit to the city, Lord Callanan had a tour of the Byker Heat Station, which provides heating and hot water to homes and many other buildings on the Byker estate.
The Minister visited East End Pool in Byker following the installation of a new heat pump, solar panels and other energy efficiency measures as part of the government's Public Sector Decarbonisation Scheme.
And he had a tour of Denton Park House, which has just had a new ground source heating system installed to the whole tower block, and the Helix District Energy Centre which provides affordable heating to businesses and homes on Newcastle Helix and is now extending this low carbon heat offer off the site.