10 February 2020
| | 6 min read
Newcastle climate summit considers city's "net zero" future
More than 1,000 people – including hundreds of children – have put forward ideas for how Newcastle can become "net zero" by 2030.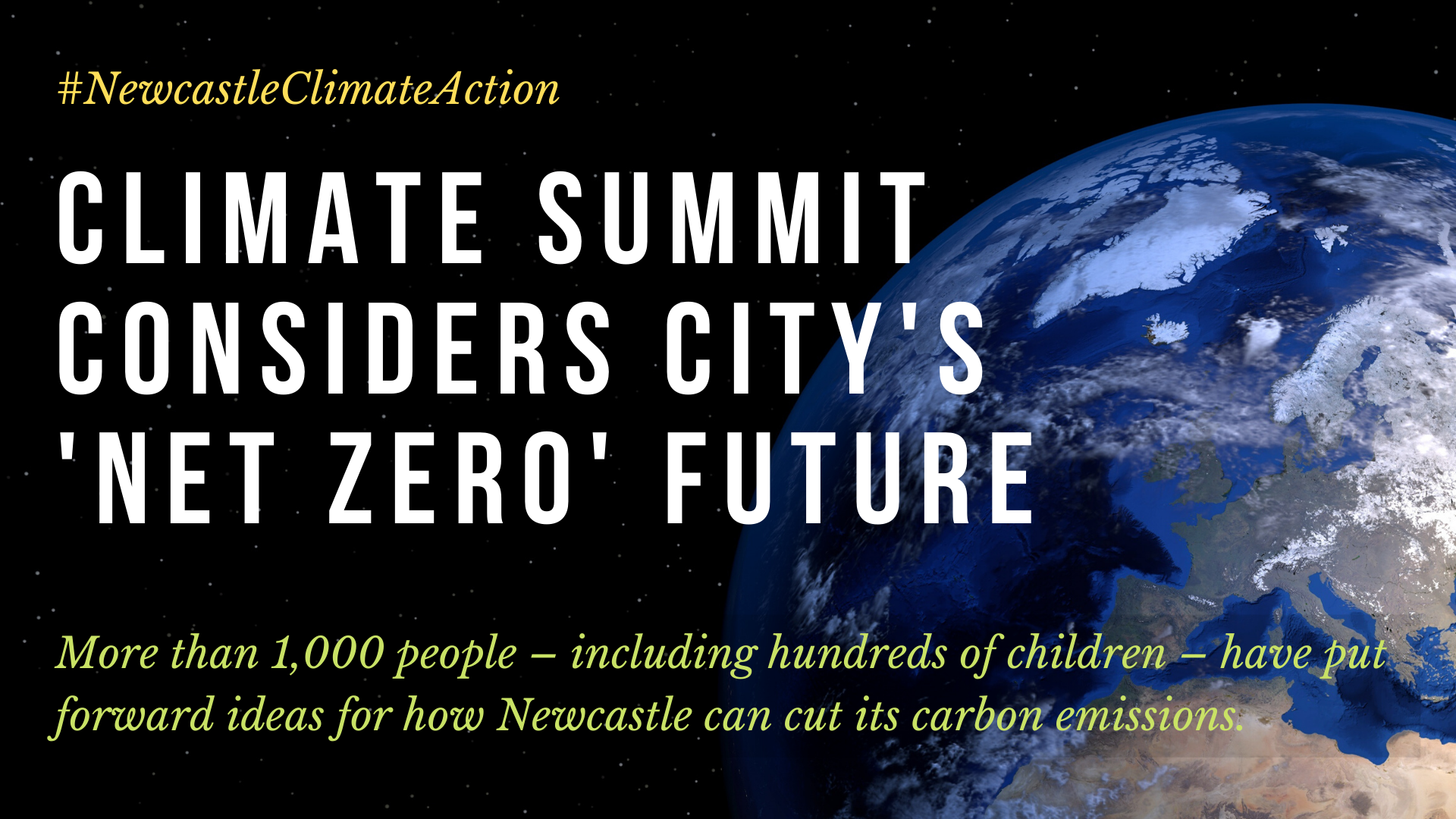 Newcastle City Council asked the public to suggest potential ways the city can fight climate change.
And on Wednesday February 12 over 100 campaigners, scientists and academics, businesses and community leaders are expected to come together at a climate summit to look at what more can be done to meet the area's ambitious carbon reduction targets.
Cllr Nick Forbes, leader of Newcastle City Council and chair of its Climate Change Committee, said: "Tackling climate change is like a 10,000 piece jigsaw that you have to put together bit by bit – It is going to take a lot of incremental steps and they are not all ones that we as a council can take alone.
"It is not just a case of divestment from fossil fuels, recycling yoghurt pots, planting trees or latching onto one or two big ideas – It must be a combination of all of those, and many more.
"Part of that may be upping our levels of ambition and having big projects ready to go, but it is also simpler, smaller changes and how best to support people to take those steps in their own lives.
"These local ambitions require backing from central Government to become a reality. We are calling on them to make clear proposals in their upcoming Environment Bill, giving local authorities, businesses and residents the power and resources we need to address climate change."
'We must reduce our emissions by 10 per cent per year, every year'
The summit will look at the three main areas that need to be tackled to meet Newcastle's climate commitments – transport, housing and business.
Prof Hayley Fowler, professor of climate change impacts at Newcastle University, said: "It is vital that we start now to reduce our emissions to Net Zero as soon as possible.
"We need to make changes in three main sectors: domestic heating, transport and industry, as each provides about a third of current emissions. And we cannot afford to delay any longer.
"The science has been clear since the first Intergovernmental Panel on Climate Change report in 1990 and delays since that time mean that to reach our target of only 1.5°C warming globally we must now reduce our emissions by 10 per cent per year, every year until we reach Net Zero.
"Delaying further just makes the task harder and the required emissions reduction rate faster, so I am delighted that Newcastle City Council is taking a lead on this serious issue."
Carbon reduction efforts well underway - and accelerating
For many years major local organisations have been working to decarbonise, with Newcastle City Council seeing a 41 per cent reduction in its carbon emissions since 2010.
However, since the UN's warning in 2018 that countries around the globe have just 12 years to avoid a "climate catastrophe" efforts have accelerated.
Newcastle City Council declared a "climate emergency" in April 2019 and increased its target from halving its emissions to reaching "net zero".
In October 2019 it launched a Climate Change Committee to lead on this, and a Net Zero Task Force to bring together organisations and institutions with the largest climate impact.
That includes Newcastle and Northumbria universities, Newcastle Hospitals NHS Foundation Trust, Nexus, NE1 and Newcastle Airport.
Climate Change call for evidence
A call for evidence, which closed on January 31 2020, saw more than 1,000 people put forward what they are doing to make a difference, and what they believe could make reduce the city's impact in the future.
Among them were almost 360 children, including a class of seven and eight-year-olds at Walkergate Community School, students in geography classes at Walbottle Campus, and pupils at Kingston Park Primary School.
Suggestions from the survey – which summit attendees will be given a preview of – included a desire for better cycling, walking and public transport infrastructure, more solar power, better recycling, and a "greening" of the local area by introducing more hedges and wildflowers.
Working together to fight climate change 
Cllr Clare Penny-Evans, cabinet member for climate change and communities, said: "We know we can't offer all the answers - We must take this journey together both as a city and communities, co-operating to find the right solutions.
"It has been great to see the response from people, businesses and institutions to our call for ideas. People have engaged with the workshops and discussions over recent months, and so many of them are coming together for the Climate Summit.
"We must now continue this collaborative effort, involving everyone in delivering our 'net zero' aim."
What happens next?
Ideas from the call for evidence, along with those from the summit, workshops and Net Zero Taskforce, will go on to influence the Climate Change Committee's report to council in March.
Find out more
For more information about Newcastle City Council's work to battle climate change visit www.newcastle.gov.uk/climatechange
We must take this journey together both as a city and communities, co-operating to find the right solutions.
Cllr Clare Penny-Evans
Cabinet member for climate change and communities