26 October 2023
| | 5 min read
Council Leader's Wear Red Day address
Earlier today (October 20), Cllr Nick Kemp, Leader of the council, addressed guests gathered at the Civic Centre on the significance of Wear Red Day, a day of action launched by anti-racism charity Show Racism the Red Card. Read his statement in full below.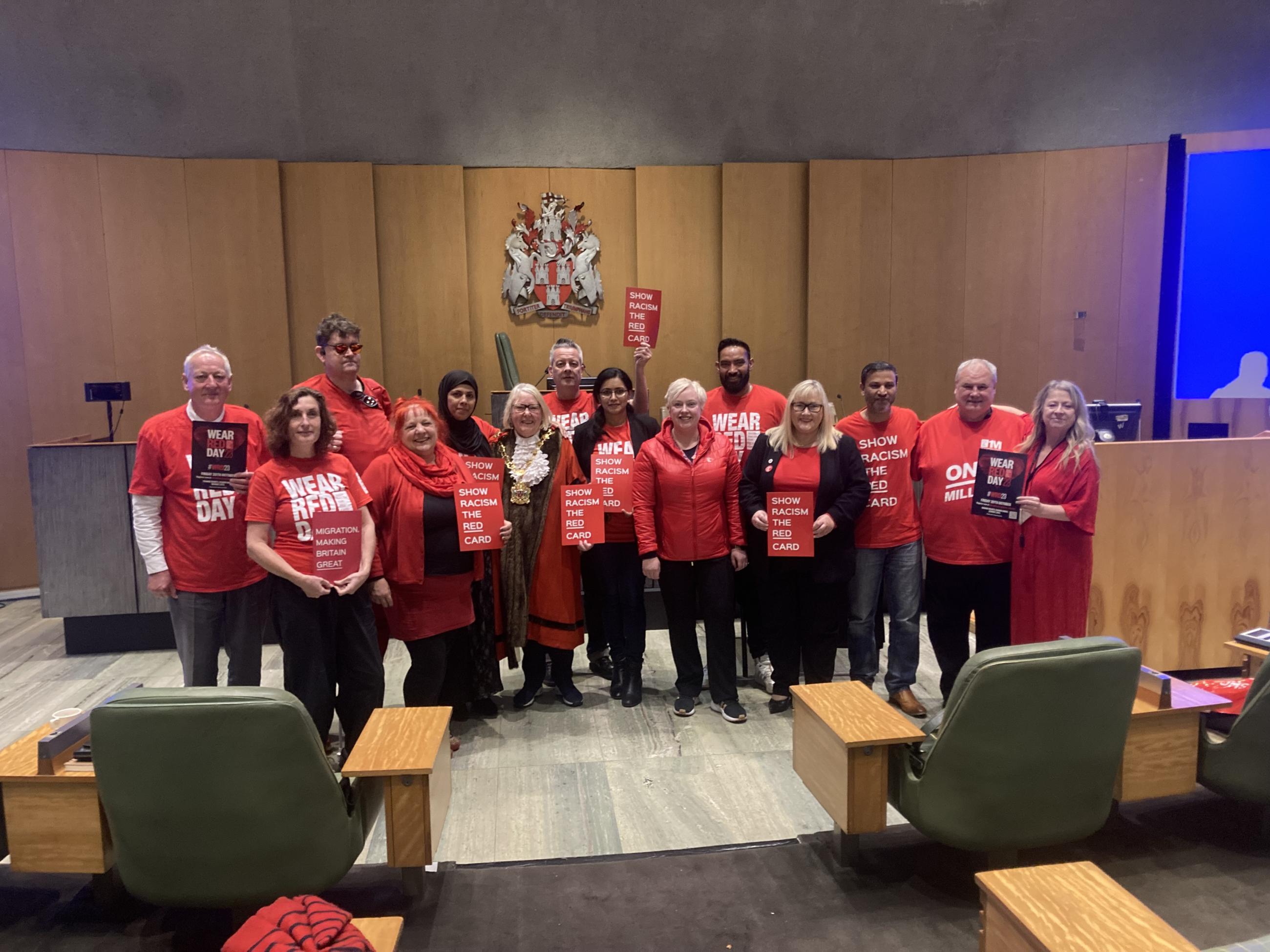 The scale and reach of the Wear Red Day grows and I'm proud that as leader of Newcastle to mark this day in Newcastle in such a visible manner.  Bringing the event into the Council Chamber, the home of the democratic and decision-making process for this city, I hope, underlines the importance this Council places on challenging racism and discrimination in every from.  
The work of Show Racism the Red Card is so important and I'm incredibly proud it started here in our great city.
We all know that racism can tear communities apart and ruins people's lives.  By coming together today, and with colleagues across the city council signing up, by raising the flag, and lighting up this beautiful civic centre red, we are expressing our solidarity to Wear Red Day 23.
We gather to celebrate our past, to recognise our progress, and reaffirm our commitment to our combined work towards a more inclusive and equitable future for all.
Cllr Veronica Dunn, Lord Mayor of Newcastle, speaks about the importance of coming together to tackle racism and all forms of discrimination.
Newcastle, a city with a rich history, stands proud as a beacon of anti-racist values. It is fitting that we are here today, for Show Racism the Red Card was born in Newcastle. That act of hatred directed towards Shaka Hislop was an act of hate that we all know sadly people across the country continue to experience every single day.
The activity of Show Racism the Red Card is a vital tool to educate everybody on the many forms racism takes and how to be an active ally in ending it. It is a reminder that our city has not just spoken out against racism but has actively fought against it. We cannot forget our past in our city, and the importance of this collective mission to create a more inclusive future.
As we look around at the incredible and increasing diversity within our city, we are reminded of the work we have already accomplished. Our sports clubs, communities, and organizations work tirelessly to foster an inclusive, accepting atmosphere. We have made great strides, but we are far from done. We must recognize that our journey towards equality is an ongoing one.
Our sports clubs, including the amazing Newcastle United Women's Football Club, have been shining beacons of anti-racism. They exemplify what it means to promote diversity and inclusion, highlighting the powerful impact that the world of sports can have on society. 
But we must not be complacent, we must continue to strive for excellence both on and off the field. We have more to do, and it is essential that we all pull together to make it happen.
I believe that we must remember that we, as a community, started this journey, and it is our collective responsibility to ensure it endures and prospers.
We must remember the lessons of history – the pain, the struggle, and the sacrifices made by those who came before us. These lessons must inform our actions, for it is through acknowledging our past that we can build a brighter future. We have a moral obligation to do better, not just for ourselves but for generations yet to come.
My friend and colleague, Cllr Irim Ali is working with officers from across the council in the development of our own Anti-racist charter and in the most recent full council meeting this Labour administration jointly with our trade union colleagues in Unison, we brought a motion to council which was unanimously agreed, to adopt UNISON's own anti-racist charter.
This charter will reaffirm our commitment to inclusivity, equality, and social justice. It will send a strong message that we will be dedicated to confronting discrimination and prejudice head-on. It will not just be an agreement on paper; it will be a promise, an oath, that we will work tirelessly to eradicate racism from our midst.
Leading by example is not just a suggestion; it is a necessity. As leaders in our community, we must embody the values we champion. Our words, actions, and policies should reflect our dedication to creating a more inclusive society. Let our actions be a beacon of hope to others, a guiding light that racism has no place in our world.
As the campaign states "every heart and every mind that we change changes at least one life but has the capacity to change hundreds, if not thousands of others, so be a proud anti racist. Be the difference. Be the change.  Together, we will show racism the red card.