14 October 2019
| | 5 min read
#SaferPartying campaign relaunches to improve safety of students
Legal notices have been served on a student property in Jesmond after police officers had to force entry to bring a dangerous house party to an end.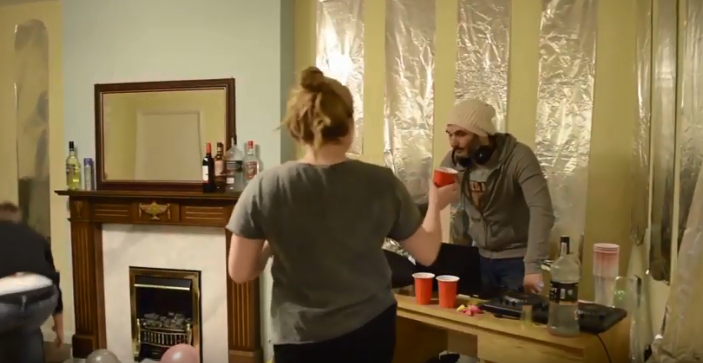 Earlier this month, emergency services were called to an address in Jesmond following reports of up to 100 students barricading themselves into a property during a house party.
Due to the lack of cooperation and the hostile behaviour of people at the party, as well as concerns for the safety of everyone inside, police had to force entry to the address.
The party was brought to an end, but not until after the officers in attendance had been verbally abused by the partygoers. Once inside officers found smoke detectors had been covered up and windows and doors had been blocked off, presenting a huge potential fire risk.
Officers from Newcastle City Council and Northumbria Police revisited the address to issue legal notices on the occupants in a bid to prevent recurrences. During this visit, inside the address, a quantity of cannabis and approximately 240 nitrous oxide cannisters were discovered. 
This is one of a number of large house parties attended by Newcastle City Council and Northumbria Police since September. On a separate occasion, another property nearby was holding a party with approximately 150 guests. As none of the students would own up to being the occupiers when police brought the party to an end, everyone left leaving the property open and insecure.
Actors play out a series of dangerous house party scenarios showing the risks at place during large indoor parties
Partners across Newcastle are now relaunching a digital campaign to encourage the city's vast student population to be aware of the risks of large house parties.
The original #SaferPartying campaign ran in 2017 and saw an 88 per cent reduction in call-outs to house parties in Newcastle, saving thousands of pounds for the council and emergency services. It is being relaunched to highlight the dangers and prevent a resurgence of large parties.
Cllr Nick Kemp, Newcastle City Council cabinet member for Environment and Regulatory Services, said: "We know from experience that these house parties, which effectively see student houses become makeshift nightclubs, are extremely dangerous.
"They put everyone in attendance, as well as others in the community, at serious risk and they lead to real and significant anti-social behaviour.
"We don't want to be a council which says students can't have fun. Newcastle is a city of destination for students due to our excellent universities, but we really do expect people to show common sense and respect.
"These parties are taking place in established residential communities and it is selfish and disregards the safety of all involved.  It is just common sense to know that a family house is not the place to hold parties for more than 100 people.  I would encourage our students to make use of the excellent nightlife on offer in our city centre.  
"Fundamentally we want to ensure people take care of their own safety and that of others in the community."
Sergeant Tony Davis, of Northumbria Police, said: "We are delighted to have welcomed thousands of students into Newcastle over the last fortnight and the overwhelming majority have behaved superbly as they begin their university adventure.
"Our message to students is clear – please drink safely and responsibly, while being mindful of others who are living in the vicinity. Our neighbourhood officers will continue to patrol student areas and respond to any reports of anti-social behaviour.
"Anyone with any concerns is asked to call police on 101. In an emergency, ring 999."
Vashti Hutton, Head of Student Progress at Northumbria University, said: "The university takes these matters extremely seriously and we welcome the resumption of this campaign.
"In these types of situations students need to recognise the danger not only that they are putting themselves in, but also their friends and those in the surrounding area. 
"We will continue to remind them of their responsibilities; not just as residents of the city but also as members of the Northumbria University community."
Our message to students is clear – please drink safely and responsibly, while being mindful of others who are living in the vicinity
Sergeant Tony Davis
Northumbria Police