31 October 2019
| | 3 min read
Youth support vehicles back on the road.
Two youth engagement vehicles will once again work with young people after the keys where handed over to voluntary sector groups.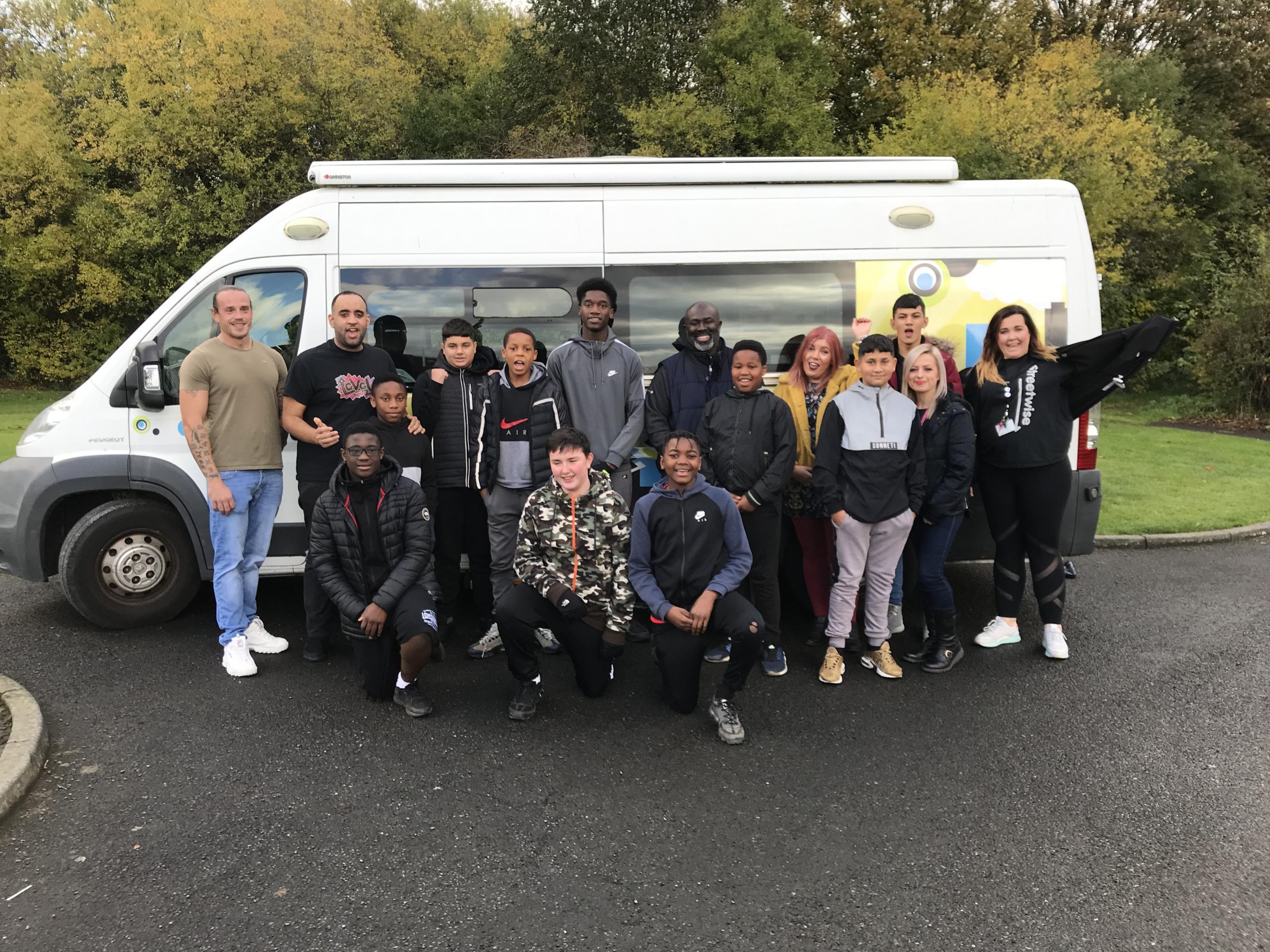 Valued at over 10k, the youth van and lorry where originally purchased in 2010 by the Newcastle City Council's Youth Services Team and played a key part of engagement with young people across the region.
The initial purpose of the vehicles was to provide detached and outreach work, sexual health advice, signposting to specialist services and to provide a safe space for young people to socialise. They became well known services, hives of activities for young people and a tool for partner agencies to use to increase engagement.  
The vehicles where used across the city, at festivals and events and targeted areas with increased anti-social behaviour. However, due to budget cuts affecting the council's youth services the vehicles have not been used as frequently since 2015.  
Following a successful bidding process the youth van and lorry have been handed over to Streetwise Young People's Project and Edge two well established, local organisations that provide youth support across the city and have strong track records of engagement and interaction with children and young people.
Interested services were invited to an open day to look at the vehicles and consider options for how they could be used. Following this, formal bids were submitted and evaluated by a council panel.
Streetwise will use the Youth Van at several sites across the city, with a focus on health and wellbeing and staying safe. They will also provide employability services and a wide range of activities and events to support children and young people's engagement in positive opportunities and will focus their delivery in areas where there is little existing youth services.  
Edge have successfully secured the Youth Lorry and will provide services across the city, allowing smaller organisations to work with them delivering vital youth work and support. They will work closely with Northumbria Police and will have a flexible approach to the location of the lorry, shifting it to areas if anti-social behaviour trends emerge.
Councillor Veronica Dunn, Newcastle City Council cabinet member for education and skills said:
"I am thrilled to see the youth van and lorry back in use and would like to thank Streetwise and Edge for their interest in the vehicles.
"The van and lorry will be a brilliant addition to our targeted youth support work and the flexibility they provide to services means they can adapt to the ever-changing environment that children and young people socialise in.
"Newcastle City Council is proud of its close working relationships with the voluntary and community sector and we are pleased that these valuable assets, which austerity has meant we could not utilise, will be back in use across Newcastle."
"It is great to have a facility like this, we can take Streetwise onto the streets of Newcastle to places where young people maybe don't have access to youth services." 
Mandy Coppin, Chief Executive Officer at Streetwise said:
"Our team are absolutely thrilled to be able to use the Youth Van and take a whole range of support services, activities and events to where young people meet up and feel safe in their local communities.
The Youth Van enables us to reach young people, find out what they need and provide support services to meet their needs, come rain or shine"
A spokesperson for Edge said:
 "We are delighted to be gifted the Youth Lorry and excited to see the difference it can make for Youth provision in the city.
"We are looking to bring together a consortium of Youth providers to deliver outreach youth work with a variety of different expertise and provisions. The lorry offers music and gaming, along with sports and food and drinks.
"It will offer sexual health services with the cities C-Card scheme and signpost Young people to specialist services they may need. The lorry offers a safe place for young people to enjoy themselves and open doors to other youth provisions they can access."  
Following the handover event on the 30th October Streetwise and Edge will be looking for suggestions from young people on names for the vehicles and how they should be decorated and dressed. Children are invited to submit their ideas at admin@streetwisenorth.org.uk or via twitter @NewcastleNE or via Facebook Streetwise Newcastle.
 We are delighted to be gifted the Youth Lorry and excited to see the difference it can make for Youth provision in the city.
Edge