3 March 2022
| | 2 min read
Former Prime Minister Gordon Brown speaks in Newcastle
Former Prime Minister Gordon Brown has taken part in a special event in Newcastle.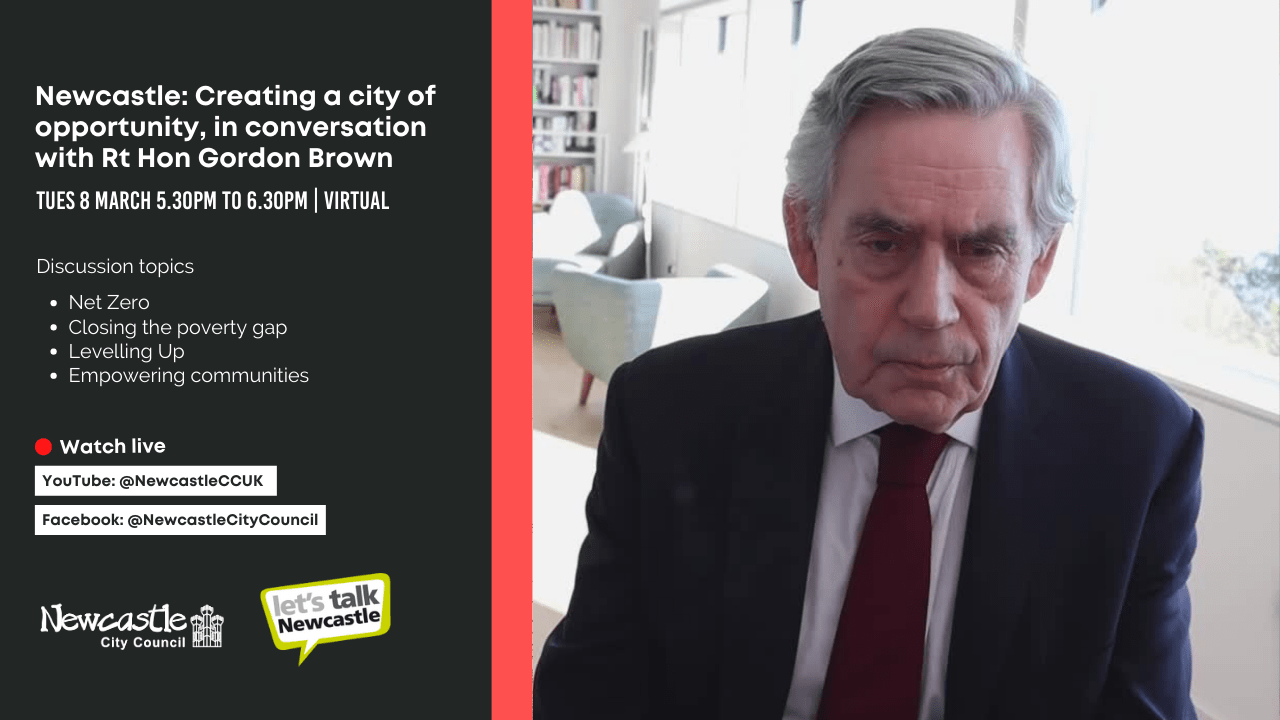 At an online meeting he discussed the challenges facing Newcastle - net-zero, poverty, levelling up and devolution.
Watch what he had to say
Who is Gordon Brown?
Mr Brown, who was the longest-serving Chancellor of the Exchequer in modern history, from 1997 to 2007. He became Prime Minster in 2007, succeeding Tony Blair, and remained in office until 2010 when he was defeated by David Cameron.
What did he talk about?
He spoke at the event after accepting an invitation from the City Council.
Mr Brown said: "I was delighted to be speaking at a conference that focussed on all of the good things the city is doing to improve the quality of life for its citizens and how it can achieve even more.
"I was pleased to join a discussion of some of the big challenges we face as a country. Newcastle has set itself an ambitious target to reach net zero by 2030 – a huge climate change challenge by anyone's standards – but we must achieve it so we looked at how we can hit that target and be an example to other cities and towns.
"After many years of fighting it, poverty is once again on the rise so we explored what we must do to help families struggling with the cost-of-living crisis and ensure every child has the best possible start in life.
"The council has made its own levelling up bids to Government, securing funding for a new leisure centre, swimming pool and investment in the Grainger Market and Old Eldon Square – but I wanted to discuss what levelling up really means and whether it can really make a difference and if so, how does Newcastle position itself to take full advantage.
"Finally, we wanted to look at the challenges which we need to make constitutionally as a nation to strengthen leadership in the regions and create new institutions that people trust and empower communities so that they, and not Whitehall, can be the masters of their own destiny."
Mr Brown is now the United Nations Special Envoy for Global Education and since September 2021 also serves as WHO Ambassador for Global Health Financing. 
Leader of Newcastle City Council, Cllr Nick Forbes, said: "I am delighted that Gordon will be sharing his thoughts about our future challenges and opportunities at this event.
"All cities have been hit hard by Covid and we know there have been big changes in how people work, commute, shop and spend leisure time.
"If we're going to thrive in the future, we need to think carefully about how we rebuild our city's economy, commit to tackling increasing poverty and put our climate change pledge at the heart of everything we do.
"Gordon's vast experience, both in government and more recently in promoting public debate about these big issues, means this will be a really interesting, thought provoking and exciting discussion about Newcastle's future."
This event follows a series of Policy Cabinets the council has held over the last six months to generate a conversation with residents and partners on the environment, education, employment, housing, health, and social care.
The hour-long event takes place next Tues, March 8, starting at 5.30pm and can be watched live on our YouTube channel - https://youtu.be/HH5lRYIw_KI, or on Facebook - @NewcastleCityCouncil.