19 July 2022
| | 2 min read
New plan will ensure Evry Newcastle young person thrives
Newcastle is coming together to launch a transformative eight-year plan to become a city where every baby, child and young person can benefit from fantastic experiences shape a path to a successful future, and be happy and well. A city where every child can!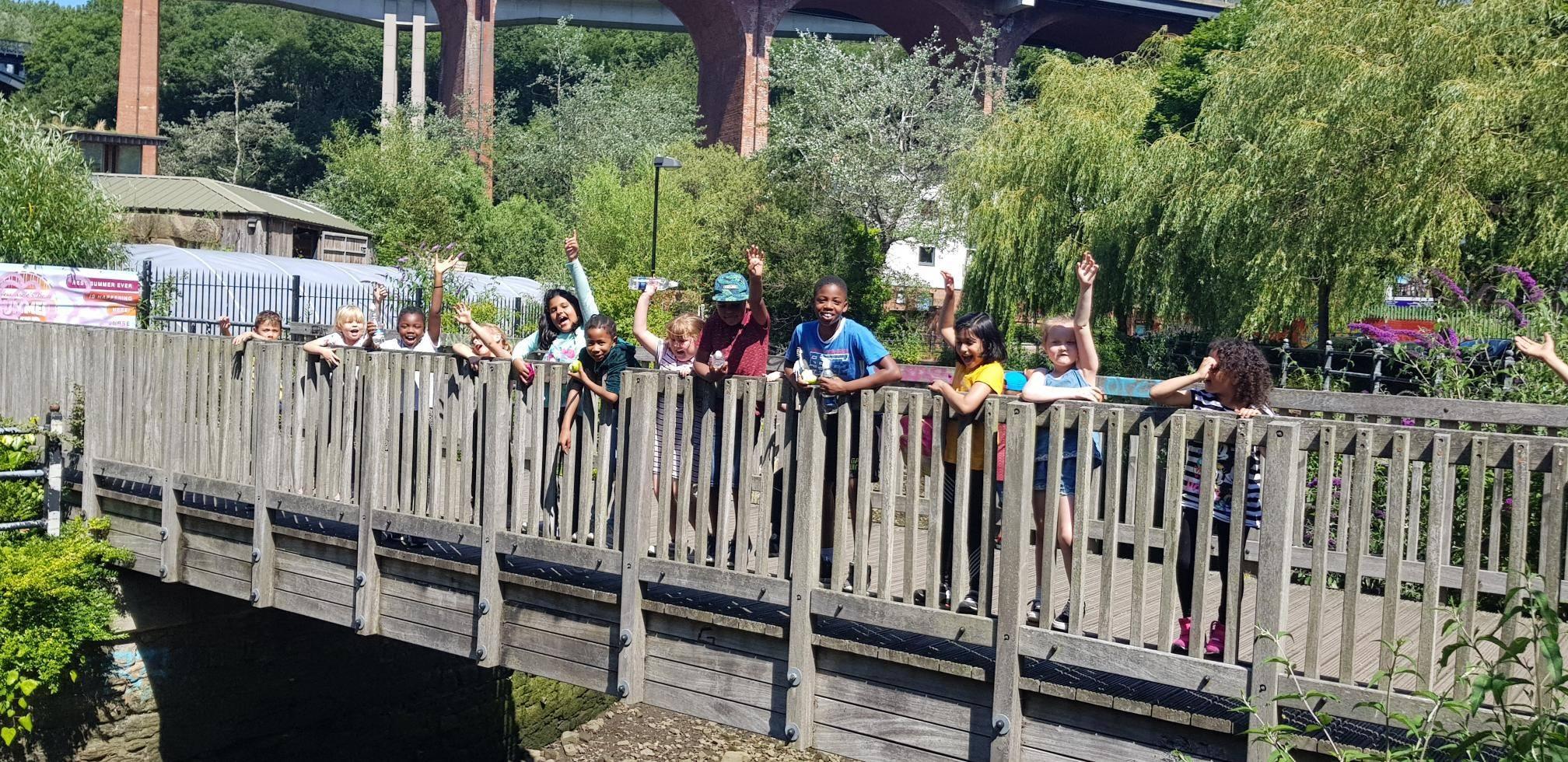 The plan, called Evry, has young peoples' voices at its heart following a year-long project of engagement with 1800 children and young people about their experiences of growing up in Newcastle. They expressed the need for positive things to do in their communities, better opportunities for training and work, more support for mental wellbeing, access to affordable transport, and safe places to play.
Evry recognises the challenges facing children, young people and families following the Covid pandemic and as a result of the current cost-of-living crisis. Taking a whole city approach, the plan unites more than 20 partners from health, education, business, cultural and charitable sectors to formulate an ambitious city wide, collective mission.
Evry has used a 'you said, we did' approach to develop a powerful series of commitments which aim to make Newcastle a city where every baby, child and young person can live, thrive and be heard. Highlights of these commitments include:
creating 500 entry level employment opportunities for 18-21year olds via the Collaborative Newcastle partnership (Newcastle City Council, Newcastle upon Tyne Hospital Trust, Newcastle University) over the next 2 years

an integrated FREE holiday activity offer for everyone under 19, linking together NE1's Summer in the City programme, Urban Green's learning, play and family events in parks. Newcastle Libraries Summer Reading Challenge, arts, history and learning activities in museums and cultural venues, and £17m annual Holiday Activity Fund for children entitled to Free School Meals

helping 4-10year olds start the school day the right way, working towards providing a breakfast club in every primary school by 2026 (in partnership with Greggs)

making travel more affordable, starting with a pilot in 2022 offering free travel on Metro and all bus networks for 360 18–21-year-olds who are care leavers, young carers or have English as a second language. Alongside a scheme in summer 2022 allowing under11s to travel free on Metro and bus networks with adults

working with NewcastleGateashead Cultural Venues and NGI to create 400 quality work experience opportunities in cultural and hospitality sectors every year, targeting Year 10 and 11 students from our most deprived communities every year

enabling 13-19year olds to tell their stories, via annual Toon Teen Takeovers of social media and press, in partnership with ncjMeida, Newcastle City Council and @newcatle_youth

enabling community providers to deliver activities through an annual £500,000 Youth Fund – with a panel of young people helping decide which projects win grants

£18m annual investment through Children & Families Newcastle in vibrant community spaces, baby and toddler groups, training, mental health support, midwifery, and a network of Family Partners to support those who struggle
The launch of the Evry plan will take place on Tuesday 19 July at Live Theatre, Newcastle.
Speaking as chair of the Evry launch event, Cllr Sylvia Copley, Cabinet member for a Growing City, Newcastle City Council said: "I am so proud to be involved with the launch of the Evry plan. The commitments mentioned are just a flavour of the work we intend to do, with the help of partners, to create brighter futures for babies, children and young people across the city. From providing families with community hubs to access support to enabling 16–21-year-olds to build a career via 500 new entry level opportunities by 2024, this plan showcases the positive impact we can all make when the city works together."
The founding partners of this transformative plan include Newcastle City Council, Collaborative Newcastle, Newcastle University, NE1 Newcastle Ltd, StreetGames, and Tyne and Wear Archives and Museums. At the launch event, they will be joined by Stagecoach North East, Greggs, Newcastle United Foundation, NewcastleGateshead Cultural Venues, Children North East and Urban Green, to present a series of exciting commitments that will ensure everyone under25 in Newcastle can live, thrive and be heard.
Stephen Paterson, Chief Executive of founding partner NE1 said: "Finding ways to respond to children and young people has been a golden thread of NE1's programmes for the last 14years. We are delighted to be working together with city partners as part of Evry, because we know what we can achieve collectively is much greater than the sum of its parts".
John Downes Area Director of StreetGames, added: "Experience with sports and community organisations, and holiday activity and food programmes, has shown that we can make lasting impact when we work together.  We also know young people want to get involved in decisions about the city. They already help decide how to spend the Newcastle Youth Fund and take part in Youth Climate Summits. Evry will bring partners together to help under25s to have an even stronger voice, through youth leadership and democracy programmes."
Jane Robinson, Pro-Vice Chancellor for Engagement and Place at Newcastle University added: "Evry is a new approach, shaped by the views of children and young people. It really captures the imagination. Newcastle University is delighted to be a founding partner, alongside colleagues in the Newcastle upon Tyne Hospitals Trust and City Council, in the Collaborative Newcastle partnership. The University is excited to offer access to world class sports and cultural facilities as part of summer holiday programmes, to play a role in youth democracy and leadership activity, and support the journeys of care leavers and 1000 young people via our IntoUniversity centre delivered in collaboration with Northumbria University".
Keith Merrin, Director of Tyne and Wear Archives & Museums, commented: "Tyne and Wear Archives and Museums are excited to be founders of the Evry plan. Newcastle is rich in cultural venues that provide a year-round offer of fantastic experiences that enrich lives and improve wellbeing. Our museums are open to all, with the vast majority of events we're running this summer available for free. We can also open pathways to learning and careers, and are delighted to collaborate with our NewcastleGateshead Cultural Venue partners to offer 100s of quality work experience and volunteering opportunities over the coming years."
At the launch event, young people will present findings of citywide consultation and issue a call to action, asking businesses, charities, educational organisations and public bodies to make their further pledges that can have a positive impact on their lives.