3 March 2023
| | 3 min read
Street Marshals help more than 300 people to safety on nights out
More than 300 city centre revellers have been helped to safety by a team of Street Marshals in Newcastle since the beginning of the year.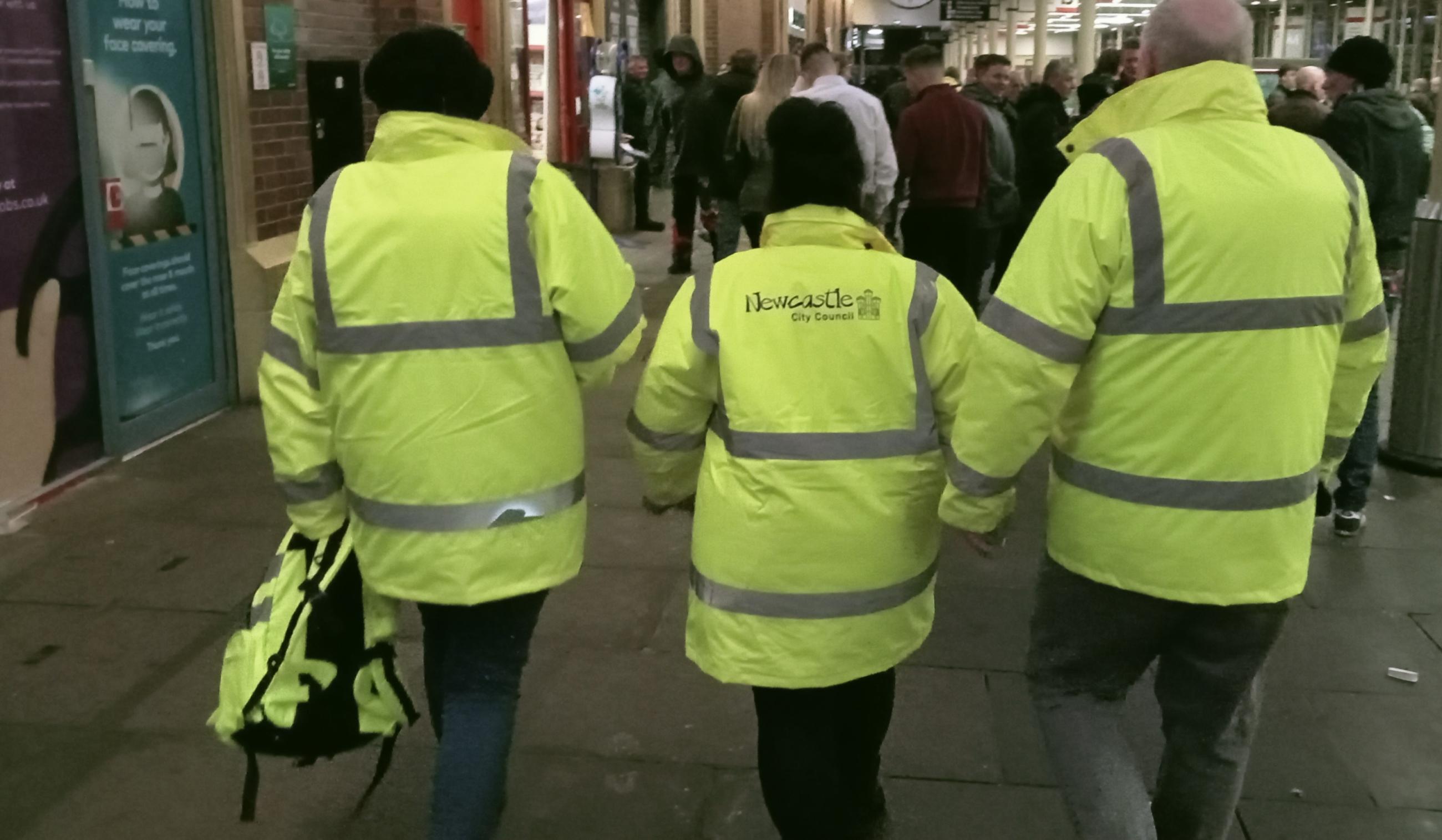 In recent months, Newcastle City Council has been deploying its team of marshals to support people in the city centre on Saturday nights.
The marshals have already assisted more than 300 people with a range of support needs, including helping individuals back to their hotels or to licensed taxi ranks, reconnecting them with friends or others when they've become lost, and escorting people to the Safe Haven van at St Nicholas Cathedral.
The marshals offer an additional uniformed presence in the city centre, patrolling nightlife hotspots to reassure members of the public and safeguard individuals when vulnerabilities are identified.
Cllr Lesley Storey, Newcastle City Council cabinet member for a Vibrant City, said: "Newcastle is a popular night out for people whether they live in the city or come from further afield, but with that comes a huge responsibility to keep people safe.
"Safety at night, and particularly the safety of women and girls, is a huge priority. We've been working hard to provide that reassurance to anyone who spends time in our city through our Better Lives, Safer Communities programme. Our team of Street Marshals, with at least one female in each patrolling pair, is a brilliant addition to this programme, and the team have already made a huge impact in the city by helping people get home safely or reconnecting them with people they trust.
"We're proud of Newcastle's reputation as a destination city, and we're committed to making sure it remains a modern and vibrant city where people can enjoy themselves safely."
Northumbria Police and Crime Commissioner, Kim McGuinness, said: "It's great to hear the positive impact the street marshals are having and it's just one of a number of ways we are working together across the city to make people feel safe in the knowledge that help is on hand if needed. From dedicated police patrols to awareness campaigns - it's all part of our big plans to make sure Newcastle is not only one of the best nights out but one of the safest too."
The Street Marshals have been supported by the Police and Crime Commissioner's Safer Streets Fund. They are made up of local authority employees from existing services such as Community Safety and Resilience and Parking Services. Importantly, they are experienced in dealing with the public and trained in recognising vulnerabilities.