15 January 2021
| | 3 min read
Councillors asked for £3 million cultural investment
Councillors are being asked to invest more than £3 million over the next five years as part of continuing support for culture in Newcastle.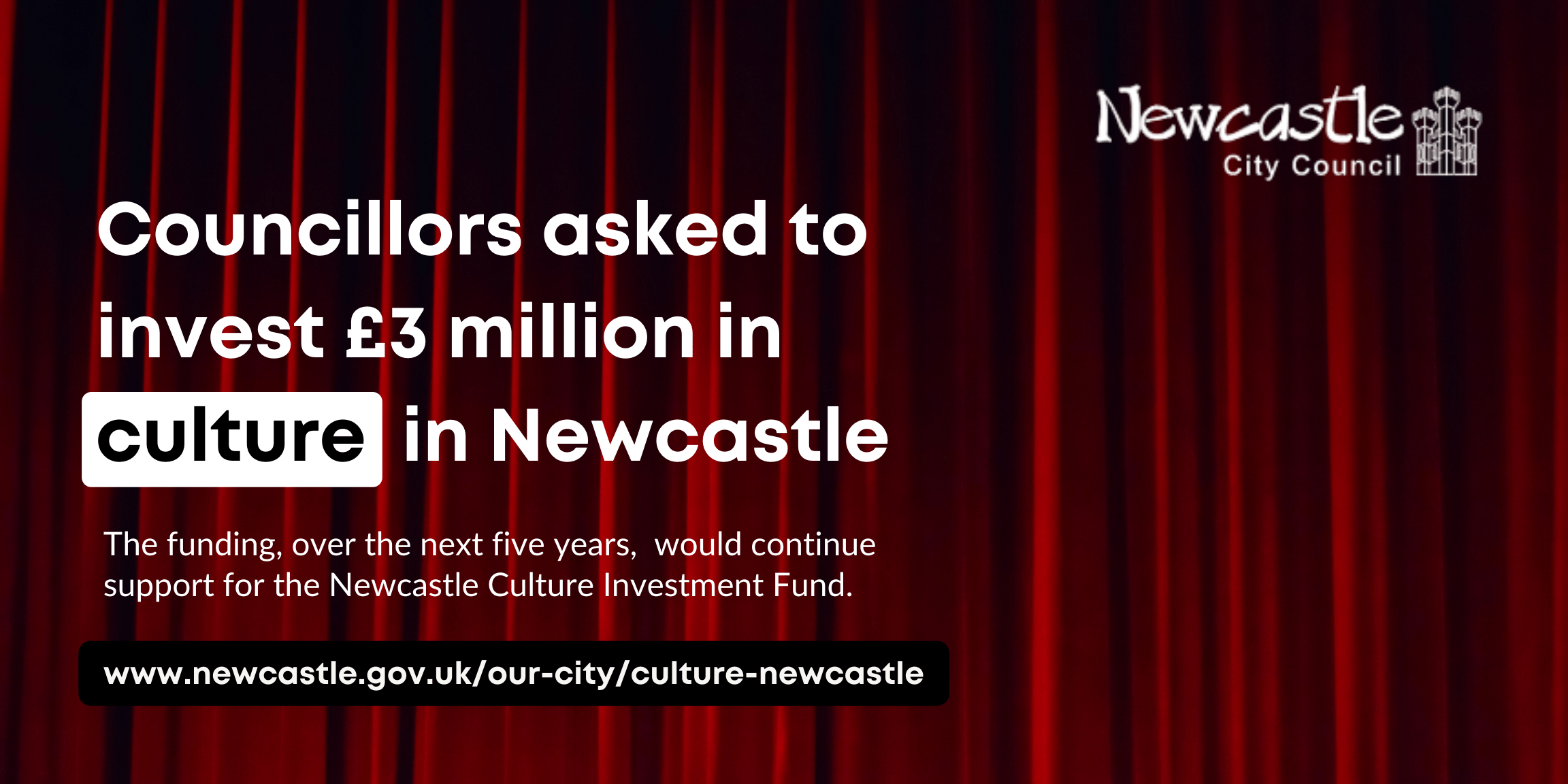 Our vibrant arts and creative sector plays a vital role in the lives of communities, bringing people together, providing thousands of jobs, improving residents' wellbeing, and putting the city on the map regionally, nationally and internationally as a fantastic place to live, work or visit.
 On Monday January 18 Newcastle City Council's Cabinet will be asked to continue the authority's £622,500 a year contribution to the Community Foundation Tyne & Wear and Northumberland's Newcastle Culture Investment Fund (NCIF) beyond March 2021.
'Culture will play a key role in the city's recovery'
Cllr Ged Bell, Cabinet member for employment and culture, said: "Newcastle is rightly renowned as a leading cultural destination and we are proud to be the home to a large and vibrant community of world class creative professionals and venues.
 "Since its inception in 2012 we have contributed to the NCIF, to support not-for-profit businesses and charities in what is one of the North East's key industries to grow, flourish and have a positive impact on all of our lives.
 "Of course, the last year has been exceptionally tough for everyone involved in the arts, but we know that culture will play a key role in helping our city to recover from the effects of this pandemic, supporting economic development, public health, and quality of life.
 "We want to do everything we can so that those individuals, businesses and organisations can get back on their feet and once again play a major part in both our communities and our visitor economy."
What the money will be used for
Council funding for the NCIF is currently set to end on March 31st but a report to Cabinet recommends this grant be renewed for a further five years, with the authority also agreeing a separate but related contract to support other fundraising efforts.
In 2021/22 the money, along with grants from organisations such as Arts Council England and the North of Tyne Combined Authority, would be targeted to secure the future of the city's cultural assets, sustain them through the remaining months of the pandemic, and then enable them to function productively in the "new normal."
 In the years that follow, the emphasis would change to reflect the city's new Culture Vision and the priorities of its Culture Compact.
Culture 'important to the life of the city'
Cllr Nick Forbes, leader of Newcastle City Council, said: "The cultural and creative sector plays an important role in the life of the city.
"It makes a significant contribution to Newcastle's profile and reputation; provides employment for significant numbers of people; contributes to the development of inclusive communities; has a positive impact in education, on health and well-being and on quality of life; and attracts significant investment to the city each year.
"That is something we want to see continue, offering everyone a chance to connect through creative activity; helping to ensure that communities across the city are good and creative places to live; encouraging and enabling good mental and emotional; and ensuring we maintain our reputation for a dynamic cultural sector, city centre and night-time economy."
Find out more
For information about Monday's Cabinet meeting see the agenda here.