11 June 2019
| | 3 min read
Newcastle City Council celebrates Sage's success from homelessness prevention pilot.
Sage have shared the success of a pilot protecting young people at risk of homelessness in Newcastle from a life of insecure accommodation and at worst a life at risk of living on the streets.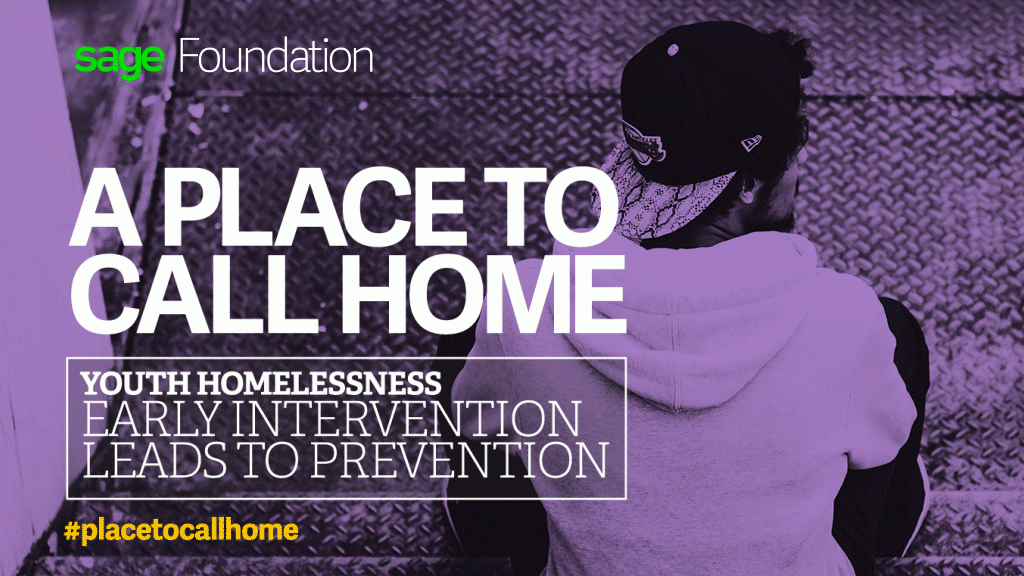 It identified 11 young people at risk of homelessness and over the course of one year managed to secure for all of them a permanent place to call home. Thanks to the project's early intervention, eight were able to stay in the family home. For the remaining three, this was not the right option and alternative homes were arranged. There is more information about it online here: https://www.sage.com/en-gb/company/sage-foundation/a-place-to-call-home/
The pilot was delivered by Sage's philanthropic division Sage Foundation
Councillor Joyce McCarty, deputy leader of Newcastle City Council said, "This brilliant piece of work from Sage has shown how organisations, regardless of their size, can have a positive impact on the lives of young people at risk of homelessness.
"Homelessness is everybody's business, and we would encourage organisations across the city to consider what they can do to prevent young people from becoming homeless and support those who are."
Neil Munslow, Newcastle City Council's Active Inclusion Service Manager says, "Sage's pilot shows there is a good case for funding upstream homelessness prevention – protecting young people from the difficulties and dangers they face when homeless. We are working with Sage to align their funding with ours and continue to ask Government to consider funding the upstream prevention of homelessness."
"The physical harm, terror and destruction of life long potential in any young person is unacceptable."
Sage Foundation's global head Debbie Wall explains, "Had the 11 young people identified ended up homeless, the cost to the state would have been £110,000 a year and this figure would have risen every year. Our intervention cost a small fraction of this. 
"Newcastle City Council and local charity partners helped us identify the service gap where the biggest difference could be made – the point at which young people were given no choice but to leave the family home.
"We then worked with local charity Family Gateway to adapt its Barefoot Professional model, funding direct action with the young people at risk and their families, through counselling and practical support. Family Gateway's model proved the right one, as it trains local parents, who have experienced similar issues, to support the families in need.
"We will continue to support the 11 young people in our pilot into further education, with a view to employment. And we have extended the pilot to a further 13 families.
"While we recognise that Newcastle council are doing a good job with the resources that are available, we really want to encourage corporates to use their foundations or philanthropic budgets to be incubators of change and develop alternative solutions to old challenges in our local communities such as youth homelessness. Our project maybe a small project, but it has proved that alternative approaches do work and should be developed.
"I call upon fellow corporates locally to join Sage to help make a difference in addressing this shocking problem. Everyone is very welcome to get involved with supporting A Place to Call Home by providing more funding so we can grow this early intervention approach to the point where it becomes adopted by the powers that be as a solution to the challenge of youth homelessness. Everyone deserves a 'place to call home'."
Sage, with the ongoing support of Newcastle City Council, hopes the success of this pilot will lead to prevention being adopted more widely through complementary schemes across the UK. 
"We seek to normalise acceptance that society has an obligation to prevent young people from homelessness. The cost benefits could also be regarded as a compelling argument supporting this, our program cost £2000 a year to support a young person and their family, if this young person leaves home the costs are significantly higher."Newcastle City Council are determined to end homelessness and rough sleeping across the city and have a programme of preventive services and support available to those at risk of becoming homeless and rough sleeping.
They work with partners across the city to provide over 700 beds of accommodation and are one of the key partners behind Street Zero, an ambitious, city wide partnership aiming to end rough sleeping in the city.
For more information about Street Zero visit - http://streetzero.org/
Homelessness is everybody's business, and we would encourage organisations across the city to consider what they can do to prevent young people from becoming homeless and support those who are.
Councillor Joyce McCarty
Deputy Leader, Newcastle City Council