20 November 2020
| | 5 min read
First free heat pumps installed as part of £3.9m project
The first recipient of free low carbon heating upgrades has urged more Newcastle residents to apply and see if they are eligible.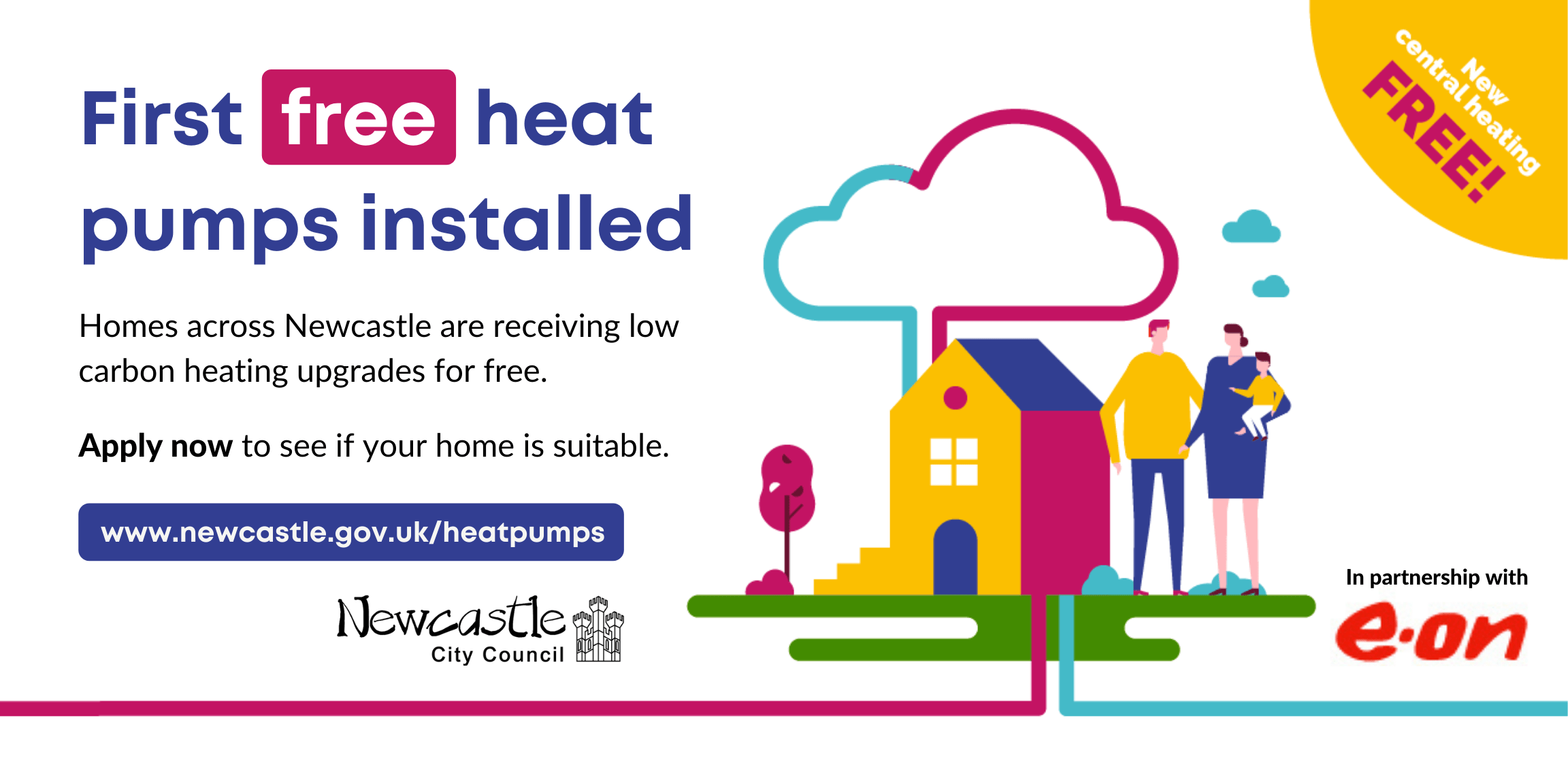 Newcastle's £3.9 million Electrification of Heat project is aiming to install 250 heat pumps in suitable properties across the city to help the Government see how this long-established technology works in a variety of homes.
Over 1,000 households have shown interest, with more than 80 already on their way to having new energy efficient heating fitted for free – but there's still time to apply.
'A very good experience'
Alan Goldie, from Lemington, was the first to have one of the new systems installed.
"It's been a very good experience," he said, "and I'd recommend anyone who can to put themselves forward and see if their home could be suitable for one of these new greener heating systems.
"I'm the kind of person that likes to try and keep up with modern technology, and already have solar panels, but I'll admit I'd never really thought about heat pumps.
"I read up on it and then immediately applied as it is a greener system and hopefully cheaper to run.
"The workmen were all very friendly and polite and they've done a brill job – And I'm really quite surprised how quiet it runs."
Though many residents have so far registered interest in taking part in the project, surveys have found not all properties are appropriate for the heat pumps available through the scheme.
That means there are still opportunities for more people to come forward and receive the free heating upgrade, which comes with the added benefit of support until March 2022 and an extended warranty for the unit.
'Get involved if you can'
Cllr Clare Penny-Evans, Newcastle City Council's cabinet member for communities and climate change, said: "It is great that so many people have put themselves forward to potentially take part in this project and we can only thank them for wanting to both reduce their own carbon impact and help the UK find new, more environmentally sound ways of heating our homes.
"As a city we have already been taking great strides in cutting our carbon footprint, and our recent Net Zero Newcastle: 2030 Action Plan sets out more than 150 measures to help achieve our ambitious target of becoming 'carbon neutral, but we know the task ahead is a huge one.
"Through initiatives like the Electrification of Heat project and the Green Homes Grant we can take some of the bold and innovative steps needed to tackle the climate emergency and, if you haven't already, I'd strongly urge you to find out more and get involved if you can."
What is the Electrification of Heat project?
The Electrification of Heat project is a collaboration between E.ON and Newcastle City Council, funded by the Department for Business, Energy and Industrial Strategy, with support from social housing provider Your Homes Newcastle (YHN) and charity National Energy Action, which campaigns against fuel poverty.
It aims to explore how to overcome barriers to people adopting alternatives to more traditional boilers and demonstrate the feasibility of a large-scale rollout of heat pumps in advance of the proposed ban on installing gas systems in new homes from 2025.
It will see 250 heat pumps installed in a range of suitable private and YHN homes, along with innovative secondary technologies, such as thermal stores.
The project is fully funded by BEIS, meaning it will be free to suitable homeowners.
It predominantly focuses on homes which already have gas central heating, although some homes which have no mains gas will also be included.
Recipients of the free heat pumps will benefit from aftercare to ensure the heat pump is operating effectively, as well as energy tariff and usage advice and wellbeing checks by the charity National Energy Action (NEA).
The application process
Applications are open to all Newcastle residents, and you don't have to be an E.ON customer to apply.
When you do, your property will be surveyed to assess if it meets certain suitability criteria for the installation of a heat pump.
As part of a commitment to keeping customers and contractors safe, this will be conducted remotely in the first instance, prior to a physical home survey.
Homes surveyed across the city
More than 300 surveys have been carried out since July, with the first five homes – in Lemington, Heaton, Blakelaw, Chapel Park and Kingston Park – seeing new heating systems installed in recent weeks.
Andrew Angus, E.ON's housing solutions manager, said: "It's been a great experience talking to Newcastle residents from all walks of life.
"There's an overwhelming desire from people to reduce their carbon impact and look after their environment.
"With this free scheme, the up-front cost is taken away for customers, so providing the property is suitable for the heat pump, all that remains is the choice to go green."
Apply now
For more information about the Electrification of Heat project and how you can apply for a free heating upgrade worth up to £7,000 visit www.newcastle.gov.uk/heatpumps