8 July 2019
| | 4 min read
New £6.9m housing scheme gets underway in Newcastle
A new scheme to deliver 46 affordable homes in Newcastle broke ground on site today.  This latest project from Newcastle City Council will help the council achieve priorities set out in the housing statement for 2017 – 2020 by delivering affordable homes for rent and create more independent living for people with different support needs.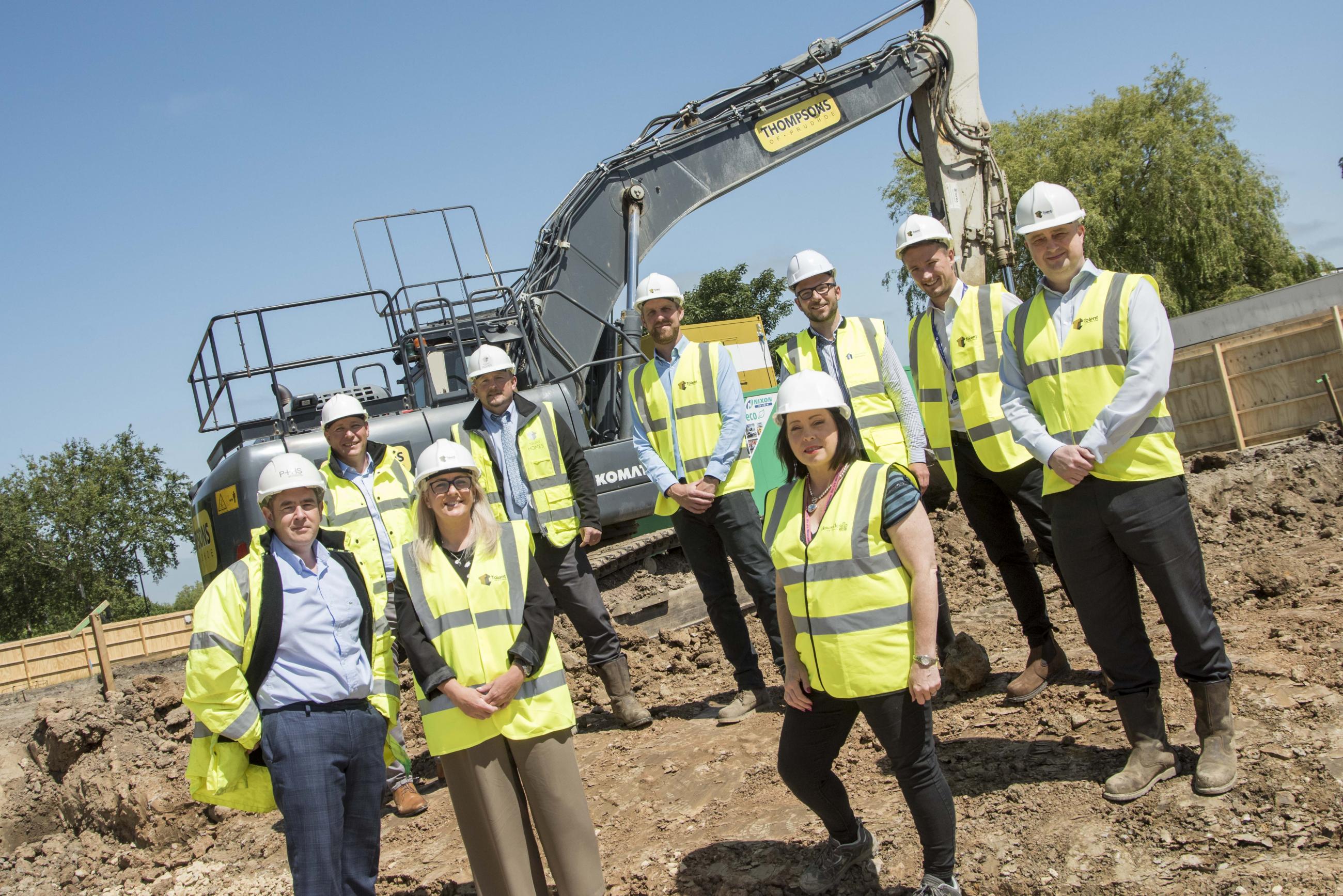 The £6.9m development in Kenton boasts a mix of housing including family homes, older people's accommodation and bungalows for people with learning disabilities, autism or both, who need support to live independently. 
The five specialist bungalows will give residents access to on-site support, while the design of the homes will help them maintain their independence in their own individual space.
The scheme, which is set across two sites on Hartburn Walk and Reestones Place, includes bungalows and Tyneside flats available for affordable rent by people aged 55 or over as well as a mix of 21 two, three and four-bedroom homes.   
Gateshead-based contractor Tolent was awarded the scheme and work has begun across both sites with a view to completing the job early next year.
Councillor Linda Hobson, Cabinet Member for Housing at Newcastle City Council said: "Newcastle is a diverse city and by working in partnership with Tolent and with funding support from Homes England this site will offer a range of housing options, including supported accommodation that will help meet the housing needs of all our residents.
"The range of good quality homes on this site make it an attractive choice for everyone, from young families to older people, and is an excellent example of how building new houses can help create communities."
Chris Price, regional director for Tolent, said: "With the addition of this new scheme, we're currently on six sites across the city, delivering over 200 quality, new homes on behalf of Newcastle City Council.
"We've got experience in delivering over £800m worth of affordable housing projects. And not only do we help create great places to live, but we always look to offer local employment opportunities, and this scheme in Kenton will be no different."
A regional collaboration, Tolent has worked closely with Newcastle-based P+HS Architects and specialist consultants CK21, and Your Homes Newcastle will be the agency managing the tenancies and allocations of the new homes. Funding was also secured thanks to Homes England.
David Langhorne, Assets and Development Director at Your Homes Newcastle said: "YHN is very pleased to be involved in the development of this site, which will offer an impressive mix of modern, high quality housing catering for a wide range of needs. This is a unique opportunity to build on previous regeneration in the Kenton area, not just in terms of housing, but in the provision of outdoor facilities including recreational areas and nature trails.
"There is already a thriving community in the area and we're sure to receive a lot of demand for these lovely, modern homes." 
Derek Shepherd, Director for P+HS Architects, said: "Continuing with our commitment to designing high quality, affordable homes for older persons and people with specialist needs, we are delighted to once again be working with Tolent on behalf of Newcastle City Council and YHN.
"The chance to create environments that enhance people's lives is key to what we do and the sites at Hartburn Walk and Reestones Place have provided an opportunity to provide much needed accommodation in the North West of Newcastle."
Iain Hush, Director for CK21, said: "We are delighted to be part of the team that are delivering the new housing at Kenton on behalf of Newcastle City Council and YHN. We worked closely with our design partners P+HS Architects and Tolent during the bidding and design delivery phases and look forward to the successful completion of the project on site."