5 July 2021
| | 3 min read
Pupils' art gives building site a facelift
12 pupils aged between 16 and 17 from Sir Charles Parsons School in Walker have painted several local landmarks on hoardings where Your Homes Newcastle are building six new bungalows.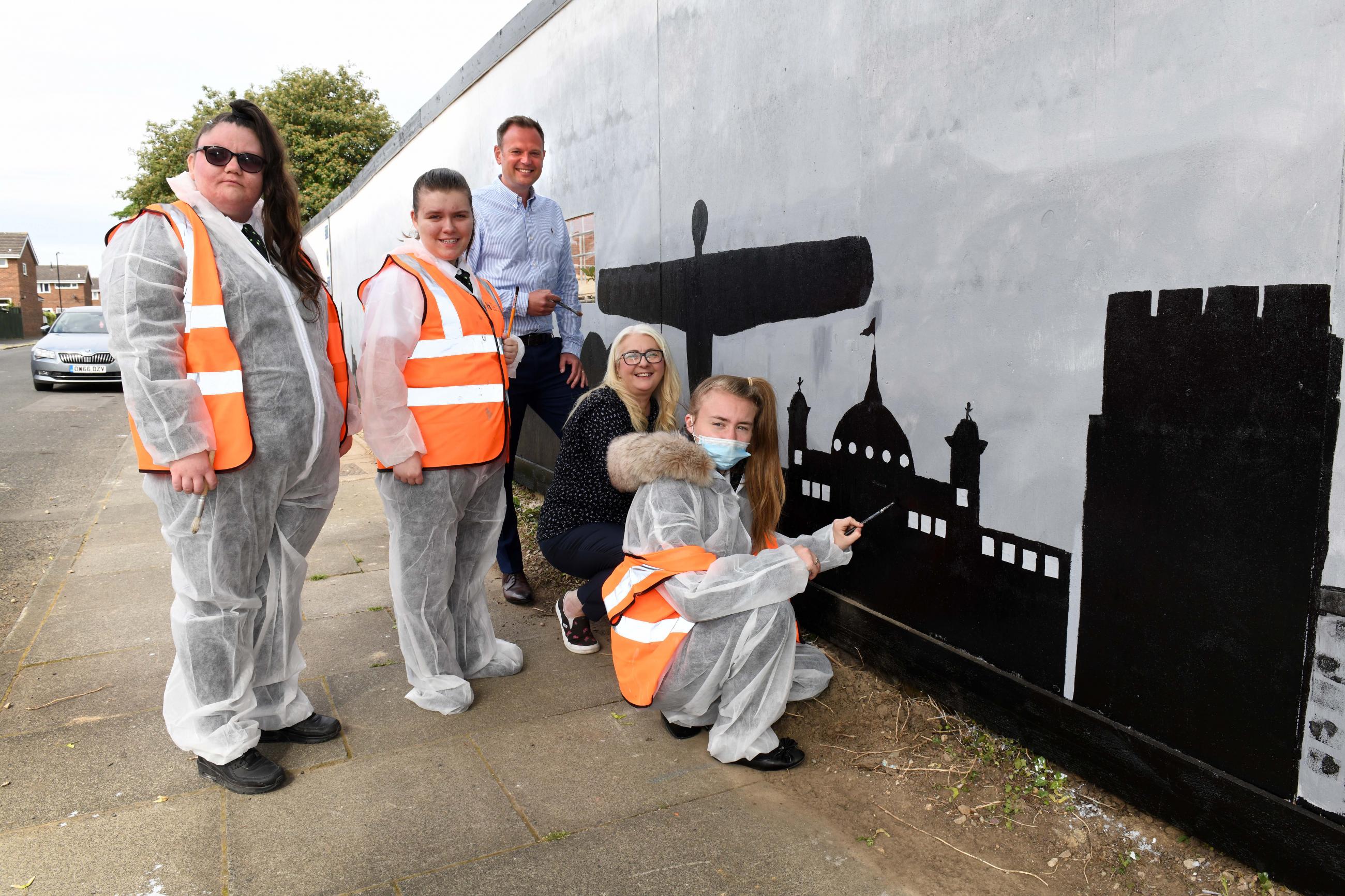 The mural, which features depictions of sights familiar to local residents, such as St James' Park, the Angel of the North, Grey's Monument and the Spanish City dome, were designed by the pupils in class and painted on the hoardings using templates they created themselves.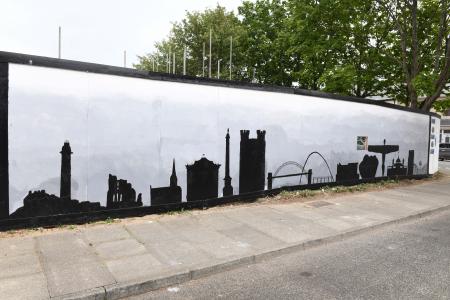 Their detailed drawings can be seen on the corner of Middle Street East and Eastbourne Avenue, just off Welbeck Road, where Your Homes Newcastle (YHN) is replacing an old sheltered housing development with more desirable bungalows.
The sheltered housing development that originally stood on the site, Eastbourne Court, was demolished at the end of 2020 as it was no longer fit for purpose in terms of demand for flats and the accommodation provided – standards have improved since the block was built many decades ago so it was no longing serving the needs of the people who lived there.
It will be replaced by four one bed-bungalows and two two-bed bungalows, for which the residents of the original block were offered first refusal. Two residents have taken up this offer, and the remaining bungalows will be advertised via the Tyne and Wear Homes choice-based lettings portal (www.tyneandwearhomes.org.uk),
The bungalows were commissioned by YHN on behalf of Newcastle City Council and have been designed by JDDK architects. YHN's own Repairs & Construction Services are the principal contractor and are project managing the works, working with Middlesbrough-based construction company WB Construction; the main sub-contractor who won the work in a competitive tender. There are five YHN apprentices working on the scheme; three joiners and two plumbers.
David Langhorne, YHN's Assets and Development Director, said: "I was so impressed to see the work the students have done on our hoardings, their pictures really accurately depict many of our iconic local landmarks and they've made the site look fantastic for the neighbours of the new bungalows.
"It's very important to us that we involve the local community in this sort of work so we were also pleased to provide a tour of the site to some of the students and to contribute to their learning about health and safety.
"Our Repairs and Constructions Services are doing a brilliant job in bringing council-built projects back to the city, and we're thrilled to be building bungalows specifically, as they always prove extremely popular.  This development follows our building of four family homes in Kenton last year, and we're hoping to build a further 14 brand new homes this year and around 30 next year so that we continue to increase high quality, affordable accommodation across Newcastle."
When building in proximity to schools, YHN regularly tries to engage with school staff, predominantly for health and safety reasons relating to traffic management and dangerous places etc. YHN offered the opportunity to paint the hoardings alongside this and staff at Sir Charles Parsons School were very keen, as it gave the students some valuable 'real world' experience.
The students worked with their teachers in class to design the mural and then made templates that they would later paint on site. Using paint, sponges and pens they brought their creations to life over three days with help from Miss Newton (teacher) and Fiona Anderson (learning support assistant). The paint, high-vis jackets and overalls were provided to the school by YHN.
Jade Newton, the class teacher, said: "We were very excited to be able to experience working in our local community to create the mural. The students enjoyed planning the artwork and researching different landmarks within the North East. It was really amazing for students to see the project come to life, from the planning stage all the way through to the finished product."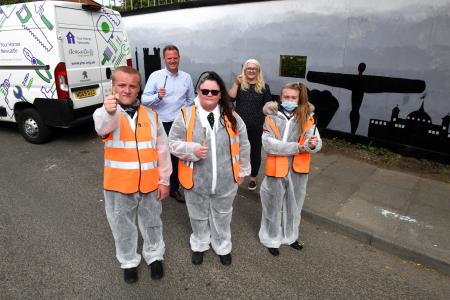 Councillor Linda Hobson, Cabinet Member for Housing and Regulatory Services at Newcastle City Council said: "The council is committed to providing a diverse range of housing options to meet the needs of all our residents.  This scheme recognises that people, whatever their age, want a home that is not just safe and secure but reflects modern life.
"I was thrilled to join the students from Sir Charles Parsons School to see their amazing mural unveiled.  The paintings are fabulous, the pupils are very talented to have created a design that reflects the culture and heritage of the area and improves the appearance of what could have been just another building site for the benefit of the local community."
Work started on the new bungalows in late March 2021 and is expected to be complete in the autumn, the contract value is around £900k.
YHN's Repairs & Constructions Services are hoping to follow on with more new build projects starting on site around November, with schemes planned for Waverley Gardens, Lemington and Felton Gardens, Gosforth totalling 14 properties.
Further projects planned for April 2022 start include new build sites at West Denton and Fenham which is expected to be over 30 new build bungalows and houses.