7 October 2021
| | 3 min read
HowBusyIsToon.com relaunched with new features
A popular website that was launched following lock-down has been relaunched, offering those coming into the city centre and travelling around the city more information and real-time data to make life easier.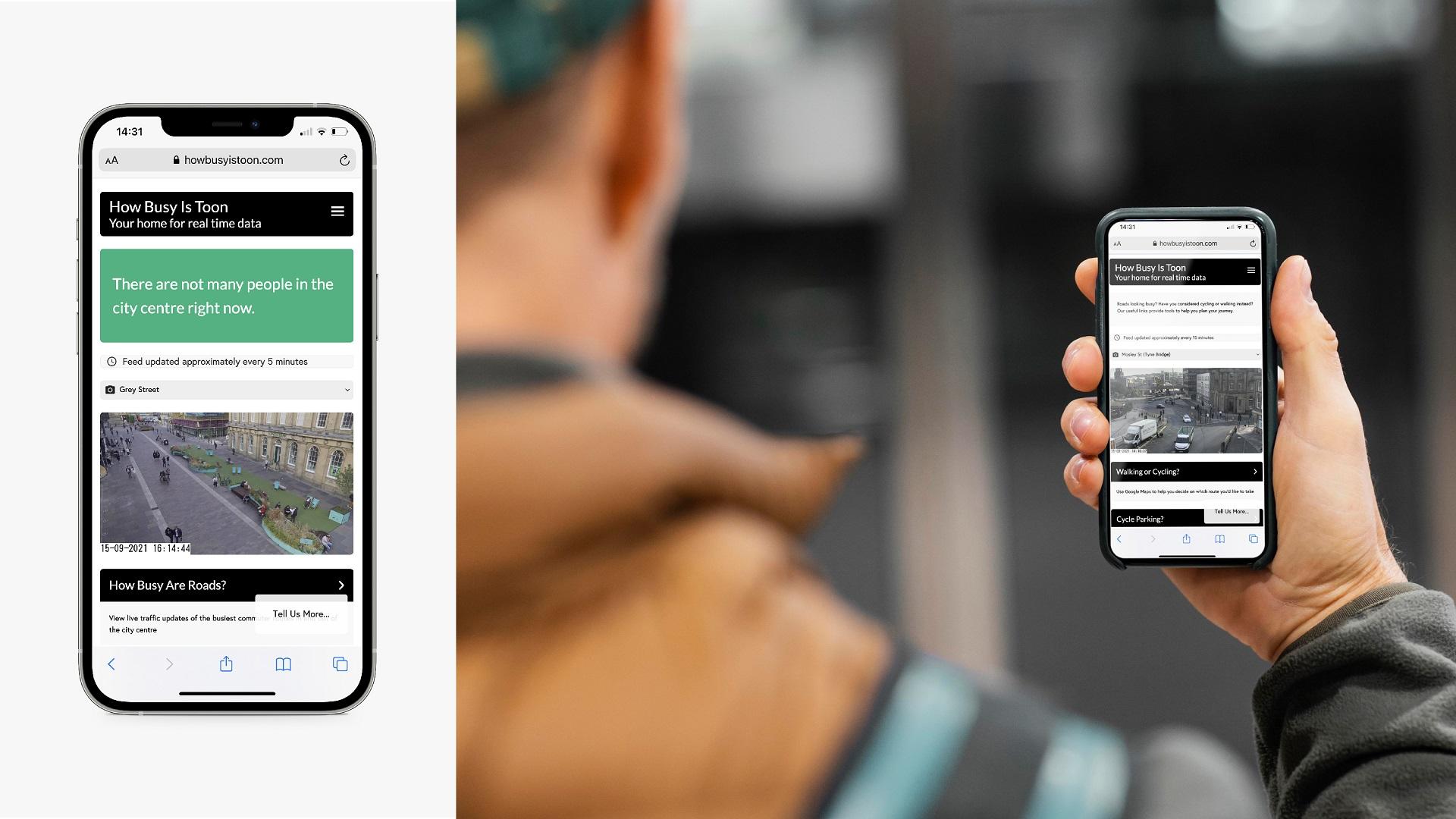 HowBusyIsToon.com became an invaluable tool in 2020 when the city centre reopened. Originally it provided a traffic light system showing how busy Northumberland Street was in real-time using CCTV images, so people could decide how easy it was to social distance.  
In the build-up to last Christmas the site was redesigned by local digital agency Hedgehog Lab, to show real-time video stills of Northumberland Street and Grey Street, allowing people to judge for them-selves how busy the city centre was. This upgrade also provided further information on car parking capacity and advice on how to keep Covid safe when out and about.
New features
Funding from the Ministry of Housing, Communities & Local Government's Local Digital COVID-19 Challenge has now enabled further improvements to the site based on UK wide user research and feedback.
These include:
Four additional still video images of the city centre, updated every five minutes, making six in total.

A real-time map showing the location of every bus operating across Newcastle, searchable by route number, meaning people only need to look in one place for this information.

Five still video images of key roads into the city, updated every 15minutes.

The integration of key twitter feeds providing up-to-date traffic and travel information in one place.

Links to Nexus' information on service disruptions and busyness levels.

Information on Electric vehicle (EV) charging locations

Information to help people plan walking and cycling routes to encourage sustainable travel choices
A fantastic example of using smart data
Cllr Ged Bell, Cabinet member for Development, Neighbourhoods and Transport, Newcastle City Council said: "It is great to see this unique and locally developed website go from strength-to-strength.
"It is a fantastic example of how well we use smart data in this city to benefit those what live and visit here.
"And as the site now also provides a whole raft of information about sustainable travel options it directly supports our commitment to encourage people out of their cars onto greener means of travel."
Stephen Patterson, Chief Executive of NE1, the city's business improvement district said: "The development of this website has come at an ideal time.
"We are keen to do all we can to encourage customers back into the shops and support local businesses and retailers.
"The information on the site will make journeys into the city centre and around the city much easier, so it has a crucial role to play in this."                    
Ray Clarke, Head of Design at Hedgehog Lab said: "We are delighted to be the design and development partner for How Busy is Toon.
"Our team are proud of the work they have put into the project, utilising our user research, design and web development expertise - we have played a big part in supporting the economic recovery of our home city."
Since May 2020 over 64,000 visits have been made to www.howbusyistoon.com, and the site has been recognised nationally by industry leads as an example of good practice of using smart city data to help citizens make decisions.
The council and partners are now working with other areas to support them to development similar websites utilising smart, real-time date sources.