29 April 2020
| | 3 min read
Mourners offered option to watch funerals online
Mourners unable to attend funerals because of social distancing will be given the option by the family to watch services online.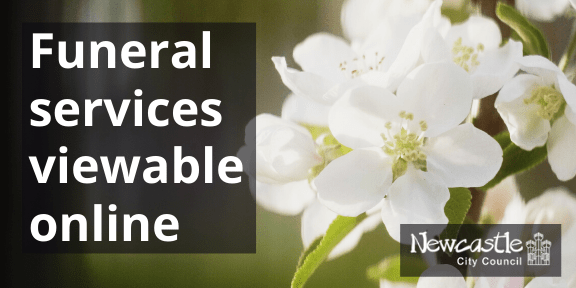 Newcastle City Council will begin live web streaming funeral services conducted at the West Road Cemetery from tomorrow (Thursday April 30).
The online service which will be offered via a private link for mourners will be free until the end of the year.
Cabinet member for neighbourhoods and public health, Cllr John Paul Stephenson, said: "While social distancing is essential to protect the NHS and save lives, we appreciate it can be heart breaking for people unable to attend funeral services.
"While web streaming is no substitute for saying our final goodbyes, it is the next best thing, so our officers in bereavement services were tasked with coming up with an alternative for the public.
"I commend them for introducing this service so quickly during these challenging times and I hope it gives some comfort to family, friends and loved ones of the deceased.
"I would also like to thank the public for their understanding. The overwhelming majority have accepted the restrictions on attending funerals and see it as part of the strange times we live in. I hope our new service will help them with the grieving process."
Cameras have been installed at the rear of the east and west chapels. They will focus on the lectern and catafalque (where the coffin rests) and the first two rows. The whole service, including audio, is recorded and web streamed live.
Families can book the service through funeral directors who are being informed of the new service.
While live web streaming is free until the end of the year, extra options are available for a fee. Option two is live web streaming plus a 28-day downloadable facility and option three, a keepsake copy of a DVD/Blu-Ray/USB stick.
Although this service has been introduced since the council had to restrict the number of mourners attending a funeral to 20, it will remain in place even after lockdown and coronavirus is brought under control.
Pandemic sees increase in funerals
Since the pandemic began there has been a slight increase in the daily number of funerals in Newcastle. 
Depending on the time of year, about 12 to 16 funeral services are conducted daily at the West Road Cemetery compared to a current average of 21.