11 April 2022
| | 4 min read
Newcastle's best new building named at Lord Mayor's Design Awards
A stylish hotel and the Civic Centre were among the winners at Newcastle's biennial celebration of architecture and environmental design.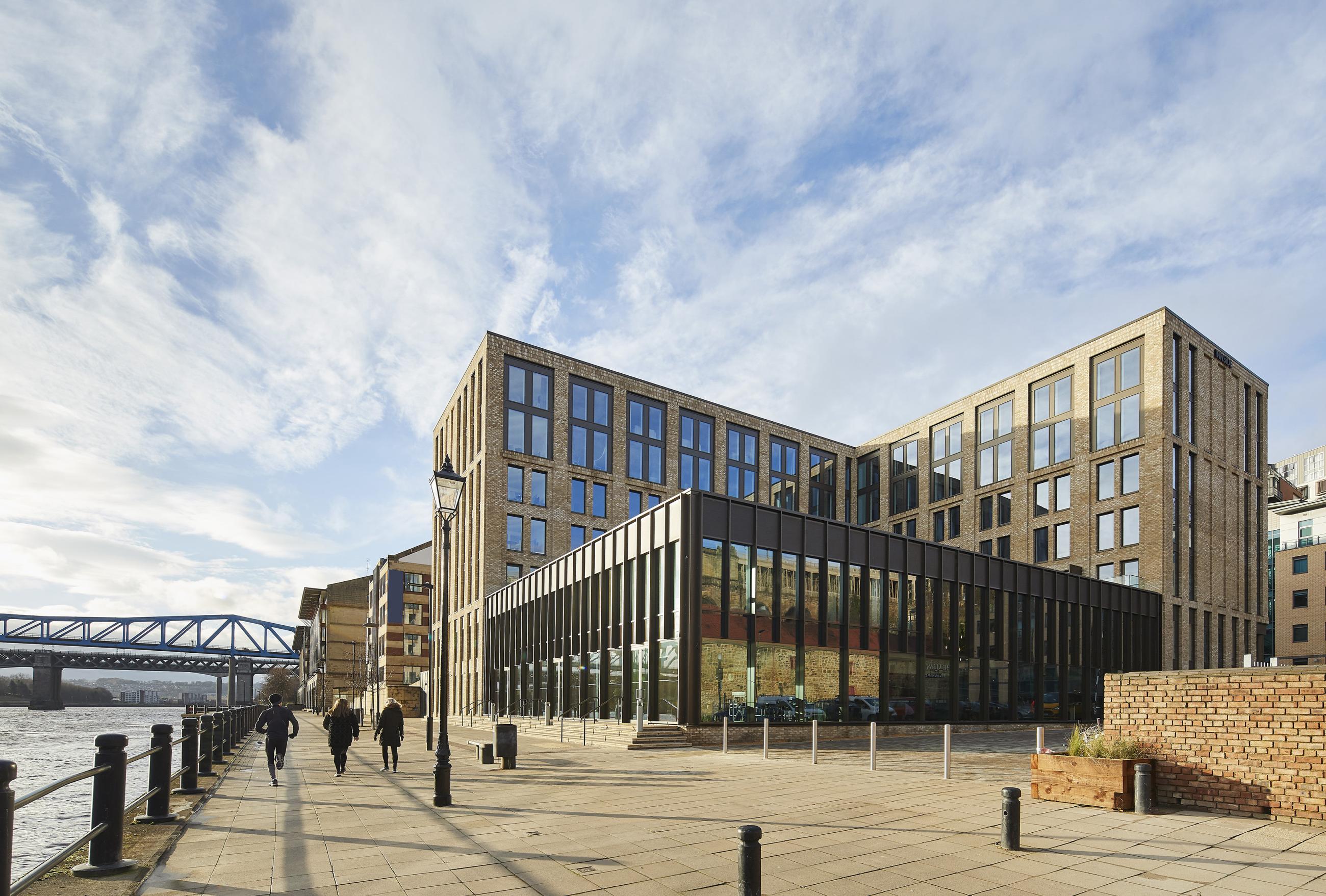 The Lord Mayor's Design Awards shine a light on the buildings and projects that are making an outstanding contribution to the appearance and life of their communities.
INNSiDE Melia Hotel on the west end of the Quayside was crowned the city's best new building.
The judges praised the "impressive" hotel for its subtle links to the surrounding area, such as the pattern used on the hotel reception desk replicating those found on the High Level Bridge.
Across the eight categories, judges highlighted 12 buildings and developments that were completed between September 2019 and August 2021.
Michelle Percy, Newcastle City Council's director of place, said: "Our city is known around the world for its rich cultural heritage and distinctive character, so it is fantastic to see such a wide range of projects recognised for making our communities such great places to live, work in and visit.
"I hope the projects to restore our historic buildings and major new builds will provide inspiration for others to follow."
Newcastle Civic Centre won the refurbishment and renewal prize for The Arches reception area, which the judges described as "warm and welcoming", while City Baths was commended following its restoration.
It was an evening to remember for St Oswald's Hospice who took home two awards.
The charity scooped the small scale prize for its newly designed family room, which judges said created a "light and airy space" for residents.
And it picked up the landscape award for redesigning its garden to become a centre point for families.
The JUMP shop was commended in the small scale category for bringing a sense of fun to Gosforth High Street with its "cheerful" signage.
Meanwhile, Barras Bridge was commended in the landscape category after changes to the road layout provided more space for people and new paving and landscaping was installed to create a more pleasant environment.
In the Conservation category, Neville Hall and All Saints were named the winners.
The Catalyst took home the accessibility prize for creating an environment based around ease for visitors who have visual impairments or disabilities.
And the frontage transformation award went to Swarley's in the Bigg Market following its major refurbishment.
Meat:Stack was crowned the winner of external space transformation, with judges praising staff for showing ingenuity during the pandemic by utilising its outdoor area so the business could continue trading.
The final award of the evening, the Lord Mayor's Special Award, went to Changing Lives' Bentinck Terrace following the transformation of the Grade II listed property.
The building has been restored and retained its historic features, while judges also praised staff for the social benefits it brings.
It now provides the occupants with their own self-contained units where they have their own front doors and own cooking facilities, which helps to prepare them for life outside of the charity.
The awards list in full:
Landscape
-          St Oswald's – Winner
-          Barras Bridge – Commendation
Conservation
-          Neville Hall – Winner
-          All Saints – Winner
Refurbishment and Renewal
-          Civic Centre Arches – Winner
-          City Baths – Commendation
New Building
-          INNSiDE Melia – Winner
Transformations
Frontage Transformation
-          Swarley's – Winner
External Space Transformation
-          Meat:Stack Parklet – Winner
Small Scale
-          St Oswald's – Winner
-          JUMP Shop – Commendation
Accessibility
-          Catalyst – Winner
Lord Mayors Special Award
-          Bentinck Terrace – Winner