14 July 2022
| | 3 min read
NGI and partners comes together to pledge support for UK Pride
City leaders and NewcastleGateshead Initiative's partners came together yesterday to pledge their support for UK Pride.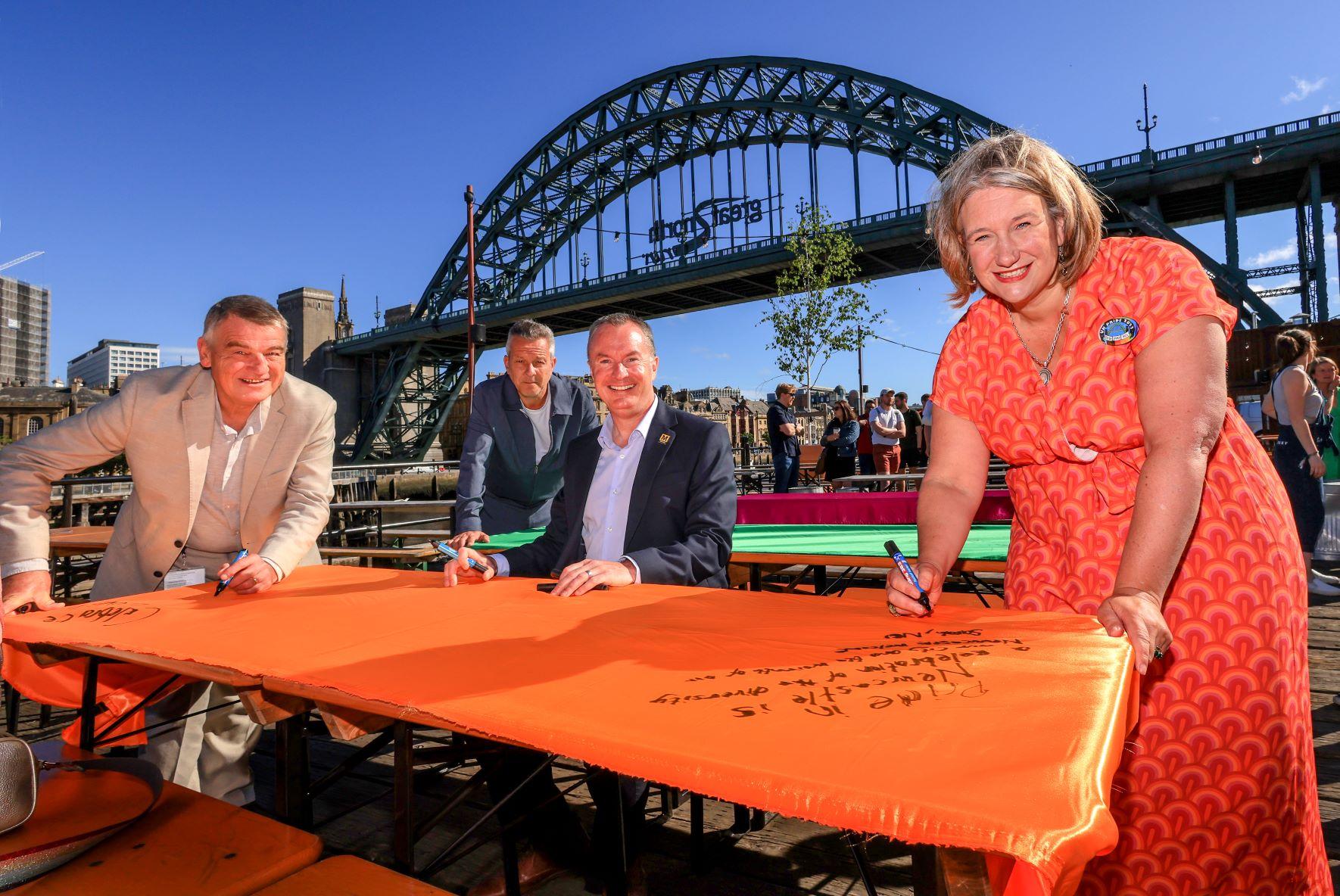 Northern Pride and Newcastle was chosen in 2019 to be the host city for this year's UK Pride event which will be held on 22-24 July, following its postponement in 2020 due to the pandemic.
Yesterday NewcastleGateshead Initiative (NGI) and partners were joined by Cllr Nick Kemp, leader of Newcastle City Council and Cllr Martin Gannon, Gateshead Council's to pledge their commitment in making NewcastleGateshead an inclusive, LGBTQ+ friendly destination.
Representatives from businesses across NewcastleGateshead including some of Northern Pride's sponsors and supporters, such as Nexus and Maldron Newcastle, joined together to share their positive messages about what Pride means to them and what the value of Newcastle hosting UK Pride will bring to the city.
Each message was added to a segment of all 11 colours of the Progress Pride flag, which will now be brought together to make one huge Pride flag which will go "on tour" around the region, gathering further pledges of support for the Pride community. The flag will then be part of the NGI participation at the official UK Pride march on Saturday July 23.
Sarah Green, chief executive of NGI said: "We are so excited to be welcoming UK Pride to Newcastle. It's absolutely brilliant to be showing the diversity of life and showing visitors the warmth of the North East welcome. It demonstrates what an inclusive, tolerant, and safe city we are and allows us to support our LGBTQ+ community."
Ste Dunn, Director of Northern Pride, said: "We are delighted that we finally get to deliver on our promise to elevate and celebrate the North East's LGBTQ+ community. We want to welcome everyone to Northern Pride to help us celebrate and create a legacy for UK Pride.
"We do still get challenged on why it is still relevant to have Pride, and whilst we do have more rights now there are still many more rights to fight for, we need to march for transgender, non-binary and gender diverse people as unfortunately their rights are being challenged on a daily basis."
Cllr Nick Kemp, Leader of Newcastle City Council said: "It is an amazing achievement for Northern Pride to be hosting UK Pride. It's a celebration of diversity and inclusivity and Newcastle embraces that, encouraging everyone to be themselves. Our pledge to the LGBTQ+ community is of fundamental, full support, we are widely recognised as a city council as a Pride supporter both for employees and for our engagement with our communities."
Gateshead Council also pledged its support. Leader Cllr Martin Gannon said: "At Gateshead Council we celebrate all aspects of our community, and we want to support every individual. Events like this benefit the whole of the area and help celebrate how far we have moved as a society in terms of acceptance, but also to recognise there is still further to go."
Next week's UK Pride celebration will launch in style on Friday with a fundraiser event, featuring headline performance by Broadway star, famed choreographer and award-winning performer Todrick Hall. This will be followed by the Pride March on Saturday from 12pm starting at Newcastle Civic Centre and ending at the Town Moor.
To find out more or to buy tickets go to https://newcastlegateshead.com/blog/how-to-get-involved-in-uk-pride-2022