1 July 2020
| | 5 min read
Pavement cafe applications fast tracked to support licensed trade's reopening
Pubs, restaurants and cafes will see applications to use more outside space fast tracked as Newcastle City Council supports their reopening.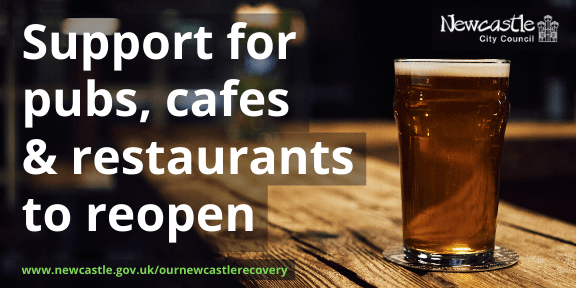 The Government says that from Saturday July 4 licensed premises can start serving again, but that social distancing must be in place.
For many that means looking to spread out onto the streets, and through positive discussions with the trade and partners including NE1, the authority has received more than 50 expressions of interest in creating new or expanded pavement cafes.
'Cutting red tape as best we can'
Cllr John-Paul Stephenson, cabinet member for environment and regulatory services, said: "This is a difficult and challenging time but we are working with businesses to get up and running quickly.
"Safety remains paramount but we are cutting red tape as best we can and making it as easy as possible for the hospitality industry to make the changes they need to welcome back customers, including creating new pavement café areas.
"We're encouraging publicans, restauranteurs and café owners to let us and police know what their reopening plans are, so we can support them."
Stay safe
"Starting on a busy Saturday is going to be incredibly difficult for the trade and we fully support any who decide not to reopen until they are more confident they can keep their staff, customers and the public safe," Cllr Stephenson said.
"Where businesses are open we can only encourage the public to follow the measures that businesses put in place."
The Government's social distancing guidance continues to say that people should stay at least two metres apart unless measures have been put in place to mitigate the risk, at which point that distance can be reduced to one metre.
It is anticipated that bars and eateries may introduce protective screens, one way systems, and app or text message based ordering systems, with table service, as part of this.
'Businesses are determined to succeed'
Cllr Ged Bell, cabinet member for employment and culture, said: "Newcastle is returning to some form of normality but we know that is a different normality to what we had before.
"Yet our city is resilient and ambitious, and we know businesses are determined to succeed.
"We've seen though, through the reopening of shops, that parts of the economy can restart successfully and that people are capable of being sensible, social distancing and showing respect for others around them.
"We now hope to see that happen again and that our hospitality trade, which supports so many jobs and makes Newcastle the vibrant place we all love, can quickly get back on its feet while ensuring the safety of staff, customers and the wider community."
Working with the trade to support reopening
The Government's new Business and Planning bill removes the need to seek planning permission for a pavement café, caps the fees local licensing authorities can charge for administering such an application, and sets a maximum 14 day timescale for a decision to be made.
A meeting of the trade on Wednesday June 24 heard that to further speed up the process, ahead of any applications, the council has been working with business improvement district NE1 to identify outdoor areas which could quickly and easily be made available, with this information passed on to licensees.
The authority is also willing to consider temporary road closures or other proposals from publicans, restauranteurs and café owners – particularly if neighbouring businesses are working together – to ensure they have the space they need to trade safely.
And to support businesses to make the changes they need in the least onerous way possible officers will attempt to deal with changes to premises layouts and new ways of working by way of minor licence variations, which are much cheaper than a full variation.
In all cases residents and neighbouring businesses will have an opportunity to comment and raise any concerns.
Find out more
For information about licencing in Newcastle please visit our licenses and permits page.