4 August 2020
| | 2 min read
Play areas across Newcastle to reopen
Children will soon be able to return to play areas across Newcastle once measures are in place to ensure social distancing and minimise the coronavirus risk.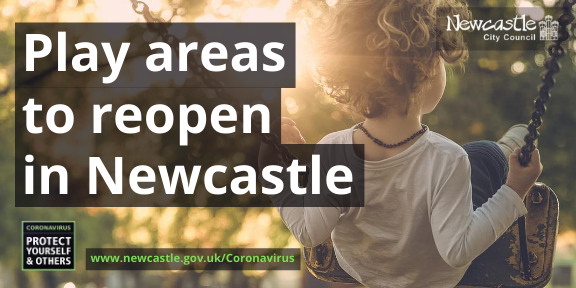 Most playgrounds, basketball courts and multi-use games areas (MUGAs) have been closed since March as, despite Government allowing limited reopening from May and June, it has not been considered safe to do so.
Now however inspections and assessments are underway, with some equipment likely to be removed or marked out of use to allow families to make use of outside spaces during the summer.
'Not simply a case of unlocking the gates'
Cllr Irim Ali, cabinet member for neighbourhoods and public health, said: "Our number one priority is to keep people safe but we understand the desire, particularly during the summer months, to enjoy our outside spaces.
"We know many families are champing at the bit to return to our playgrounds and sports courts, and we have been reviewing weekly what can be done to reopen them as soon as possible.
"While we can now work towards that aim unfortunately it is not simply a case of unlocking the gates as, after months out of action, sites must be cleaned, tidied, and in some cases modified to make them safe for children.
"We hope that can be done for some locations within a matter of days, with all of our playgrounds, courts and MUGAs back in action by Monday August 10.
"If you do plan to visit, check our website for details of whether sites are open yet, be respectful of others, observe social distancing, and remember to wash your hands as soon as you can afterwards to reduce the risk of infection."
New rules
All play area users must:
Not visit if they or their family are displaying any symptoms of COVID-19.

Wash or sanitise their hands both before and after using the play areas.

Remember to social distance – Two metres wherever possible.

During busy periods limit the time spent using a play area.
Find out more
For more information about playgrounds operated by Newcastle City Council visit www.newcastle.gov.uk/playgrounds