10 August 2020
| | 4 min read
Residents urged to do more to help stop envirocrime
Residents are being urged to do more to help catch environmental criminals who blight Newcastle's communities by flytipping and littering.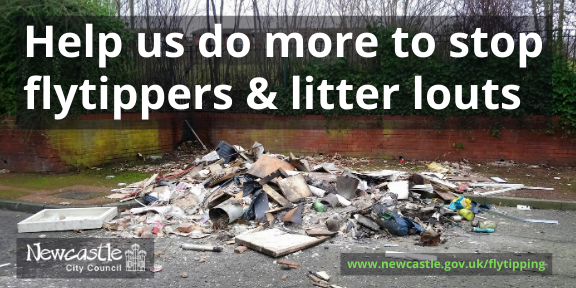 Newcastle City Council spends millions of pounds every year keeping the local environment clean and tidy but faces an ongoing battle against rubbish dumpers who create unsightly messes on our streets.
'We cannot tackle this problem alone'
Cllr John-Paul Stephenson, cabinet member for environment and regulatory services, said: "We know that 99.99 percent of people hate litter and flytipping just as much as we do and that it is just a tiny minority that create a blot on our landscape.
"However, while we do all we can, we cannot be everywhere at once and so must rely on local people to help and, wherever it is safe to do so, collect and provide us with the information and evidence to catch these criminals who harm our communities.
"Recently we've seen instances where residents have come to us with evidence that would likely have led to the conviction of flytippers, but then they have refused to make a statement or share photos of the offences, and so those litter louts get away with it and are free to continue marring our environment through their shocking and senseless acts.
"We cannot tackle this problem alone – This is your city and your home and we need you to share the responsibility for making and keeping it the clean, green, brilliant place we all want it to be."
How Newcastle tackles envirocrime
Newcastle City Council has a team of patrol officers who deal with local environmental offences and issue fixed penalty notices (FPNs).
While not seeing the levels of flytipping that some areas of the country must deal with the city has traditionally seen more culprits caught and prosecuted.
According to figures from the Office for National Statistics, between 2015 and 2019 Newcastle took more fly-tippers to court than any other council in the country.
Indeed in 2018/19 the authority prosecuted over 35 percent more environmental criminals than Gateshead, Sunderland, Northumberland, North and South Tyneside, County Durham, Middlesbrough, Darlington, Stockton, Hartlepool and Redcar and Cleveland combined, with 12 people seeing their vehicles seized and seven receiving either a custodial or community sentence.
The Your City, Your Home campaign, which launched in March 2019, saw a 14 percent reduction in the amount of litter collected across Newcastle in its first year – that's more than 1,000 tonnes of rubbish, or the equivalent of more than 13 Tyne and Wear Metro trains.
And during the COVID-19 lockdown, while some enforcement staff were redeployed to support other essential services, the team has continued to respond to reports of litter and flytipping, and used CCTV in certain key areas to continue to catch anti-social behaviour as it happens.
'Please work with us'
But all of that work cannot be successful without the ongoing support and collaboration of residents.
Cllr Stephenson said: "Visiting many areas of the city it is clear to see the improvements but still, every day in some cases, we are having to visit the same streets where litter continues to blight the lives of local people.
"We'd encourage everyone who can to help us change that, whether by showing civic pride and taking part in a community litter pick or the Great British Spring Clean this September, or by reporting envirocrime and giving us the evidence we need to make criminals pay.
"Please work both with us, and with our support, so that together we can make where we live happier, healthier and more attractive places to be."
Report flytipping and littering
To report environmental crime, do it online at https://envirocall.newcastle.gov.uk/ or call 0191 278 7878 and ask for Envirocall.