27 May 2020
| | 3 min read
Taxi licensing and test centre reopens with discounts for existing drivers
Taxi drivers can again apply for new permits and from next week get vehicles MOT tested in a safe and socially distanced way – with discounts to help cabbies hit by COVID-19.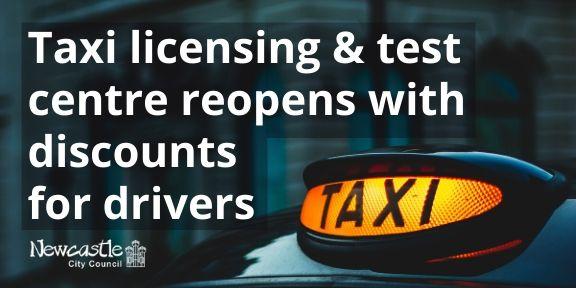 Newcastle City Council's licencing office, at Newington Road East, ensures that more than 3,000 hackney carriages and private hire vehicles, and 4,000 drivers, are safe, fit and proper to be on the region's roads.
Due to Government lockdown restrictions it closed on March 23 but now, with nearly 1,000 licenses requiring action, it has reopened for online applications, with hands on testing to follow from June 1.
Drivers affected will be contacted with an appointment time for them to visit the office.
And in recognition of the significant loss the trade has suffered due to the pandemic existing drivers will receive a 12 percent discount on their licence fees.
'Our priority is keeping people safe'
Cllr Nick Kemp, the council's cabinet member for environment and regulatory services, said: "Our number one priority is to make sure that the travelling public are safe.
"With ministers actively encouraging alternative ways of getting to and from work, rather than public transport, that will likely see an increased demand for taxis.
"We know drivers are putting social distancing measures in cabs to enable them to start back to work in a safe manner, and that is great to see.
"However, we also know that normally nearly three in ten taxis fail their interim tests.
"While the government has waived certain MOT requirements, with almost 1,000 licence applications requiring action now, we must ensure vehicles and drivers are fit and proper, so passengers can have continued confidence in the service they provide."
New measures to keep people safe
To allow the reopening of the licensing office and test centre the council is putting in place a number of measures to protect both staff and drivers.
These include:
Electronic forms - to minimise contact and to enable staff working from home to process applications.

An appointment system – to control the when people attempt to visit

Limits on vehicle and site occupancy - one person will be allowed per car, and the number of cars on site at one time will be capped at 14 vehicles.

Enhanced cleaning – with new disinfection procedures for mechanics testing vehicles.

Social distancing – Including separate reception areas for vehicle and driver licence applications, into which only one driver will be allowed at any given time.
For more information about taxi licensing please visit our Taxi and Private Hire page on www.newcastle.gov.uk