18 January 2021
| | 4 min read
Thousands to benefit from £3 million investment in culture
Thousands of people will continue to benefit from culture in Newcastle after councillors agreed to invest £3 million to support jobs, public health and wellbeing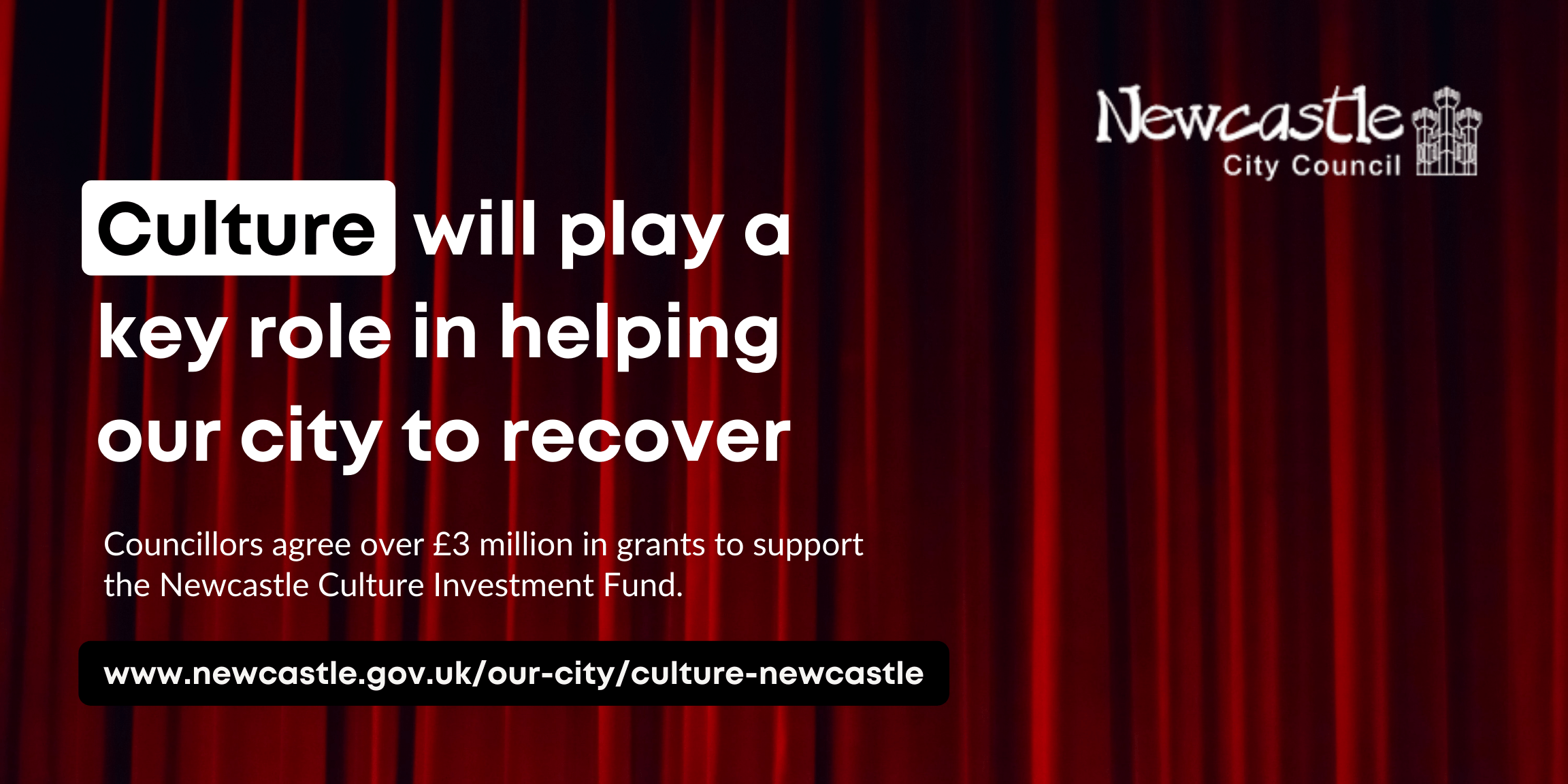 Newcastle City Council's Cabinet on Monday (January 18) gave the green light to continue the authority's £622,500 a year support for the Newcastle Culture Investment Fund until 2026.
'Culture key to city's recovery'
Cllr Ged Bell, Cabinet member for employment and culture, said: "Culture will play a key role in helping our city to recover from the effects of this pandemic, supporting economic development, public health, and quality of life.
"We are therefore delighted to continue our support for one of our region's key industries and hope, after what has been an exceptionally tough year, that this funding can help our world class creative professionals and organisations to recover and once again flourish, having a positive impact on all of our lives."
The NCIF was created in 2012 by Community Foundation Tyne & Wear and Northumberland and is the city council's principal mechanism to invest in the independent cultural sector.
In the past three years alone the money it has provided has helped 46 projects and organisations directly engage more than 273,500 people, and helped to attract more than £3.4 million in additional funding.
'Making the city a great place to live'
Jo Cundall, the Community Foundation's senior advisor for culture, welcomed the council's continued commitment to the city's vibrant and vital cultural sector.
"We know how important culture is to the city bringing creativity, fun and a sense of community as well as supporting jobs and making the city a great place to live," she said.
"But most crucially it has a positive impact on health and well-being, something that was evident as we all entered lock down and arts organisations adapted to find new ways to still connect to beneficiaries.
"Over the years we have supported a wide range of organisations and projects across the city from Benwell to Byker and I look forward to seeing what the sector will deliver over the next five years thanks to the Council."
Newcastle Culture Investment Fund
Among the projects and groups to have benefitted from NCIF support, Northern Print received £45,000 over three years to support staffing for their studio programme.
This enabled them to better support groups to access their facilities, and build on some excellent partnerships with other organisations, such as Crisis, to improve the lives of some of Newcastle's most vulnerable residents.
Elsewhere Unfolding Theatre were given £10,000 towards their community engagement work, including a youth leadership project; a series of workshops with older people to tackle social isolation; and the creation of an interactive, touring installation called Multiverse Arcade that thousands of young people have added their voice to, setting out how they want to change the world for the better.
The latest funding, which also includes a separate but related contract to support other fundraising efforts, will in the immediate future be targeted to secure the future of the city's cultural assets, sustain them through the remaining months of the pandemic, and then enable them to function productively in the "new normal."
A range of organisations have already made bids for NCIF sustainability grants for 2021/22 and with the money now confirmed these applications can progress.
In the years that follow, the emphasis will then change to reflect the city's new Culture Vision and the priorities of its Culture Compact.
'Benefits there for all to see'
Cllr Nick Forbes, leader of Newcastle City Council, said: "Culture plays such an important role in the life of the city and by investing in our people and organisations we hope to see that continue.
"The benefits of this ongoing investment is there for all to see -  It makes a significant contribution to Newcastle's profile and reputation; provides employment for significant numbers of people; contributes to the development of inclusive communities; has a positive impact in education, on health and well-being and on quality of life; and attracts significant investment to the city each year."
Find out more
For more information about culture in Newcastle visit www.newcastle.gov.uk/our-city