17 March 2023
| | 2 min read
Naming honour for local photographer
Ella Murtha and Dexter Murtha-Brown were joined by the Sheriff of Newcastle, Councillor Veronica Dunn, residents and invited guests for the official opening of Tish Murtha House earlier this week.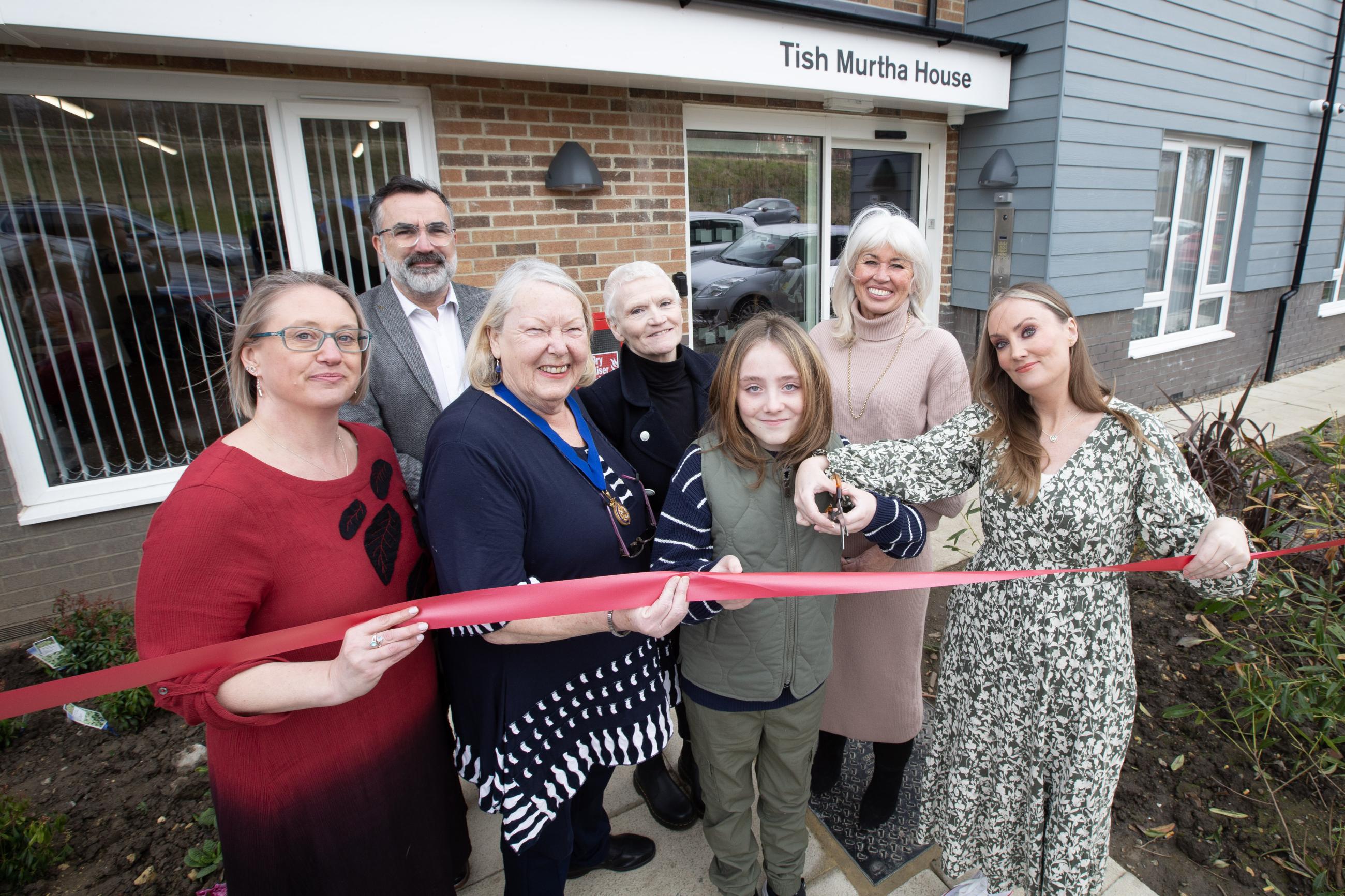 The development of 38 one and two bedroomed apartments for older people was named in honour of the acclaimed local photographer by pupils at St Michael's Primary School. 
Others attending the ceremony included Eileen Murtha-Brown, Tish's younger sister, and Mick Henry, the lecturer at Bath Lane college who wrote the letter which helped secure the funding from Newcastle City Council. This funding set Tish on her journey to becoming one of the most important social documentary photographers of the last 50 years.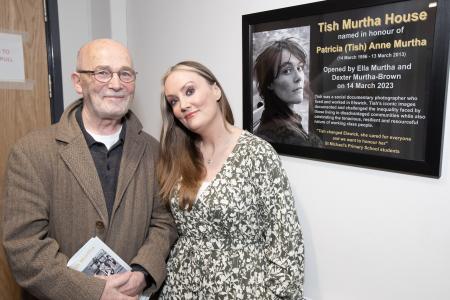 Ella Murtha pictured with Mick Henry at the opening of Tish Murtha House
Speaking at the event Ella Murtha, Tish's daughter, said "Social justice and equality was so important to my Mam.  She never stopped challenging the wrongs she saw in society and photography was her way of trying to make the world a better place.
"Being here has been really lovely.  It's bitter sweet that my Mam isn't here to see this, especially as it would have been her birthday, but I know she would be so proud to have a place where older people from where she lived can feel safe and secure, named after her. And she would have loved that today's generation of Elswick Kids chose the name."
"My Mam would have loved that today's generation of Elswick Kids chose to name this building Tish Murtha House." - Ella Murtha
Sheriff of Newcastle, Councillor Veronica Dunn, paid tribute to both Tish and Ella saying "I am delighted we have named this new Housing Plus development after Tish Murtha.  Tish was a woman who used her immense talent to highlight the devastating impact government policies had on local people in the hope of making a difference to their lives. The fact her photos led to a debate in Parliament shows just how powerful they are. 
"Ella is doing an amazing job in protecting her Mam's legacy.  By working together to create a permanent exhibition of Tish's iconic images in Tish Murtha House we will be able to inspire generations of Elswick Kids for decades to come."
Tina Drury, Group Managing Director at YHN said "Tish's photos show poverty and deprivation but also the resilience and tenacity of the local community.  These images are a very fitting legacy that Tish has left. Naming this development, through the schoolchildren, Tish Murtha House will be with us forever. 
"The exhibition here provides an opportunity for residents and visitors to talk about times gone by and remember the 1970's and 80's"
Three exhibitions of Tish Murtha's work, sponsored by Waypoint Asset Management and Kajima, are on display in Newcastle. Tish Murtha: Demon Snapper is on display in the City Library until Thursday 23 March. The images will then be incorporated into the exhibition at Tish Murtha House.
Tish Murtha: From the Inside will remain in Cruddas Park library, close to where Tish took many of her most famous images, throughout the summer.
Tish Murtha: Camera in Hand will be on permanent display at Tish Murtha House.  The exhibition includes two photos, Glenn on a Wall and Glenn in a Window, in tribute to Tish's younger brother who sadly passed away earlier this month. 
Anyone wanting to view this exhibition, which is by prior arrangement only, should email press.office@newcastle.gov.uk or commteam@yhn.org.
When we drove in it just said Tish Murtha House. It's like a dream.  It's so lovely that she's getting that recognition.
Eileen Murtha-Brown
Tish Murtha's sister