10 January 2020
| | 4 min read
Ambitious plans for city centre unveiled
Plans to transform the heart of Newcastle's main shopping area have been announced.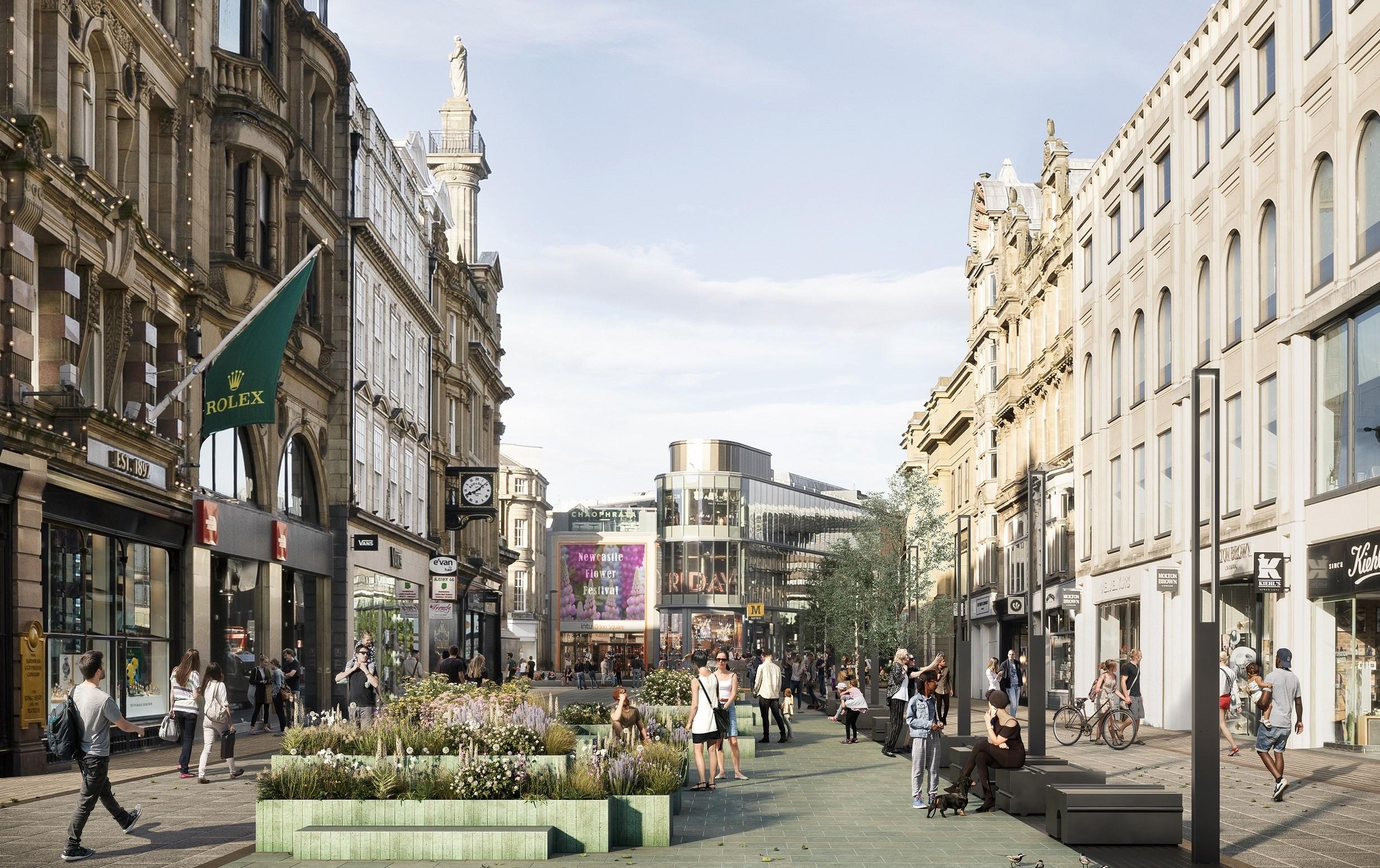 The proposals are aimed at creating a modern, vibrant and welcoming city centre.
They include changes to the way space within the city is used along with plans for more green areas, pavement cafes and opportunities for new events and activities to take place.
This investment, in the heart of the city, would help to address the economic and environmental challenges that Newcastle, along with many other cities, is facing.
People and businesses are invited to comment on the proposals as part of a consultation that is taking place until 31 January 2020.
One of the biggest changes would be on Blackett Street, which is planned to be traffic free with buses re-routed to create a more people-friendly area.
Cllr Arlene Ainsley, cabinet member for transport and air quality at Newcastle City Council, said: "We've seen how the Christmas market and the temporary changes over the past two summers have brought a real buzz to Newcastle and this has shown the potential that there is to transform the city and the local economy by making changes to our roads and public spaces.
"We believe that taking vehicles off Blackett Street permanently will make a huge difference to this part of the city. It's a very busy shopping area, with lots of people on foot, so it's important that this is a safe and welcoming environment.
"Our intention is for buses to use alternative routes through the city, while continuing to stop at locations close to the main shopping areas. We've already invested in a series of improvements along these routes to help ensure services can operate efficiently but know we'd need to do more to continue to improve the routes.
"We know that many people rely on public transport to get in and out of the city and, as we seek to encourage more people out of their cars in order to improve our air quality, we need to ensure that public transport remains a convenient choice."
In addition to changes to bus routes, there would also be new access, delivery and servicing arrangements for business and residential premises on Blackett Street and the surrounding area.
This would include new permitted delivery and servicing times that would help prevent large vehicles being in the area at the same time as people so that the area feels safer, cleaner and more accessible.
These changes would also provide opportunities for further events and activities to take place on Blackett Street that will add to the visitor experience, encouraging people into the city and helping to support local retailers and traders.
The new delivery and servicing arrangements would also apply to businesses on Northumberland Street, Clayton Street, Nelson Street, Grey Street and Grainger Street, to ensure consistency throughout the retail heart of the city.
The plans also include reorganising taxi ranks, loading bays, on-street parking, and disabled parking spaces, to ensure they are in convenient locations.
Cllr Ainsley added: "We are planning to reshape our city to make it easier to get to, easier to get around, and create a modern, welcoming place where people want to spend time shopping, eating out, meeting friends or just relaxing.
"We want to hear what people think about the proposals and we're inviting people to take part in a consultation until January 31."
People can find full details of the proposals and have the chance to comment at www.newcastle.gov.uk/citycentre.
Alternatively people can telephone 0191 278 2767 to leave a message with their feedback or request for a paper copy of the information and survey.
There will also be a series of drop in events where people can get further information and ask questions.
Details of these events are:
Tuesday 14 January, from 11am until 3pm. Grainger Market, Alley 2, Unit 80/81
Thursday 16 January, from 4pm until 8pm. Eldon Square Grey's Quarter, ground floor near the Grey's Monument entrance.
Monday 20 January, from 11am until 3pm. Brunswick Methodist Church, 1st floor, room 1.
Wednesday 22 January, from 4pm until 8pm. Eldon Square Grey's Quarter, ground floor near the Grey's Monument entrance.
All feedback will be considered before plans are published as part of a Traffic Regulation Order, which will set out the legal changes required to put the plans in place.
Once the legal order is published there will be a further opportunity for people to make written comments on the plans.