27 June 2022
| | 4 min read
The Birmingham 2022 Queen's Baton Relay – arrangements for spectators and road closures confirmed
Excitement is building ahead of The Birmingham 2022 Queen's Baton Relay which arrives into Gateshead and Newcastle on Friday 15 July.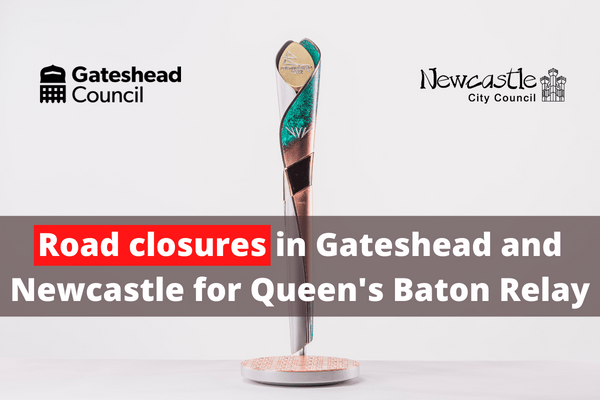 Travelling the length and breadth of England for a total of 29 days before culminating at the Opening Ceremony for Birmingham 2022 on 28 July 2022.
The Baton will make its way through Gateshead and Newcastle and a busy schedule of activities and events are planned.
From 4.20pm on 15 July, Batonbearers will walk along the route on the A167 from the Angel of the North to Saltwell Park. There will then be a community event at Saltwell Park where members of the public can see the Baton, before it makes its way to the River Tyne, where it will be handed over to Batonbearers in Newcastle.
This will see short-term road closures in place between 3.15pm and 5.30pm (latest) on the following roads/junctions.
A167 Durham Road, north and south bound between the Angel of the North roundabout and Valley Drive, including all junctions in between;

Joicey Road between the A167 Durham Road and Saltwell Road South
Junctions will be reopened as soon as The Queen's Baton Relay has passed through.
Motorists will be warned of the road closure well in advance with diversions signposted.
The council has been liaising with neighbouring local authorities and transport operators to ensure the road closure is advertised in advance.
Spectators are encouraged to watch The Queen's Baton Relay at any point along the route, providing they do so safely. This includes not impeding the Batonbearers in any way, including entering the road as they approach and pass.  A community event will take place between 4.30pm to 5.30pm at Saltwell Park where residents can see the Baton and get involved with various activities. Please plan to arrive and be in position well in advance.
The Baton will travel up the River Tyne, under the Gateshead Millennium Bridge at approximately 6pm, at which point it will be handed over to Newcastle. The Baton will then travel from the Quayside up Dean Street and Grey Street, around Grey's Monument, and return to the Quayside for an end-of-day celebration.  The celebration takes place from 5.30pm to 7.30pm, with the Baton due to arrive at 6.45pm. 
A number of road closures will also be in place in Newcastle from 5.30pm up to 8.45pm, though roads will be reopened as soon as possible once the relay safely passes.

The Newcastle roads affected are:
Quayside - between junctions with Sandhill and Milk Market

King Street - entire length

Lombard Street - entire length

Queens - entire length

Sandgate - entire length

The Swirle - entire length

Quayside - between The Swirls and Broad Chare

Sandhill - between Quayside and Side

Side – entire length

Dean Street - between Side and Grey Street

Grey Street - between Dean Street and Blackett Street

Market Street - between Pilgrim Street and Grainger Street

Shakespeare Street - entire length

High Bridge – entire length