23 March 2023
| | 2 min read
City's first School Street scheme hailed a success by local community
Calls have been made for Newcastle's first School Streets scheme to be made permanent.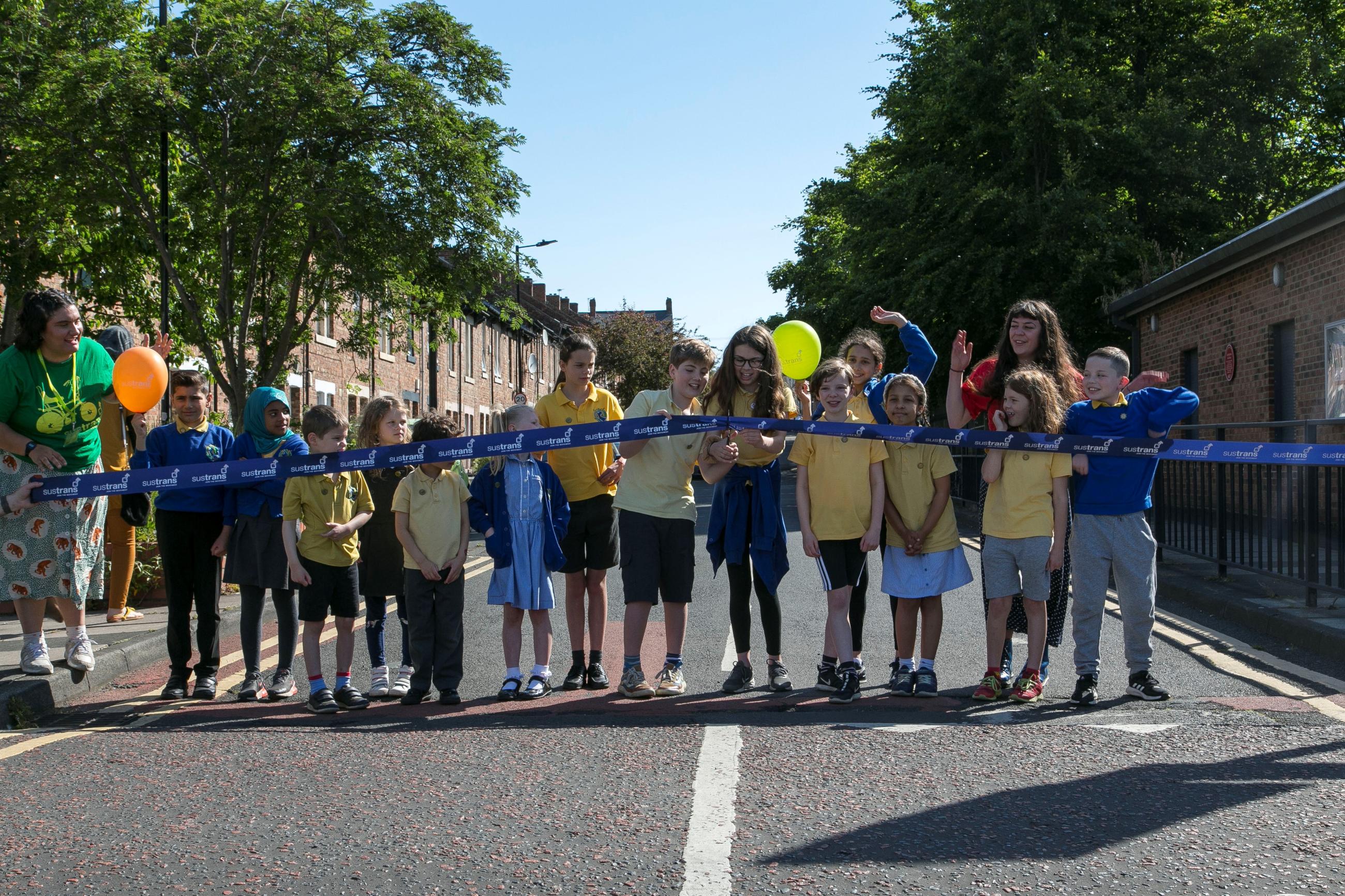 The scheme, at Hotspur Primary School, in Heaton, has proved popular with families and nearby residents and has been successful in helping children enjoy safer and more active journeys to school.
Since its launch in June 2022, families have experienced less traffic and better road safety on streets near to the school.
More children have walked, cycled or scooted to school and residents have welcomed the scheme.
Traffic counts show a reduction in vehicles using Mowbray Street at the times of day when the School Streets scheme is in operation – including during the colder months.
There have also been significant increases in the number of people walking and riding bikes during the same times.
The scheme was introduced by Newcastle City Council, in partnership with Sustrans, as part of a trial that included a six-month consultation for people to feed back their views.
The majority of those who took part were in favour of the scheme being made permanent, with some issues and concerns also being raised that will be looked at in more detail.
These included issues relating to higher numbers of vehicles using some surrounding streets and calls for greater enforcement of the scheme to be carried out.
Cllr Jane Byrne, cabinet member for a connected, clean city at Newcastle City Council, said: "I'm delighted that children at Hotspur Primary School and their families have been able to enjoy more active, healthier and safer journey to school as a result of this School Streets scheme.
"Making small changes, such as altering your route instead of driving past the school gates or choosing to walk, cycle or scoot instead of driving to school, can have a big impact and is positive for pupils, for their health and our environment.
"I'm also pleased that the Hotspur School Streets scheme has also been supported by local residents, who no longer have to put up with lots of traffic and parked cars outside their homes at the start and end of the school day.
"I'd like to thank everyone who took the time to give their feedback on the scheme and we will be looking closely at all of the comments to see what improvements can be made."
School Streets works by closing certain streets around schools to traffic during school drop off and pick up times. This reduces problems caused by parked cars and traffic, making it easier and safer for children to walk, cycle or scoot and helping to improve air quality.
Sustrans, the UK charity that helps more people walk, wheel or cycle short journeys, works with local authorities across the country to implement the School Streets programme.
Sustrans also organises the annual Big Walk and Wheel challenge, which started this week, with 23 schools in Newcastle participating. During the challenge schools compete across the UK to walk, wheel, cycle or scoot the most journeys.
Ali Stansfield, School Streets coordinator for Sustrans, said: "It's great news that families and local residents have welcomed the scheme. Before School Streets started, Mowbray Street outside Hotspur was busy and congested at drop off and pick up times, which could be unsafe for everyone.
"Now during the school run, more families are doing the whole journey by foot, bike or scooter. Active travel gives a healthier start for children before they go to school, and the whole neighbourhood has benefitted from reduced traffic."
The School Streets scheme at Hotspur Primary School was the first one to be introduced in the city, with others also in place at Grange First School, Chillingham Road Primary School and Ravenswood Primary School.