15 May 2023
| | 2 min read
Clean Air Zone charging date for vans confirmed
Clean Air Zone charges for older, more polluting vans and light goods vehicles, will begin in Newcastle and Gateshead on Monday 17 July 2023.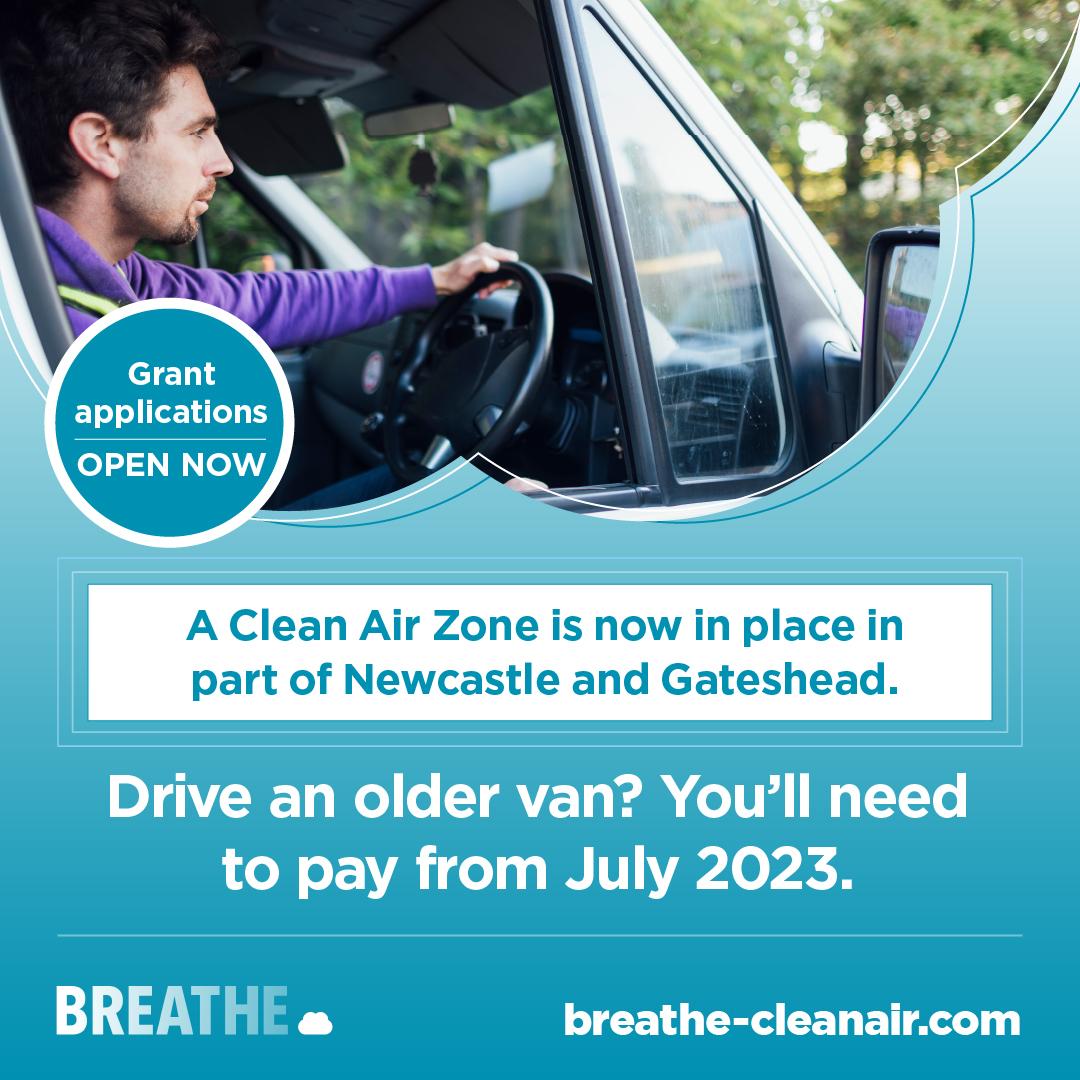 The charges will apply only to vans that do not meet national emissions standards but vehicle owners who are in the process of applying for a grant to upgrade will be temporarily exempt.
To help raise awareness, letters to inform affected van and light goods vehicle owners that they will face charges from 17 July will be sent out from Monday 22 May.
The Early Notice Letters will be sent by DVLA to a number of van owners with non-compliant vehicles after they were identified entering the CAZ during a recent monitoring period.
The CAZ launched on January 30, with charges for non-compliant taxis, buses, coaches and HGVs starting on that date. Private cars are not affected and do not have to pay CAZ charges.
A daily charge of £12.50 for non-compliant vans entering the CAZ will begin on Monday 17 July. These charges had been delayed due to national supply issues making it harder to source replacement vehicles.
Cllr Jane Byrne, cabinet member for a connected, clean city at Newcastle City Council, said: "This is the second stage of the launch of the Clean Air Zone, which is in place to help tackle air pollution and protect people's health by reducing the number of older, more polluting vehicles using our roads.
"Many drivers and business owners are already familiar with the Clean Air Zone but this will be the first time non-compliant vans and light goods vehicles will face charges.
"We're encouraging people to check whether they are affected, find out about support and ensure they know how to pay if required to do so."
Vehicle owners can check whether they will be required to pay using the national online vehicle checker at www.gov.uk/clean-air-zones.
The CAZ covers most of Newcastle city centre, including routes over the Tyne, Swing, High Level and Redheugh bridges. A map showing the boundary of the CAZ is available at www.breathe-cleanair.com/map.
Drivers who owe a CAZ charge do not receive a notification so it is important for people to check if they need to pay and ensure any payment is made within the six-day deadline after travelling into the zone. Advice on how to pay a CAZ charge can be found at www.breathe-cleanair.com/how-to-pay.
Grants of up to £4,500 to help towards the cost of replacing a non-compliant van or light goods vehicle are available and full details, including eligibility and how to apply can be found at www.breathe-cleanair.com/grants.
Anyone who is in the process of applying for funding will be temporarily exempt from paying any CAZ charges until they have completed the process.
In some circumstances temporary exemptions may also be applied, including where businesses are located within the Clean Air Zone. Full details about exemptions, including how to apply, can be found at www.breathe-cleanair.com/exemptions.
The Clean Air Zone has been introduced by Newcastle and Gateshead councils in response to a legal order from government demanding action to tackle illegal levels of pollution in certain areas.
Full details about the CAZ can be found on the Breathe website at www.breathe-cleanair.com.