12 January 2023
| | 2 min read
Clean Air Zone launches later this month
Drivers are being reminded that a Clean Air Zone covering part of Newcastle and Gateshead will launch at the end of this month.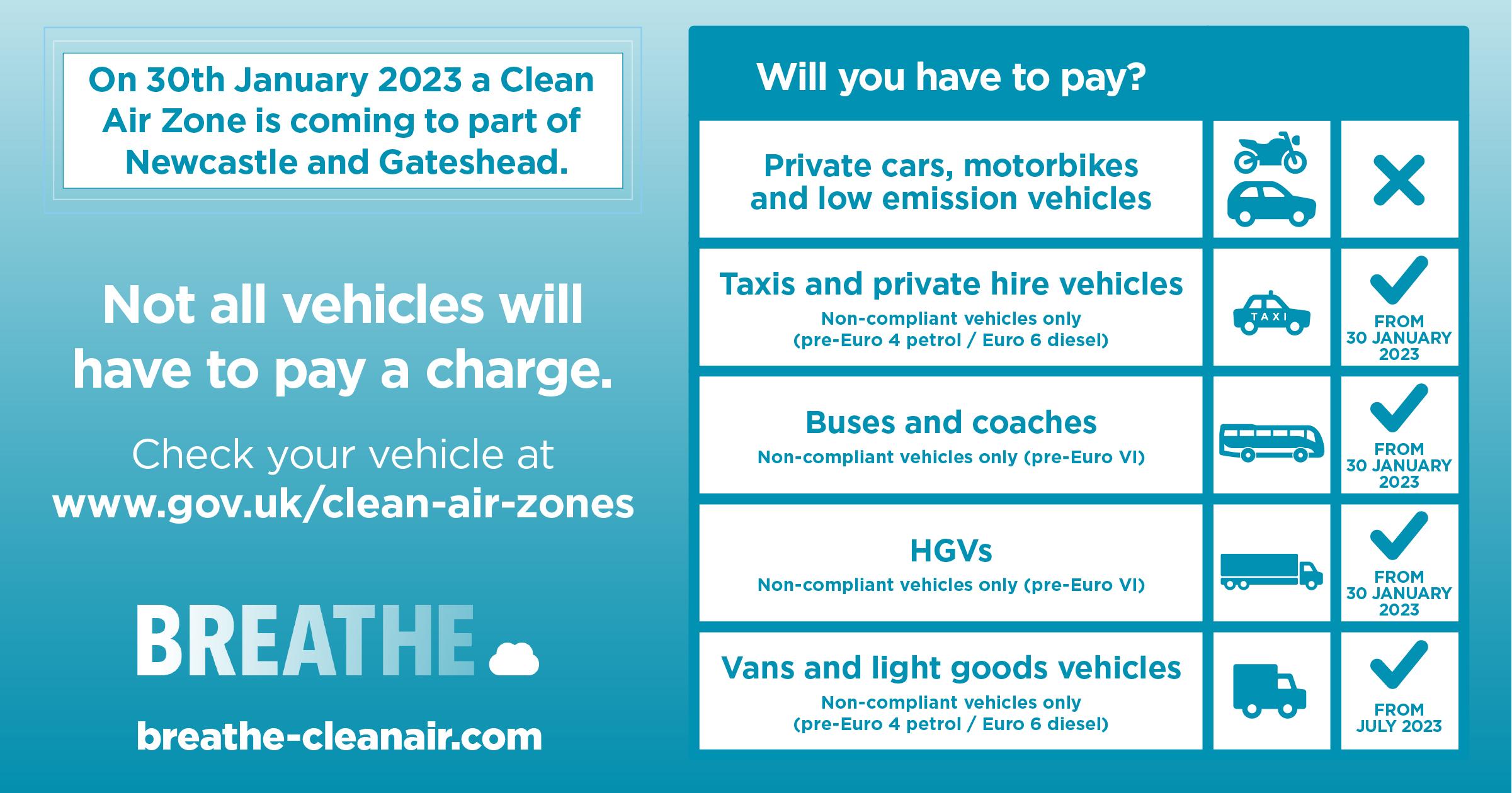 From 30 January 2023 older, more polluting taxis, buses, coaches and HGVs will be charged to enter the zone.
Privately-owned cars will not be affected by the Clean Air Zone (CAZ) and will not have to pay charges.
Older, more polluting vans will face charges, but not until July 2023.
Financial support is still available for people and businesses who are affected, including grants to help towards the cost or replacing or upgrading a non-compliant vehicle.
Anyone who has submitted a grant application will receive a temporary 120-day exemption from CAZ charges while their application is processed and they wait to upgrade their vehicle.
Other permanent and temporary exemptions for certain vehicles are also available as well as discounts on CAZ charges for local taxi drivers who are registered in Newcastle, Gateshead or North Tyneside.
Cllr Jane Byrne, cabinet member for connected city at Newcastle City Council, said: "There's not long to go before the launch of the Clean Air Zone and we're reminding people who are affected, if they haven't done so already, to find out about the support available to help them upgrade to a cleaner vehicle with lower emissions.
"This will reduce the number of older, more polluting vehicles on our roads, helping to improve our air quality and protect people's health."
Cllr John McElroy, cabinet member for the environment and transport at Gateshead Council, added: "Not everyone will be charged to enter the Clean Air Zone. From January 30, charges will apply only to older taxis, buses, coaches and HGVs that do not meet national emissions standards.
"We're encouraging owners of those types of vehicle to check whether they are affected and take the necessary steps to get ready before the CAZ launches at the end of this month."
People can check whether their vehicle will be charged to enter the CAZ using the government's online vehicle checker at www.gov.uk/clean-air-zones.
Full details about who is affected, what support is available and how to apply can be found online at www.breathe-cleanair.com.
The CAZ is being implemented by Newcastle and Gateshead councils to improve air quality and protect people's health. Both councils are among a number of local authorities across the country to have been issued with a government legal direction to introduce a CAZ in response to concerns about pollution levels.
The CAZ covers most of Newcastle city centre as well as routes over the Tyne, Swing, High Level and Redheugh bridges.