7 October 2021
| | 2 min read
Drivers warned of bus lane enforcement from next month
Bus lane enforcement on a key city centre route is due to resume next month.
Drivers are advised that from Monday 1 November enforcement on the northbound stretch of John Dobson Street will be reinstated, with financial penalties issued to those who flout the rules from that date onwards.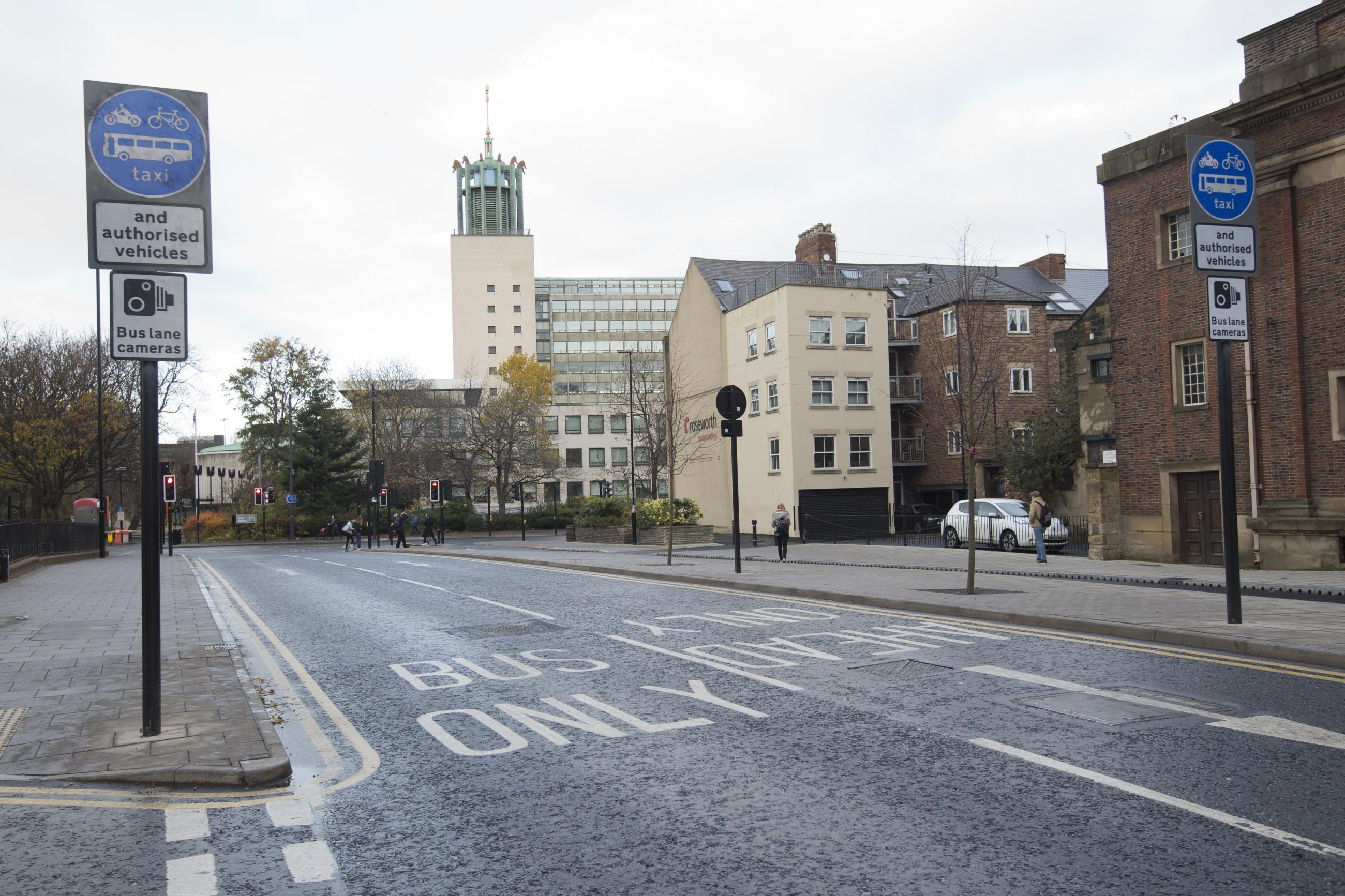 The action is being taken as part of efforts to support the city's recovery from the pandemic by ensuring road networks and public transport services can operate efficiently and reliably, particularly as more people return to workplaces.
Anyone who fails to comply with the restriction up until 1 November will be sent a warning letter to remind them that the restriction is in place and inform them that enforcement is due to resume. Anyone caught driving in the bus lane in breach of the restriction after that date will receive a penalty charge notice. 
Cllr Ged Bell, cabinet member for development, transport and neighbourhoods at Newcastle City Council, said: "As the city moves into recovery, with restrictions lifted and traffic levels increasing, now is the time to restart enforcement so we can ensure that we have a robust and reliable transport infrastructure in place.
"All great cities have great public transport networks and we will push on with our plans to prioritise bus services across the city. This is underpinned by our commitment to clean up our air, protect our health and the environment and provide good alternative transport choices to encourage people out of their cars.
"John Dobson Street is one of the busiest bus routes in the city centre and ensuring buses can operate efficiently there will benefit the thousands of passengers who use these services each week.
"I am confident that there is widespread public awareness of this bus lane and we will shortly be installing new signage on approaching routes to give additional warnings to drivers.
"We are now giving clear advanced notice that we will be reinstating enforcement of this bus lane restriction from 1 November and anyone not following the rules from that date will received a penalty charge notice."
Enforcement of the northbound – heading towards the Civic Centre – bus lane restriction on John Dobson Street was paused in 2017 while a review of signage was carried out by the Chief Adjudicator. Southbound – travelling away from the Civic Centre – enforcement was not affected and this remains in place.
Following publication of the Chief Adjudicator's report last summer, the city council set out its commitment to review and update all signage alerting drivers to the presence of the bus lane before resuming enforcement of the restriction.
Additional signage – over and above that which is required under the national legal requirements – will soon be installed.
And, despite having significant concerns over the adjudicator's findings, the council also agreed to refund drivers who had paid penalty charge notices for this bus lane as a gesture of goodwill, although there was no legal obligation to do so.
To date nearly £300,000 has been refunded to motorists, with just over £2m remaining unclaimed. All surplus income from bus lane enforcement, including any remaining penalties paid by drivers in relation to the northbound John Dobson Street bus lane, will be used to fund improvements to public transport networks.
The city council is working with regional partners to develop a bus service improvement plan, which is aimed at improving services and helping to ensure the region has access to national funding for public transport in the future.
As well as prioritising public transport, the city council is also working with partners on a £50 million programme of investment to create a healthier, greener and more welcoming city centre. This is aimed at improving the city for residents and visitors and supporting local businesses and the economy as they recover from the pandemic.
A series of changes to traffic routes – which would reinforce the importance of John Dobson Street as a key part of the bus network – is proposed to support the city centre improvements. These proposals are currently subject to public consultation.