14 October 2019
| | 4 min read
Final air quality consultation under way
People in the North East can have their say on final plans for tackling pollution from today (14 Oct).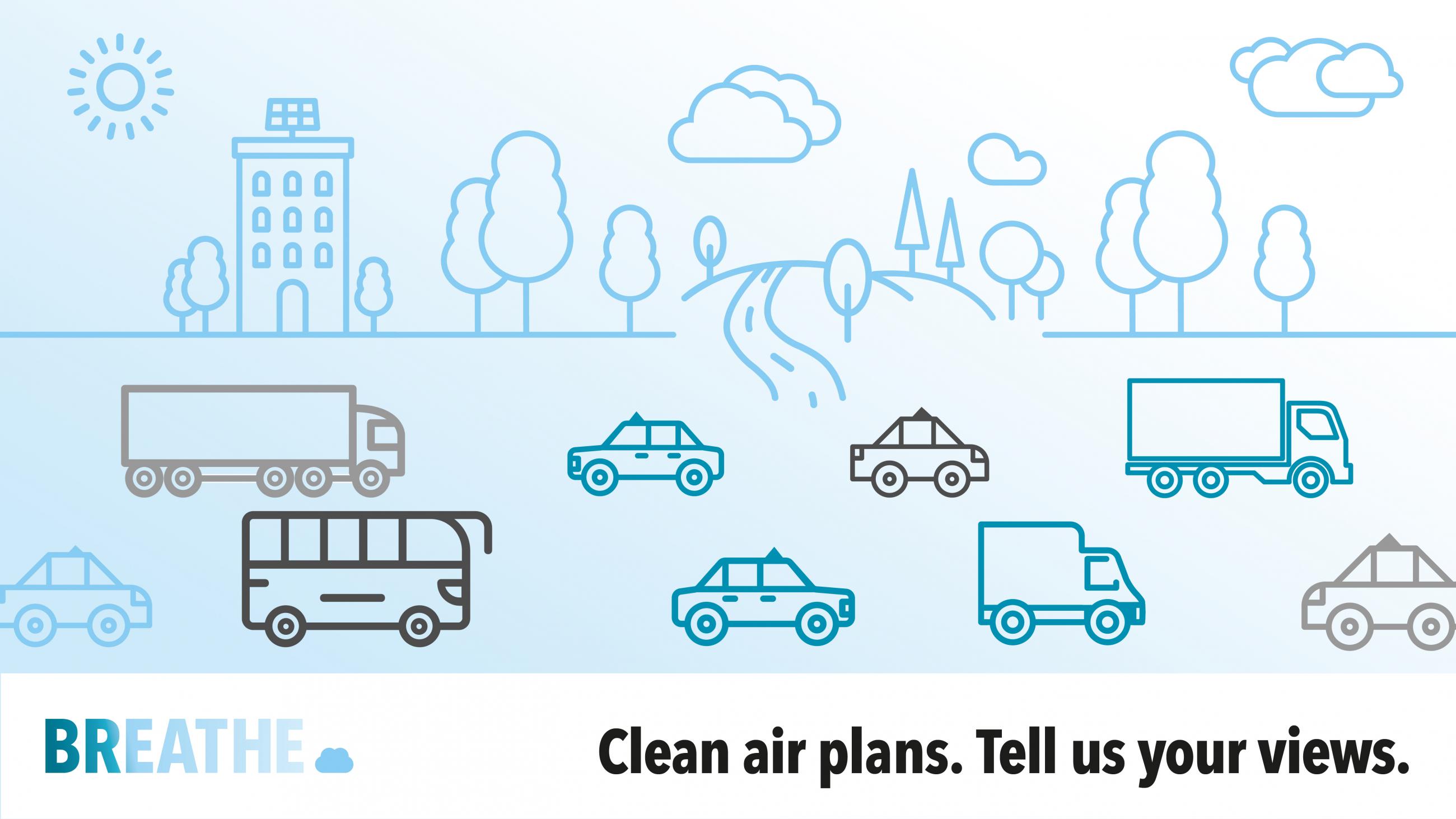 A six-week consultation is taking place on a package of measures to improve air quality as well as proposals for supporting people and businesses that would be affected.
Councils believe that new proposals, when implemented together as a single package, will achieve the rapid improvement in air quality that is required under a government legal direction, while also addressing concerns people and businesses raised during the initial stage of consultation earlier this year.
The final proposals include:
Grants for people and businesses affected by a Clean Air Zone charge to help them upgrade their vehicles.

A sunset or grace period where some vehicles wouldn't be charged straight away as well as some exemptions for vehicles that wouldn't be charged at all.

A charging Clean Air Zone focussed on Newcastle city centre, affecting non-compliant buses, coaches, taxis (Hackney Carriages and private hire vehicles), heavy goods vehicles and vans, to be enforced from 2021.

Changes to the road layout on the Central Motorway to prevent traffic from merging on and off the slip road between the New Bridge Street and Swan House junctions.

Lane restrictions on the Tyne Bridge and its approaches, including on the Central Motorway. This will be done as part of measures to improve air quality but councils are also asking government for £40m funding to enable essential maintenance works to be carried out at the same time to minimise the need for further disruption.

Changes to the local roads network in Newcastle and Gateshead to reflect the Tyne Bridge changes and ensure public transport can run reliably.

New delivery hubs for goods vehicles outside of the charging zone, from where last-mile deliveries can be made by electric vehicle or cargo bike.

Ambitious funding bids to the Transforming Cities Fund and Clean Air Fund for investment in public transport, walking and cycling routes.

A major communications campaign to ensure people are aware of the measures, including the support that will be offered, and to encourage people to change their travel behaviour, switching to public transport, walking or cycling where it is possible for them to do so.
Cllr Arlene Ainsley, cabinet member for transport and air quality at Newcastle City Council, said: "We are setting out tough measures to clean up the air we breathe and help tackle climate change.
"Alongside these proposals we are also outlining ways in which we could offer support to people affected by the clean air zone charges.
"We're keen to hear from people so that we can ensure the support we put in place, in the form of financial help and practical solutions, is effective in helping people to cope with the changes.
"This will be subject to government funding so it is important that we get feedback from the public on this as it will help to strengthen our case for money being provided to support people in the North East."
The final clean air zone proposals take into account new modelling and predictions on what type of vehicles will be on the roads in future, as well as public feedback from the initial consultation earlier this year.
Changes have been made to the plans that will help to address concerns raised by the public and local businesses, while still ensuring air quality targets are met in the shortest possible time.
Among the key consultation issues, which the new proposals help to address, were concerns about the potential impact on business and the local economy as well as the effect on those with lower incomes and those without access to public transport, including shift workers.
One of the most significant changes to the clean air zone proposals is the decision not to charge private cars initially.
Cllr Martin Gannon, leader of Gateshead Council, said: "At this stage we do not intend to introduce charges for private cars because we recognise that there needs to be more investment in alternatives, including public transport, walking and cycling routes, and this is part of our proposals.
"However, we may need to reconsider charges for private cars in the future as part of our ongoing commitment to improving our air quality, tackling climate change and improving people's health.
"This would be subject to further consultation at that time."
Another major change to the proposals is the area covered by the clean air zone, which is now much smaller and focused on Newcastle city centre.
Residential areas, including Jesmond, Sandyford and Gosforth, the Royal Victoria Infirmary and parts of Gateshead and the Coast Road are no longer included in the charging zone.
However, these and other surrounding areas are still expected to benefit from cleaner air due to there being a higher number of cleaner vehicles on the roads and more people using public transport.
Cllr Carl Johnson, cabinet member for environment and transport at North Tyneside Council, said: "These final proposals focus on cleaning up the larger diesel vehicles that use our roads – not just within the charging zone itself but also on routes to and from the city centre – and improving public transport, walking and cycling routes, enabling more people to make fewer journeys by car.
"Under the original proposals we would have seen a much higher rate of traffic re-routing through residential areas, creating poorer air quality for those living there. The revised plans reduce this risk of re-routing."
Consultation on the final proposals will run until midday on Monday 25 November.
Full details of the proposals, including the support measures, and the questionnaire will be online at www.breathe-cleanair.com.
Ends
The government legal direction
This was issued in 2017 and it stated that councils had to prepare a plan to tackle high levels of nitrogen dioxide on certain roads.
It also made clear that councils had to consider a charging clean air zone and that any alternative proposals had to be at least as quick in addressing the problem of pollution as those charges would be. 
Councils were required to identify measures that would bring air quality levels to within legal limits in the shortest possible time.
Previous public consultation
More than 19,000 responses were received to earlier public consultation on original options between 6 March 2019 and 19 May 2019.
This focused on two potential core options:
A city centre Low Emission Zone alongside tolls on the Tyne, Swing and Redheugh bridges; or

A charging Clean Air Zone, category D, covering a large area of Newcastle, stretching into Gateshead and North Tyneside.
The consultation also sought views on proposals for longer term investment, aimed at improving opportunities for people to use public transport, to walk and to cycle for more of their everyday journeys, and proposals for support measures to help people and businesses that would be affected if a charge is introduced.
Full details of the measures that were consulted on and the independent report on the findings can be found at www.breathe-cleanair.com