10 December 2021
| | 4 min read
Hackney Carriage and Private Hire vehicle policy
Newcastle City Council is currently looking to implement a new Hackney Carriage & Private Hire Licensing Policy.  Central to this policy remains public safety and one of the objectives is to improve licensed vehicle recognition and visibility in increasing public awareness.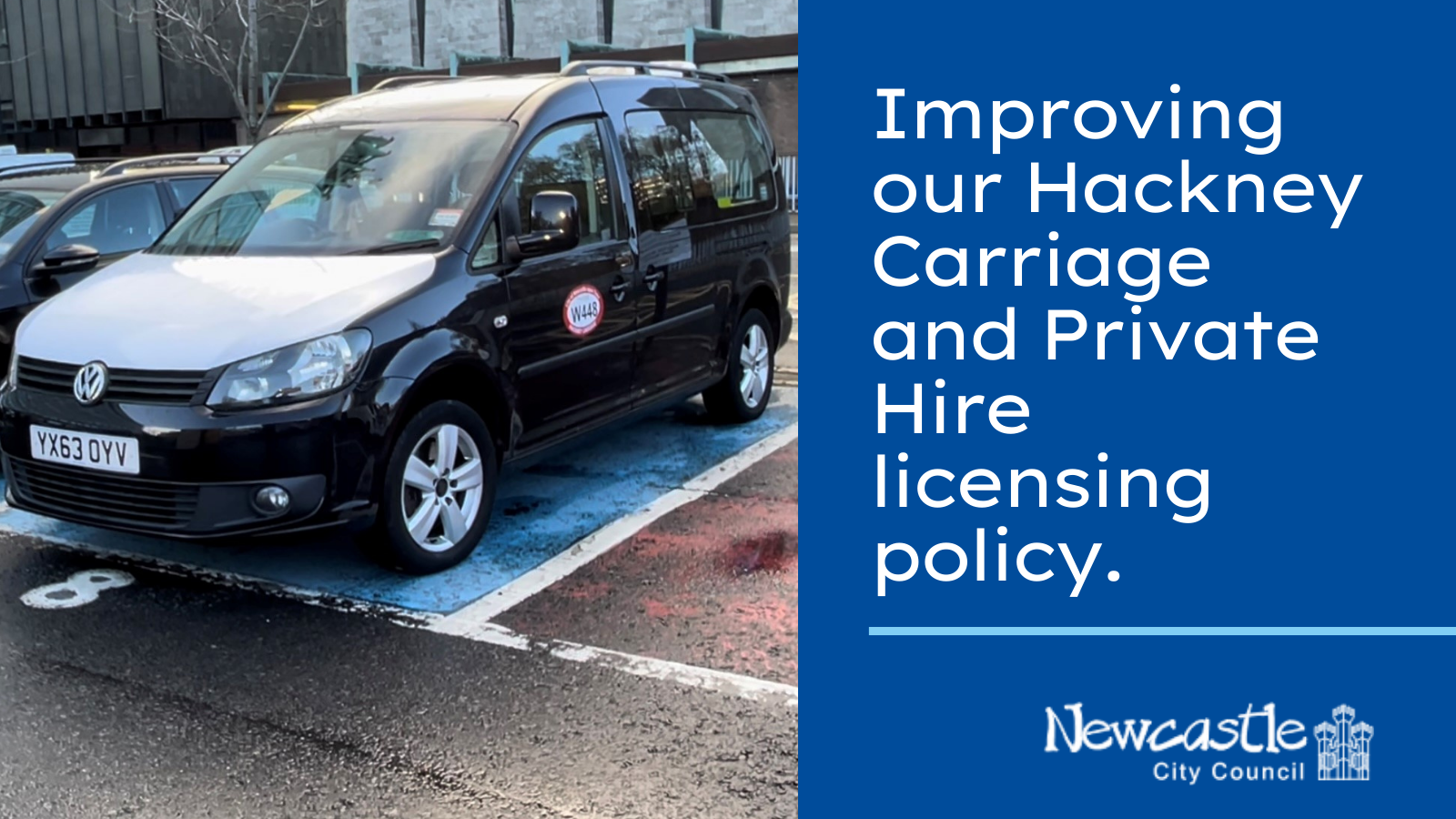 Licensing Authority proposals aim to improve uniformity to its Hackney Carriage fleet by reverting all 700+ vehicles to a base of black and also applying a white wrap to the bonnet to show their unique service in being able to pick up without pre-booking, as well as making them clearly identifiable in the night time economy.
The Authority urges people using "taxis" to first make sure they are getting into cars which are appropriately licensed. They can do this by checking the vehicle licence plate, door markings and the drivers' identification badge which should be visible at all times.
Only Newcastle City Council licensed Hackney Carriages are legally permitted to pick up from the street without a pre-booking. It is an offence for a Hackney Carriage Driver to refuse a fare that starts and finishes in Newcastle.  It is also an offence for a driver not to use the fitted meter or to charge more that the legal tariff of fares displayed in the licensed vehicle.
All journeys in other licensed vehicles must be pre-booked with a licensed private hire operator.
It is also the intention of the new policy to require private hire vehicles to display their associated company for easier customer identification.  This will be complimented with further council markings to the front doors of the vehicle to show that prior bookings must be made.
The safety of the travelling public is paramount.
In addition to these measures a proactive enforcement approach will be maintained together with Northumbria Police colleagues to ensure that all vehicles are roadworthy, compliant with licence conditions and appropriately insured and that any contraventions or driver non-compliance is swiftly actioned.
View our passenger advice page for more information.