15 May 2020
| | 4 min read
Plans to support safer and greener city-wide travel announced
Plans are being drawn up to help ensure people who need to make essential journeys in Newcastle can do so safely and with assurances on social distancing.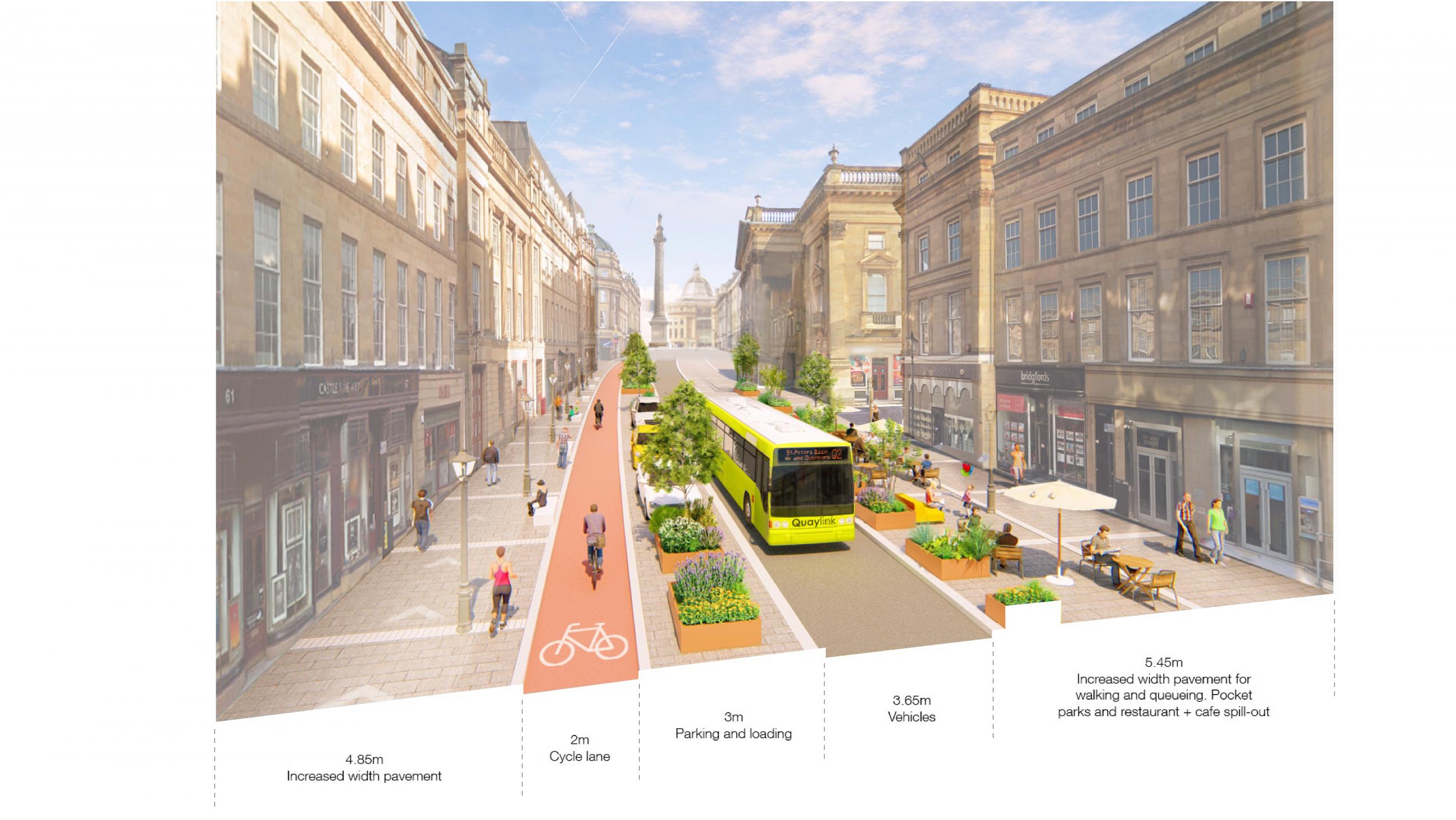 Newcastle City Council is looking at how city-wide transport networks can be changed to enable people to travel easily, while maintaining social distance, and to meet the increasing demand for space to walk and cycle.
New measures and road layouts, starting in the city centre, will be introduced quickly – in some cases from as early as next week – to meet the short term need to get the city moving in a safe way as coronavirus restrictions start to ease.
The city council will also be looking at how these short term changes could help deliver longer term ambitions for a cleaner and greener transport network that encourages and supports more active travel and a reduction in car journeys.
To develop these plans, the council is working with a range of partners, including NE1, Northumbria Police, the universities and the NHS Trust to ensure that the city centre is a safe and welcoming place for people.
With non-essential shops potentially opening from 1 June, the focus in the short term will be on the city centre, district shopping centres and the main transport routes in and out of these areas.
Plans are being developed to manage the flow of people walking and queuing on the city's main shopping streets, including the introduction of one-way pedestrian systems and markings on the ground to indicate the 2m distance, walkways and queuing areas. City 'marshalls' may be used to help people understand the new system both for how to get about the area, and where to queue.
People will see these measures introduced initially in areas such as Northumberland Street and Blackett Street as well as on Queen Victoria Road and St Thomas' Street, both of which are key links to the Royal Victoria Infirmary.
Changes in district shopping centres and local high streets, including for example Gosforth High Street, also being brought forward in the coming weeks.
Part of the preparations for this will include the removal of street furniture, such as seating, for a short time until it is possible to assess how social distancing is working before deciding the best locations for seating to be reintroduced. People may also see the floor markings change from being temporary to more permanent in response to how the areas are being used.
Grey Street will see additional measures put in place, including the removal of the majority of on-street parking to create more space for people to walk or for businesses to use as they return. Traffic will be restricted to only travelling one-way heading southbound and a protected northbound cycle lane will also be introduced.
There are further plans, still being developed, to reallocate road space across many parts of the city centre to give more room for people to walk and cycle, including:
wider pavements and space for cycling across the city centre including on Gallowgate and Queen Victoria Road to give people space for social distancing and make it easier and safer for people walking, queuing for services, travelling by bike or potentially using electric scooters; and
pedestrian crossings will be re-set throughout the city centre to give more frequent priority for people using them. This will help to avoid large groups having to gather together while waiting to cross the road.
These measures will be kept under review and altered as necessary, as the city's response moves from short term requirements into a system that reflects longer term ambitions.
Cllr Nick Forbes, Leader of Newcastle City Council said: "Our city is facing a huge economic challenge in terms of its recovery from coronavirus and we know that working together is the best way we can support one another to get us back on our feet.
"It's important that our immediate focus is on how people can safely move around – whether to go to work or to shop, when that is possible – with proper social distancing and space to walk and cycle, which people are choosing to do increasing numbers.
"We have to address these fundamental issues first and foremost to help businesses as they begin to reopen and start the process of rebuilding our economy.
"At the same time we must not lose sight of our longer term ambitions for a healthy, vibrant and welcoming city – one that is not choked by traffic and pollution.
"We will be looking closely at how these short term and essential measures that we are introducing now can help us move towards the city that we want future generations to be able to enjoy."
In the coming weeks and months, the council will be looking at making changes to transport networks outside of the city centre, including those around local shops, schools and in residential neighbourhoods. This will be focused on ensuring the road network is changed to create safer and more reliable routes for active ways of getting around.
These plans will be developed in response to local needs and with input from local ward councillors, residents and community groups. The key focus will be on shifting road user priority away from motor vehicles in residential areas.
The council will also look to strengthen the public transport network to give buses more efficient routes and to provide more space on key roads that could be used by people on bikes or potentially electric scooters. This is being done to both discourage more private car journeys, which remains essential for reducing both carbon emissions and traffic related air pollution, which has been linked to increase risks from COVID-19.
Ensuring buses do not get caught in traffic will also help to avoid longer queues and larger groups of people waiting at bus stops.
Cllr Arlene Ainsley, cabinet member for transport and air quality at Newcastle City Council, said: "At the moment the government is urging people to avoid public transport where possible in order to help control the spread of coronavirus.
"We know this means that in the short term some people will choose to make journeys by car, but we would strongly recommend going by bike or on foot wherever possible.
"But for those that are relying on public transport now to get to work and for those that will rely on it in the future, we must continue to improve our public transport network so that when the time is right, people can have the confidence and knowledge that the bus will get them to where they need to be on time.
"It is vital that we don't revert back to the idea that it is acceptable for the car to be the default option as in the longer term this will have serious implications for our environment and our health.
"In the meantime we are looking to employers and businesses to support us as we seek to manage demand on our transport networks – by enabling their staff to continue to work from home where possible and by staggering start and finish times for those that do need to travel to spread journeys beyond the traditional rush hour."
Newcastle Hospitals has welcomed these changes to help both the public access healthcare services and staff, many of whom have taken to walking and cycling to work and are keen to maintain that.
Dr Julie Hall, Consultant Neuroradiologist and chair of Newcastle Hospitals' Active & Sustainable Travel Group, said: "Making neighbourhoods and our city's transport network more focused on active ways of getting around will facilitate social distancing while going about our daily lives. It will also help to improve air quality, reduce carbon emissions and improve staff and patients' health and wellbeing.
"The temporary proposals, particularly the plans to improve cycling infrastructure on the roads leading to the RVI and Freeman Hospitals, are very welcome. In order to support ongoing pressures on NHS staff & patients we would like to see these temporary changes become permanent.
"Public health is multi-faceted but a transport network that prioritises active and sustainable ways of getting around, and makes them safe and easy, is a great place to start."
Further details about the longer term measures will be published in the coming weeks as they continue to be determined but people will be kept informed as plans are finalised.