7 October 2020
| | 3 min read
Thousands choose walking and cycling following traffic reductions
Thousands of journeys are being made by people on foot and by bike every weekday in areas of Newcastle where action has been taken to reduce traffic levels.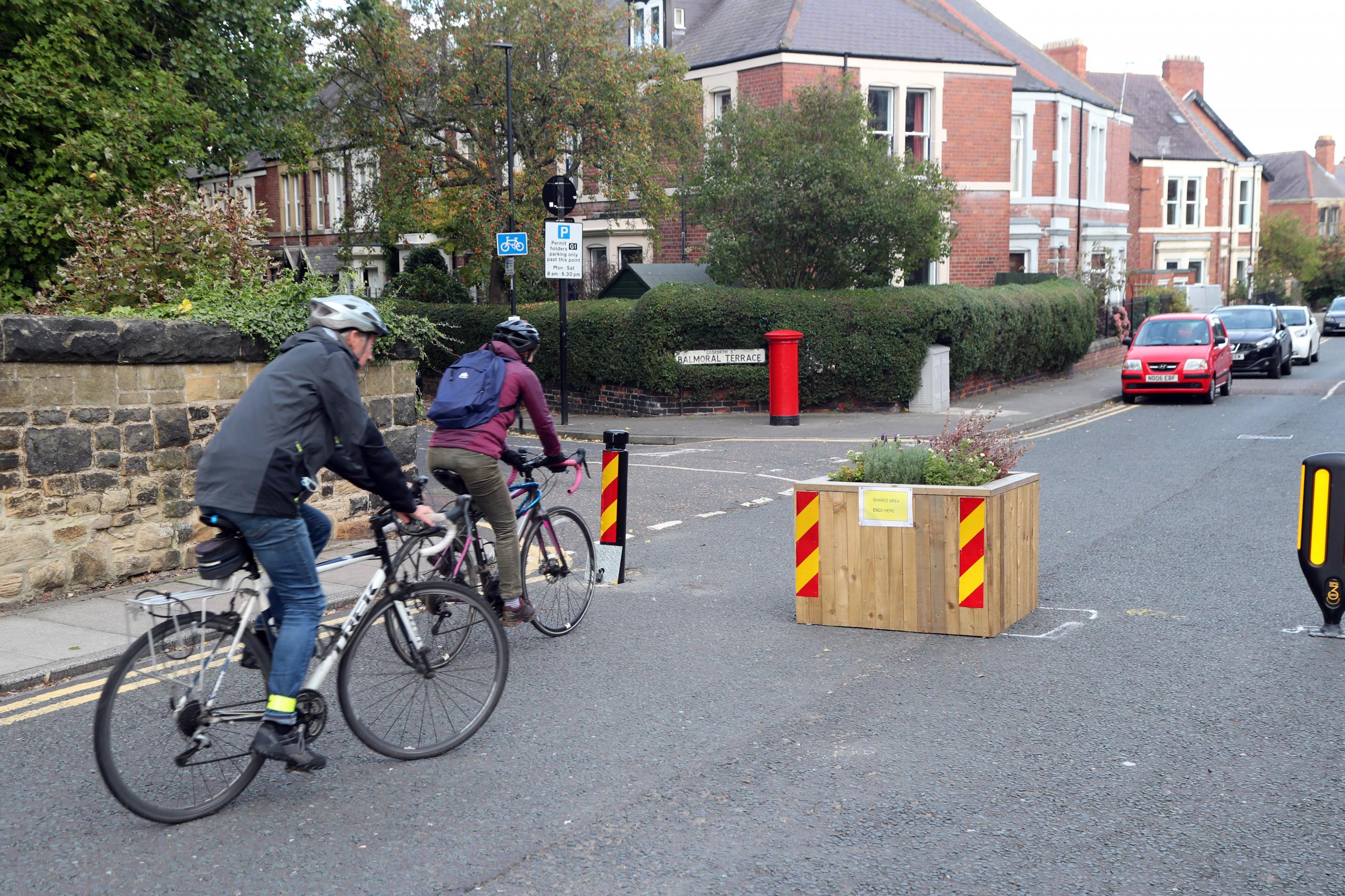 Around 4,900 daily journeys on foot and 1,350 daily journeys by bike have been recorded across five areas where low traffic neighbourhoods are currently being trialled.
Newcastle City Council made the changes – which are under consultation - by closing five bridges to vehicles in order to make it safer for people to walk and cycle.
The council has been monitoring use of the bridges and daily weekday counts show:
There have been approximately 2,000 journeys on foot and over 100 by bike at Argyle Street. The number of people walking has significantly increased following the return of university students to the city.
At Castle Farm Bridge there have been around 150 bike journeys each day and around 700 journeys on foot.
Over 800 journeys on foot at Stoneyhurst Bridge, with a lot more people with young children in buggies here, as well as between 100 and 200 cycle journeys.
At Salters' Bridge there have been around 500 journeys on foot and 100 by bike.
And at Haldane Bridge the counts have shown approximately 1,500 journeys on foot and around 200 by bike each day.
Evidence shows that swapping shorter, local car journeys for walking or cycling not only helps people to stay active but can have a big impact on levels of pollution.
To mark Walk to School Week this week and Clean Air Day (Thursday 8 Oct) families across Newcastle are being encouraged to walk, cycle or scoot to school, instead of going by car.
People are also invited to put forward suggestions for low traffic neighbourhoods where they live.
Cllr Arlene Ainsley, cabinet member for transport and air quality at Newcastle City Council, said: "One of the main factors that prevents people from letting their children walk or cycle to school is concerns about road safety and traffic levels.
"This results in more people choosing to drive, which also affects other people's journeys – not just families on their way to school – and results in higher levels of pollution.
"We need to do things differently and that means changing the way we use our streets by reducing traffic levels and making it possible for people to choose other ways of getting around the area they live in.
"We've already had lots of suggestions coming in this week from people who want to see these changes in their neighbourhoods and we're inviting anyone with views on how we can make it safer, cleaner and healthier to get around where they live to get in touch."
Low traffic neighbourhoods are aimed at creating safer streets for children to play out, better walking and cycling routes for everyone going to their local schools, parks and shops and improved air quality which benefits everyone's health and wellbeing.
They work by reducing the amount of traffic using residential areas in order to get to somewhere else. Instead vehicles are directed away from streets and onto main roads that are designed to carry heavier volumes of traffic.
Earlier this year Newcastle City Council closed five bridges so that people living in these areas could experience what it was like without the traffic and could comment on whether the changes should be made permanent.
People can have their say on the five low traffic neighbourhoods that are currently being trialled by visiting https://safenewcastlebridges.commonplace.is/ and clicking on the have your say button. 
Anyone with ideas and suggestions of ways to make it safer to walk and cycle where they live is invited to email walktoschoolweek@newcastle.gov.uk
The council intends to outline the next phase of low traffic neighbourhoods in the coming weeks.