23 February 2021
| | 3 min read
Thousands of e-scooter trips in Newcastle during first week
The first week of a 12-month e-scooter trial has seen just under 8,000 trips take place.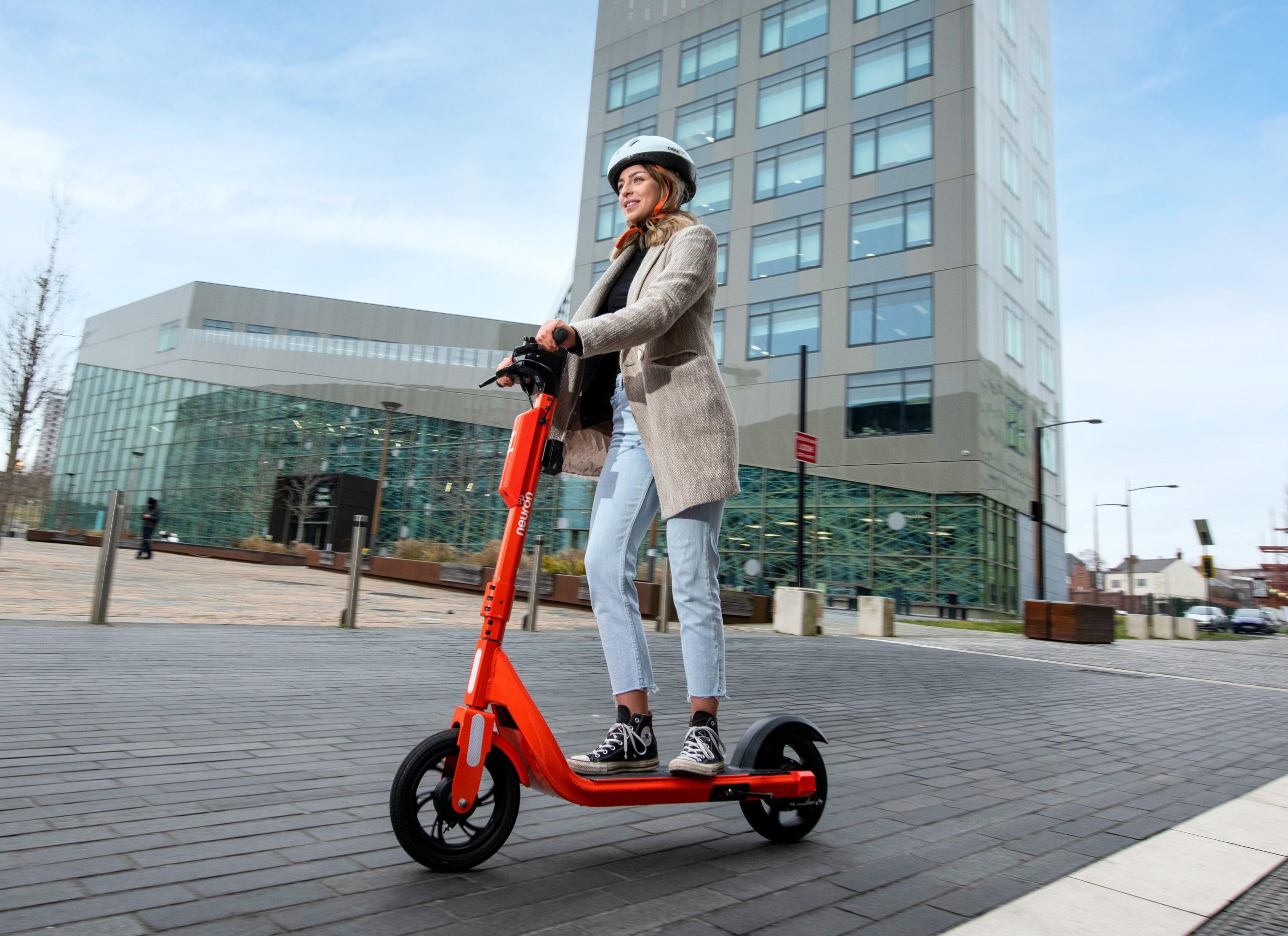 The trial is being run by Newcastle City Council and leading e-scooter operator Neuron, following approval from the Department for Transport as part of a series of trials across the country looking at whether the scooters could be legalised for use in the UK.

In the vast majority cases people have been using them properly and in line with the riding rules, which they agree to when they sign up on the Neuron app. Users are reminded of the rules every time they start a new journey. 

The city council and Neuron have thanked those that have followed the rules and used the e-scooters safely and responsibly. However, there have been a small number of cases, involving a minority of users, where people have failed to follow the rules.

In response the city council and Neuron are reminding everyone of the importance of sticking to the rules and are warning of the potential consequences of failing to do so, which could include being banned from using the e-scooters or even police prosecution and penalty points on their driving licence.

Cllr Arlene Ainsley, cabinet member for transport and air quality at Newcastle City Council, said: "It's great to see that the majority of people are using the e-scooters in line with the rules that they have agreed to follow and which are there to keep themselves and others safe.

"There have been a small number of incidents where people haven't followed the rules, and Neuron have taken swift action by suspending at least one irresponsible rider from the service.

"Everyone who signs up on the Neuron app is made aware of, and agrees to adhere to, the riding rules. Failure to stick to these rules could result in being banned from future use of e-scooters or, in the case of serious breaches, could result in further action being taken.

"We would very much prefer not to take enforcement action and certainly would not wish to see anyone picking up points on their driving licence. 

"Therefore we are urging everyone to behave in a sensible and responsible manner when using the e-scooters."

A spokesperson from Neuron added: "So far, the vast majority of Newcastle riders have behaved responsibly and the feedback has been extremely positive. We are pleased that people are choosing e-scooters, however we encourage only those that need to travel to use them.

"All of our riders sign up to a comprehensive list of riding rules before they are allowed to take their first trip. These highlight that the need to be over 18 and that only one person is allowed on an e-scooter at a time and they give guidance on where e-scooters can be ridden and parked.

"All this information appears in the app that riders see at the start of every trip, plus there's voice guidance to remind people of some of the key points, and even stickers on the e-scooters with the main dos and don'ts. Over the coming weeks we'll also be continuing to send our safety ambassadors into the community as part of our #ScootSafe activities with the Royal Society for the Prevention of Accidents (RoSPA) to remind riders of the rules and reinforce good riding behaviour."

The Neuron e-scooters are available to hire in Newcastle as part of a 12-month trial to look at whether they could become a legal form of transport in the UK. Newcastle City Council and Neuron were asked to go ahead with the launch of the trial as quickly as possible to assess how e-scooters can support safe, socially-distanced and environmentally-friendly travel for people making essential journeys during lockdown.

Neuron is a leading international e-scooter operator which has gained good operational experience running similar schemes running during the pandemic both in the UK and in Australia. Their safety teams clean and sanitise all scooters and helmets using hospital-grade disinfectant daily to ensure they are clean and germ-free for users.

Neuron e-scooters have a number of inbuilt safety features, including integrated helmets that users are encouraged to wear – or alternatively use their own helmet – in order to stay safe.
Riders are also urged to park the e-scooters in a responsible manner at the end of their journey, ideally using one of the designated parking locations which are highlighted in the app.

Further information, including the riding rules and frequently asked questions, can be found at: https://www.newcastle.gov.uk/our-city/transport-improvements/transport-…;

A reminder of the top riding rules and safety guidelines:
Riders must be 18 years old and above
Must have provisional or full driving license
No riding on pavements
Helmets should be worn
Be aware and remove earphones
One rider per e-scooter
Keep a safe distance from pedestrians
Do not ride under the influence of alcohol or drugs
Keep both hands on the handlebars
Park responsibly and don't cause an obstruction